Director Amon Miyamoto comes face to face with Japanese Taiko drumming! Don't miss this powerful collaboration!

A performance that will surely strike a chord! The world is infatuated with the beat of their drum!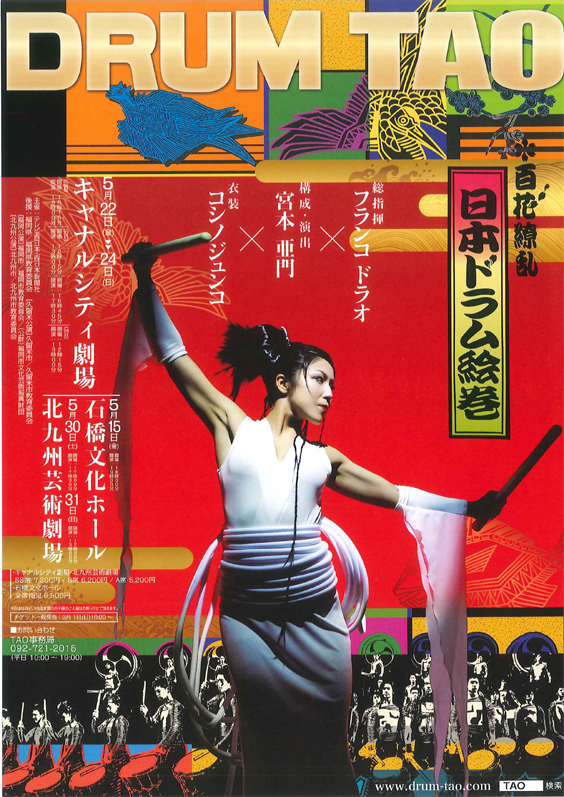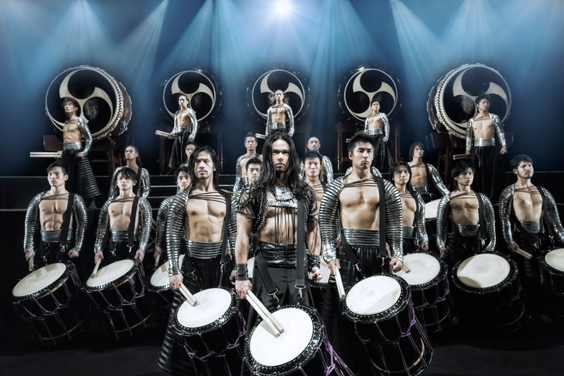 ©DRUM TAO
Having performed in front of some 6.5 million people worldwide and with over 200 domestic performances each year, it is no exaggeration to say that "DRUM TAO" have been performing across the globe non-stop for 22 years! And they are back with a new stage production called "Hyakkaryoran Nihon Drum Emaki." This performance sees the internationally renowned Amon Miyamoto, who was the first Asian director to direct a musical on Broadway (New York), and Junko Koshino, who has now been designing costumes for the group for 4 years, join forces as they thrown down the gauntlet with a bold and daring new concept!
Powerful collaborations, such as these, are surely the evolution of Japanese entertainment. Highly sophisticated, strikingly dignified, and modern with a streak of the traditional, "DRUM TAO" have fused POP and ROCK into the eye-catching Edo style period Japanese Taiko drum performance, reworking their show into a kind of drum emaki (picture scroll). Heart-pounding excitement, surprise, laughter, and even tears! You'll go through the full gamut of emotions watching this performance! It's an experience like none that you've known before! In 2015, TAO split into 3 groups, one touring in Europe, one performing both in Asia and Japan, and one performing with Saburō Kitajima for his final tour. May will see their new production open to the public, with performances finally hitting Fukuoka soon!
Appearing as special guests at the Fukuoka Asia Collection (FACo), which was held in March, "Drum Tao" wowed the audience with a powerful performance! The sound of the Taiko drums also really struck a chord with me!
The members of the group perform with their ripped physiques on display and create a dramatic tone on their Japanese Taiko drums that has to be heard to be believed! Why not go along yourself and check out one of their live performances! (Editorial Dept. Gon)
DRUM TAO "Hyakkaryoran Nihon Drum Emaki"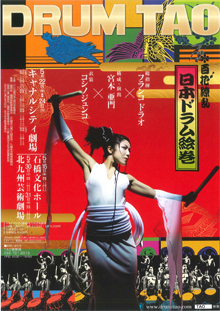 Director: Amon Miyamoto
Costume Designer: Junko Koshino
Executive Producer: Franco Dorao
Fukuoka Tour Schedule
Fri. May 15, 2015
 Ishibashi Cultural Center (1015, Nonaka-machi, Kurume-shi, Fukuoka Pref.)
Fri, May 22 - Sun. May 24, 2015
 Canal City Theater (North bldg. 4F, 1-2-1, Sumiyoshi, Hakata-ku, Fukuoka-shi, Fukuoka Pref.)
Sat. May 30 and Sun May 31, 2015
 Kitakyushu Performing Arts Center (1-1-1-11, Muromachi, Kokurakita-ku, Kitakyushu-shi)
* Entrance not permitted for those under the age of 6
* For more information, please visit the official website "
DRUM TAO Schedule
."
Official Website
http://www.drum-tao.com/
External Links
PRESENTS
All the info. on asianbeat's present campaign!
* "A local specialty set discovered during the trip to Tagawa Area giveaway! Apply by Mon. 11 Jan. 2021 (JST)!