Tokyo Skytree 'Moe~'!

It's finally open and it has everyone talking!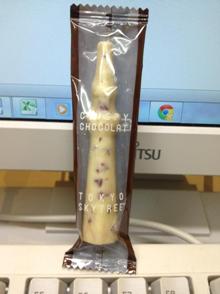 Tokyo's latest high-rise attraction "Tokyo Skytree" opened to the public on May 22nd and it had the whole of Japan talking. It wouldn't be much of an exaggeration to say that it was about the only thing to make news headlines that day either.
The other day the asianbeat editorial department received a "Tokyo Skytree Crispy Chocolat" as a gift and rather impressed by its deliciousness (not to mention the kawaii factor) I decided to search around the internet to see just how the other countries in Asia are reporting Japan's latest attraction!
First of all, I checked Wikipedia to see how far the "Tokyo Skytree" page had spread across the various languages. At present, the "Tokyo Skytree" Wikipedia page can be viewed in 34 languages (for the record, the page for Tokyo Tower is in 42 languages) but it's a promising start for the attraction which opened just two days prior! We hope that news of Tokyo Skytree continues to spread and maybe one day overtake the Eifel Tower's Wikipedia page of 118 languages.
I had a look on China's major search engine "Baidu" using the official Chinese name for Skytree, "dong jing qing kong ta" (lit: Tokyo Clear Sky Tower), and got 1,280,000 hits!
Next I tried searching in Taiwanese and found that Skytree had become manga-ized!
"Takutaku shimbun," a site popular with otaku in Taiwan, was featuring a collection of illustrations posted on "pixiv" of Tokyo Skytree manga characters. The article was titled,
"Transformation★'Skytree girl' is here~ Tokyo Skytree personification!"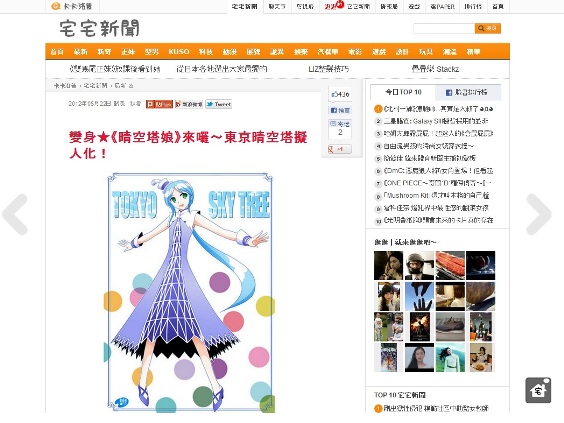 457 people have "liked" this article on Facebook so far and some have commented things like, "They even go so far as to make characters of these types of things. But in saying that, they're all quite cute. Japanese are amazing," and "Japanese always try and find a way to make everything 'moe,' don't they."
I'm one of those types to quickly get excited about something but then just as easily lose interest. So with that, I decided to end my Tokyo Skytree fact finding expedition. Skytree already has an official mascot character named "Sorakara-chan," but who knows, if the personified Skytree character starts gaining more attention Sorakara-chan might have a fight on her hands!
Editorial Dept - Shimacho