MASOCHISTIC ONO BAND's Tour Finale also to be broadcast Overseas! Check out the int'l venue info!!

You haven't seen an "airband" like this before!
Have you heard about the "airband" MASOCHISTIC ONO BAND (MOB)?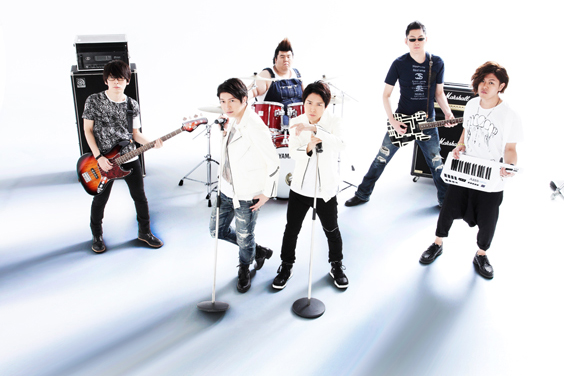 MASOCHISTIC ONO BAND was born out of a Nippon Cultural Broadcasting radio show called "Hiroshi Kamiya and Daisuke Ono's Dear Girl Stories (DGS)." With ONO-D (group leader) and HIRO-C serving as vocalists, MOB was founded as a 6 piece airband and have since been captivating audiences with their carefree and versatile performances. In the 2013 they made an eye-catching debut at the "Dear Girl~Stories~Festival Carnival Matsuri," a DGS event, which took place at the Nippon Budokan.
In order to film a promotional video for their first original track "Ace of Asia," the band shot a live video entitled "Dear Girl~Stories~THE MOVIE2 ACE OF ASIA," in which they recorded their visit to Hong Kong. The screening of the video in Hong Kong attracted more than 1,000 guests, whilst showings in various other locations, such as Shanghai and Taiwan also proved to be a great success.
As a result of their success on the indie scene, they finally made their major debut with the release of mini-album "Masochistic Over Beat" on 10 December 2014! And off the back of that release, the band will be embarking on their first national tour!
Their final performance in Japan (the last show of the domestic leg of their tour) will take place in Makuhari on 12 July and be broadcast live in various cinemas throughout the country!
It has also been announced that they will be performing live in Hong Kong, Taiwan and Korea!
For further information, check out the links below:
[Inside Japan]
http://liveviewing.jp/contents/mob/
[International screening]
http://liveviewing.jp/screenings/mob-eng/
In a move totally unprecedented for an airband, their first tour will see them play not only throughout Japan, but also perform live overseas!
Just who exactly are these guys?... We can't be too sure, but they certainly are out of this world!!
As they create a whirlwind of excitement amongst their fans, steadily making their way through all kinds of genres, jumping out of the world of radio, into the music scene and across into films, you will simply not be able to take your eyes of MOB!
(Editorial Dept. Asami)
MASOCHISTIC ONO BAND LIVE TOUR 2015 What is Rock? Live viewing
Sunday 12 July 2015 (Performance starts at 16:00 Japan time)
Location: Various cinemas throughout Japan
* Times that the doors will open may vary (depending on the cinema)
* Please note, in Osaka Prefecture, anyone under the age of 16 who is not accompanied by a guardian/adult, is not allowed to enter a screening that runs past 7 p.m.
Fee: ¥ 3,600 (all seats designated/tax included)
MASOCHISTIC ONO BAND official website:
http://www.joqrextend.co.jp/mob/
Planned and Produced by: Nippon Culture Broadcasting Extend/Nippon Culture Broadcasting
Distributed by Nikkatsu/LIVE VIEWING JAPAN INC.
International Venue Information
Hong Kong:MCL Telford
Taiwan:Vie Show Cinemas(Taipei Hsin-yi,Taichung Mode Mall,Kaohsiung FE21) 
Korea:MEGABOX(MEGABOX Coex、MEGABOX Dongdaemun、MEGABOX Haeundae)
For further information, check out the link below...
http://liveviewing.jp/screenings/mob-eng/