The "Yo-kai Watch Official Shop Yorozu Mart Fukuoka Sohonten" opened on 1st July in Canal City Hakata!

The birthplace of "Yo-kai Watch," has "Yo-makai" now really appeared in Fukuoka!?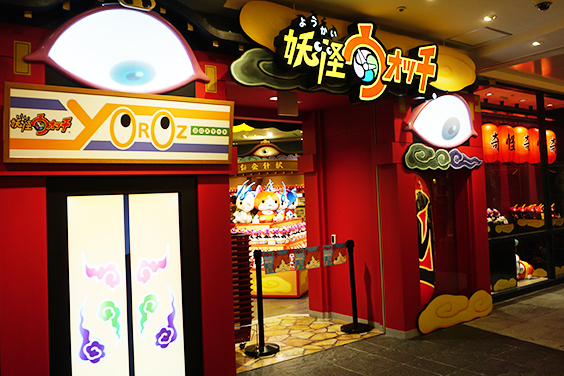 Inviting you into the world of "Yo-makai" are two huge eyeballs either side of the shop's entrance!
Cerebrating their 20th anniversary, "Canal City Hakata" is now one of Fukuoka's biggest facilities, continuing to grow and thrive as a prosperous, bustling center of the city. Inside, a new permanent addition has been made to the already wide array of shops that they have on offer. "Yo-kai Watch," which has a huge following among children and adults alike, opened an official shop called "Yorozu Mart Fukuoka Sohonten" on Friday 1st July 2016! The media were invited to take a sneak peak prior to the official opening, so join us as we take a look around! The shop manages to fully recreate the "Yo-makai" world where Yo-kai live. You'll also come across stuffed, cuddly toys of the hugely popular characters "Jibanyan" and "Komasan," as well as local Fukuoka sweets that have been created as part of a special collaboration, along with plenty of items and limited edition merchandise that you will only be able to find inside the main flagship, Fukuoka store! There's around 600 items to choose from, so no matter how many times you visit you're bound to have fun discovering something new! There's around 600 items inside the store, so no matter how many times you visit you're bound to have fun discovering something new!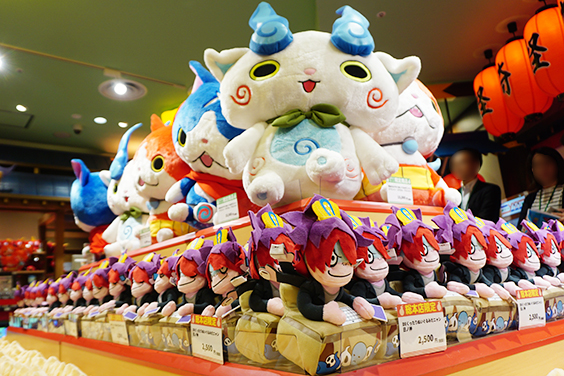 This cuddly toy is called "Hinoshin" and the design is based on Level-5 Inc. CEO Hino holding a keyboard and smartphone. It's a limited edition item, which you will only find here!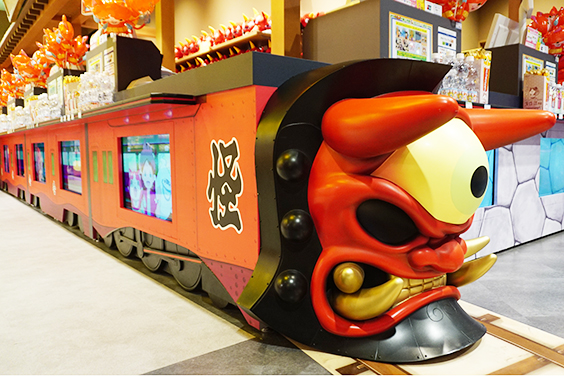 There are all kinds of attractions for children to enjoy! When you go to pay make sure to check-out the monitors by your feet!
Here's something fans of the game and anime will be familiar with… The "Akkan Bakery!"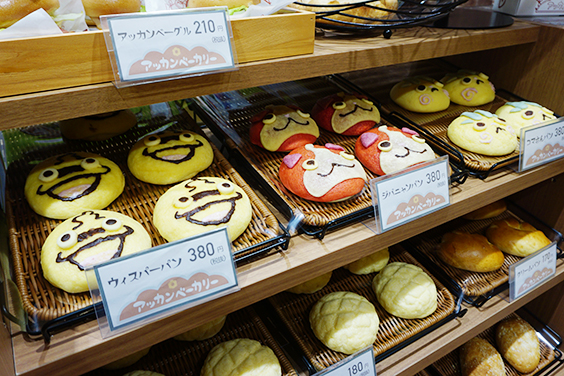 Located right beside the "Yorozu Mart Fukuoka Sohonten" you'll find the "Akkan Bakery." Serving a selection of delicious breads, this is the first permanent bakery of its kind and is a recreation of the bakery that appears both in the game and anime. If you've found all the items that you were looking for in "Yorozu Mart," don't miss the "Akkan bakery" next door, which has delicious, kawaii bread and ice cream!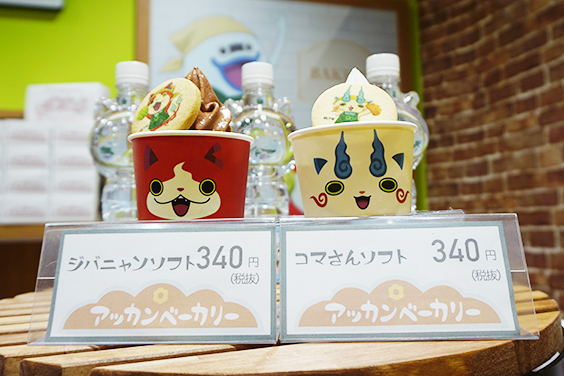 The "Yo-kai Watch" official shop is finally here! Stop by anytime!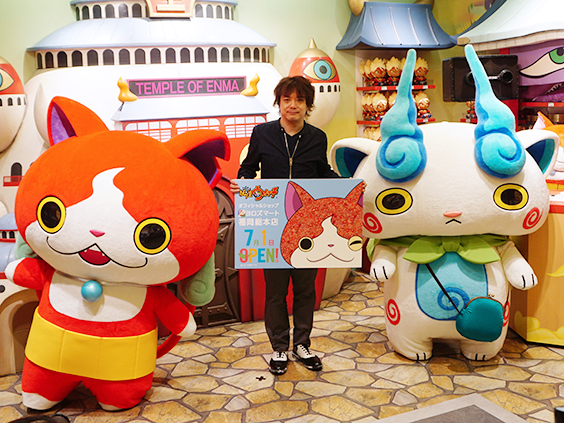 Here is Level-5 Inc. CEO Hino pictured alongside Jibanyan (left) and Komasan (right)!
Inside there was an appearance from Akihiro Hino, president of Level-5 Inc., one of the leaders in the Fukuoka gaming industry and the company that created "Yo-kai Watch." Mr Hino made a few remarks and said that "from children to adults, 'Yo-kai Watch' can be enjoyed by the entire family. This shop is not only for children, there are all kinds of goods that adults can enjoy as well, so I really hope to see everyone in the family having fun with Yo-kai Watch."
The game "Yo-kai Watch 3: Sushi and Tempura" comes out on Saturday 16th July and "Eiga Yo-kai Watch: Sora Tobu Kujira to Double Sekai no Daiboken da Nyan! (lit. Yo-kai Watch The Movie: The Flying Whale and the Great Adventure of Two Worlds, da Nyan!")," which is a mixture of anime and live-action, is due for official release on Saturday 17th December. And that's not all, "Yorozu Mart Fukuoka Sohonten" opened on 1st of July and a character based café that is being run in collaboration with popular smart phone app "Yo-kai Watch Punipuni" is open for a limited time only, closing on Sunday 14th August.
There's so much happening this year, it's hard to keep up! And of course this information isn't only for people based inside Japan, for fans from overseas who are planning to visit Fukuoka, please make sure to visit "Yorozu Mart Fukuoka Sohonten," Yokai Watch's flagship store for the whole world! (Editorial Dept.: Gon)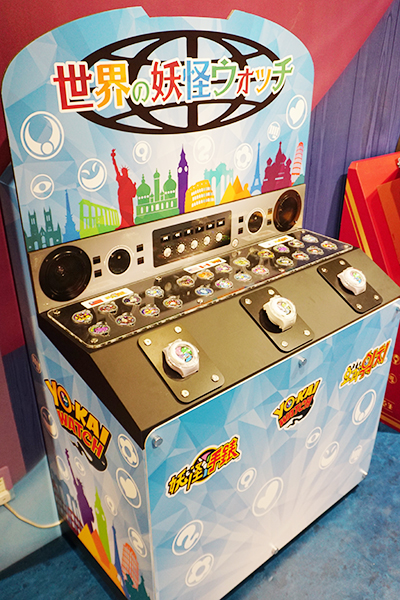 "Yo-kai Watch" from around the world! Here you can find-out about the different kind of medals, as well as designs and voices used in the Taiwanese, American / Canadian and Korean versions of "Yo-kai Watch"!
The Yokai Watch Official Shop "Yorozu Mart Fukuoka Sohonten"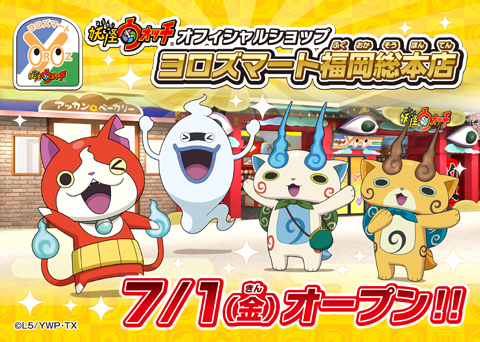 Location: Canal City Hakata North Building 2F, 1-2-1, Sumiyoshi, Hakata-ku, Fukuoka-shi, Fukuoka Prefecture
Opening hours: 10:00-21:00
Phone number: 092-292-1741
Closed: in line with Canal City Hakata's holidays and days off
Official website:
http://youkai-world.com/yorozumart/
Yo-kai Watch PuniPuni Café in Fukuoka
[Period] Open from Friday 1st July to Sunday 14th August 2016
[Location] 1F CoCo-Fuku, 1-3 Kamikawabatamachi, Hakata-ku, Fukuoka-shi, Fukuoka-ken
[Time schedule]
Café Area: reservations are required/rotation system is used according to time slot
Timetable (available slots):
 1. 11:00-12:20
 2. 12:30-13:50
 3. 14:00-15:20
 4. 15:30-16:50
 5. 17:00-18:20
 6. 18:30-19:50
 7. 20:00-21:20
Shop Area:
The shop area is only open for visitors to the café. Tickets (for the shop) will be distributed at the entrance of the café. For those of you who wish to purchase goods and merchandise, please follow the guidelines for using the shop that are stated on the ticket.
11:00-21:30
Reservation Information:
Reservation and booking fee are required
For further information please check their official website,
https://yokai-punipuni-cafe.jp/fukuoka_information/
!
© LEVEL-5 Inc. © NHN PlayArt Corp.
Related Articles
External Links
PRESENTS
All the info. on asianbeat's present campaign!