Overflowing with laughter, Beat Takeshi's "Art Takeshi Exhibition" makes its way to the Fukuoka Asian Art Museum!

Artwork overflowing with laughter! The "concept" of this exhibition is to feature pieces that have plenty of ideas, but no titles!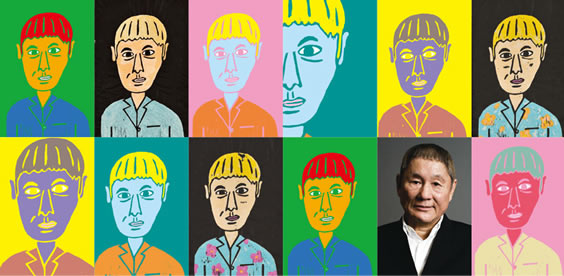 "I wonder if people will enjoy my paintings and exhibited works." These were the words from the man himself when discussing his decision to put on this exhibition. There's countless nostalgic works, pieces you can't help but stop and stare at, as well as those that make you want to chuckle.

All of them possess that uniquely imaginative quality that we have come to associate with the multi-talented Beat Takeshi. Drawings and paintings are where Beat Takeshi is at his most playful. It's in these artistic mediums that you can immerse yourself and feel from thoughts. And from Saturday 3rd September, the Fukuoka Asian Art Museum, will be hosting an exhibition featuring about 100 pieces of his artwork, including colorful drawings, prints and collages that are practically overflowing with Takeshi's playful, fun-loving character!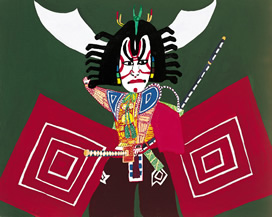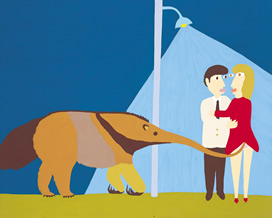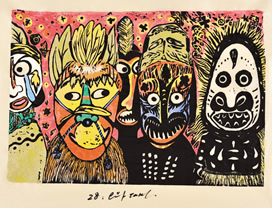 There is also official exhibition merchandise, which features motifs and images from Beat Takeshi's artwork, on sale. The commentary for the audio guide (600 yen, including tax) is provided by some of the regular members of "Beat Takeshi's TV Tackle," including the wonderfully talented Tomomi Eguchi, Sawako Agawa and Makoto Otake! Make sure to go along and don't miss out on the chance to experience it for yourself! (Editorial Dept.: Sassy)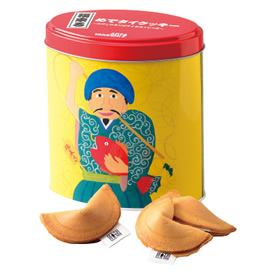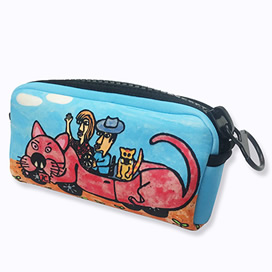 アートたけし展 Art Takeshi Exhibition
[Periods] Saturday 3rd September 2016 – Monday 10th October 2016
[Opening times] 10:00 – 20:00 (Final admission: 19:30)
*Please note: On the final day the exhibition will close at 18:00 (Final admission: 17:30)
[Closed] Wednesdays
[Venue] Fukuoka Asian Art Museum, 7th and 8th Floor Riverain Center Building, 3-1 Shimo-Kawabata-cho, Hakata-ku, Fukuoka-shi
[Admission fee]
Standard: 1,200 yen (1,000 yen)
High school and university students: 800 yen (600 yen)
Elementary and junior high students: 500 yen (300 yen)
( )-Indicates the price (per person) for a group of 20 or more visitors, as well as visitors over the age of 65 (please show ID such as a "Silver Techo" for proof of age)
*For more information, please visit official website:
http://faam.city.fukuoka.lg.jp/eng/home.html
[Advance ticket sales]
Lawson Tickets (L-code 83133)
Ticket Pia (P-code 767-583)
Seven Tickets (Seven-code 046-019)
(Also on sale through over major ticket agencies)
Organizer: The Mainichi Newspapers Co., Ltd, Kyushu Asahi Broadcasting Co., Ltd.
Co-organizer: "Art Takeshi-ten Jikko Iinkai" (lit.: Art Takeshi Exhibition Executive Committee)
Cosponsorship: Fukuoka Prefecture, Fukuoka Prefectural Board of Education, Fukuoka City, Fukuoka City Board of Education, (Public Foundation) Fukuoka City Foundation for Arts and Cultural Promotion, Nishi-Nippon Railroad Co., Ltd., Kyushu Railway Company, Mainichi Media Service Sunday Shimbun, Bijutsu Shuppan-Sha, Co.,Ltd.
Cooperation: Aji no Mentaiko Fukuya
Collaboration with: Fukuoka Asian Art Museum
Planning supervision: Office Kitano
Planning cooperation and production: Axe
Inquiries: The Mainichi Newspapers Co., Ltd., Fukuoka Honbu Jigyobu 092-781-3636 (10:00 - 18:00 weekdays)
Beat Takeshi Profile
Has been appearing on television for half a century. The name "Beat Takeshi" started with the formation of the comedy double act Two Beats. Around that time he started performing the now famous "komanechi" gesture that would prove to be hugely popular with audiences at home, created the group known as "Takeshi Gundan (lit. Takeshi's Defense Troops)," and also started providing sharp, insightful commentary on events of the day.

Stars and directs films under the name Takeshi Kitano. Won the Golden Lion award at the 1997 Venice Film Festival for the film "HANA-BI." In 1999 was awarded the title "Chevalier (Knight)" of the French "Ordre des Arts et des Lettres" (Order of Arts and Letters). Then in 2010 was given the title of "Commandeur (Commander)," the highest honor of the "Ordre des Arts et des Lettres."

In recent years has been very active in the art world. His exhibition "Takeshi Kitano, Gosse de peintre - 絵描き小僧" was displayed at the Fondation Cartier pour l'Art Contemporain (Cartier Contemporary Art Foundation)" in 2010 and again at the Tokyo Opera City Art Gallery (Tokyo, Hatsudai) in 2012. A painter, film director… His range of artistic endeavors continues to grow.
Related Articles
External Links