Made using Okawa techniques, the "MUJYOAN -OKAWA1536-" collapsible tea room went down a storm at the Grammy Awards!(1/21)

A place to relax or a place to party!? Some of the world's top artists were fascinated!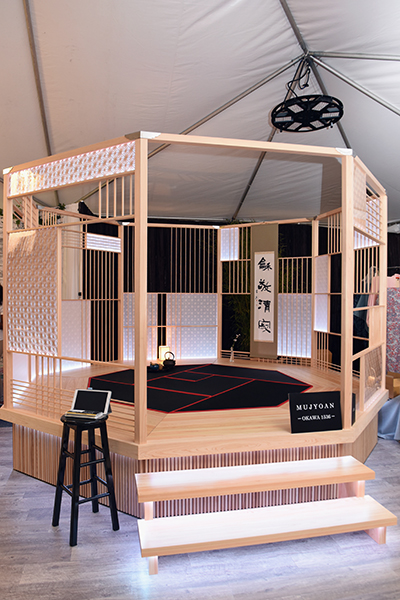 The "MUJYOAN‐OKAWA1536-" collapsible tea room
We recently reported on the exciting news that the "MUJYOAN - OKAWA1536 -" collapsible tea room, which was made by combining the skill and talent of craftsman from Okawa City, Fukuoka Prefecture, was going to be on display at the 59th Grammy Awards' official gift lounge. (>>
Check-out the article here!
!) And to follow up we've got photos and info about the event, which took place in Los Angeles, for you to enjoy!
The "MUJYOAN-OKAWA1536-" tea room has a strong Japanese sensibility and its panels are made with a decorative technique known as "Kumiko," a skill that involves assembling together pieces of wooden, without using a single nail or screw. Bright, colorful LED lights were used to decorate the installation and add a sense of presence! There was huge interest amongst our editorial department to find-out what the artists who visited, as well as the people involved with the Grammy Awards had to say about the tea room. Read on to find-out! And we've also got a lot of photos of celebrities, some of them legends in their respective fields, taking a closer look at "MUJYOAN!"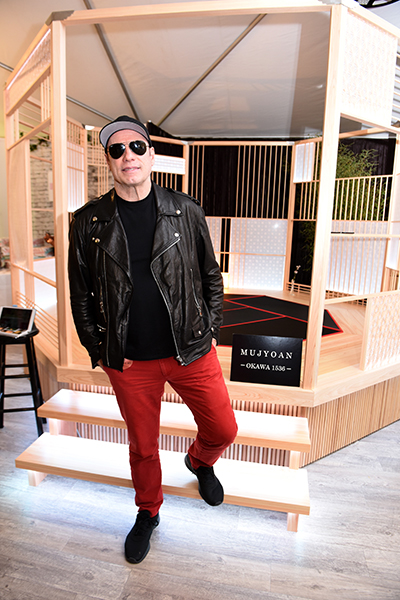 John Travolta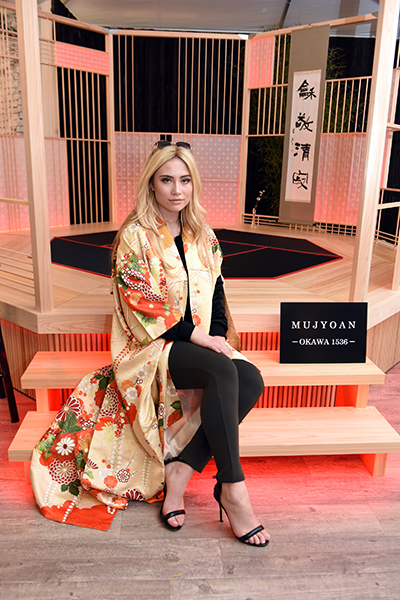 Madi Wolf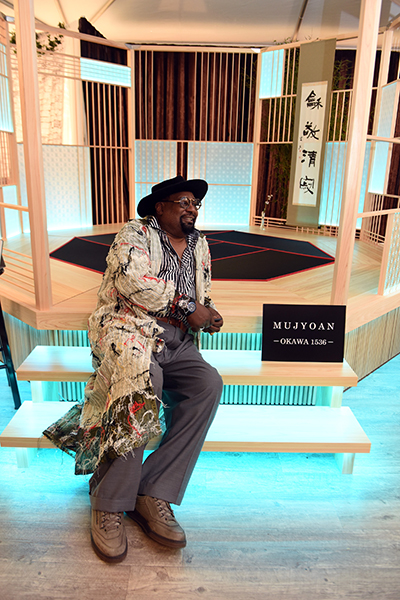 George Clinton
Movie star John Travolta, who was one of the presenters at the ceremony, stopped by and said "It is a very nice space; it's amazing that it was assembled without using any nails!" Godfather of funk George Clinton also visited and asked "How much does it cost? Is it for sale? It's cool how the lighting changes color!" President/CEO of The Recording Academy and Grammy Foundation President Neil Portnow also took a look and added "This can be assembled and moved around? It would be fun to use it for a live performance!" While Daya, who won the Grammy Award for Best Dance Recording for her track with The Chainsmokers, commented that "This is such a relaxing place. It's awesome!" There were lots of people from the ceremony who commented on the tea room. It's clear from the photos and all the comments that everyone really appreciated "MUJYOAN's" fusion of traditional Japanese and modern styles!
(*Please note: The comments above were translated from the Japanese press release)
Okawa City's first overseas promotion, the Grammy Awards pre-event was a great platform, providing the opportunity for the woodwork techniques associated with Okawa to be seen by a huge number of people, including some world famous celebrities. It will be really interesting to find-out how Okawa Furniture respond to all of this attention in the future and whether they will look to create spaces to party or chillax! Snaps of some of the visitors who visited "MUJYOAN" can be viewed in our "PHOTO GALLERY," so please check them out! (Editorial dept.: Gon)
The "OKAWA1536" Project
In order to promote interior-related industries, which are key for the area, Okawa City have launched the "OKAWA 1536" project, which will aim to increase awareness abroad.

*Inquiries
Okawa City Hall Interior division

Transcent Inc.
2nd floor, 1-17-11 Nishi-Shinbashi, Minato-ku, Tokyo
Telephone number: 03-6873-5995
Fax number: 03-3440-0655
Person in charge: Otaki

Related Articles
External Links