Turning up the volume! This year's "LOVE FM FESTIVAL 2017" will be held over three days!

The "LOVE FM FESTIVAL 2017" is being held to celebrate the radio station's 20th year!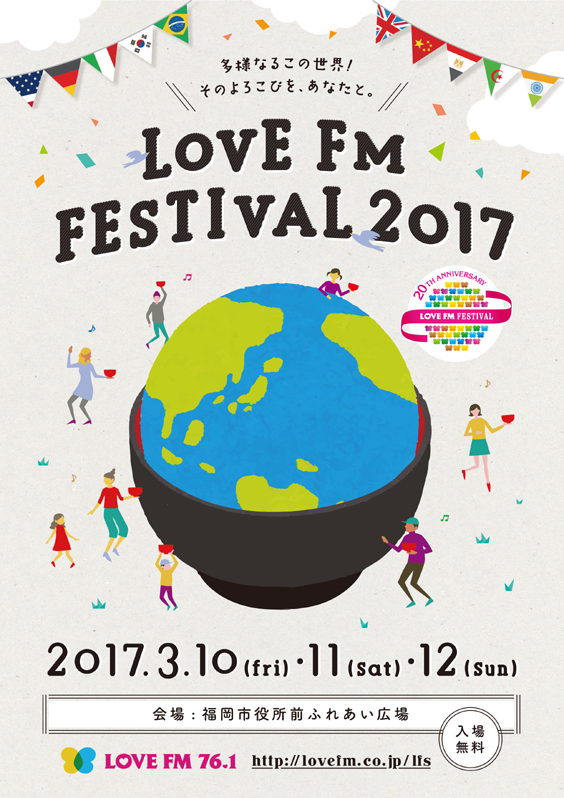 Fukuoka's multilingual radio station "LOVE FM" is celebrating 20 years since it first opened! Their annual event is becoming a fixture on the calendar. This year it returns as the "LOVE FM FESTIVAL 2017" and will be held from the 10th to 12th March at the Fureai Hiroba (in front of the Fukuoka City Hall).

Last year, the two day event welcomed a total of 40,000 people. This is the fourth year it has been held and this time round they plan to turn up the volume over three days! Guests will be able to enjoy live performances from awesome artists such as RHYMESTER, a special comedy stage, live radio broadcasts, as well as booths selling different food, drink and all kinds of products. With "Diversity in this World!" the theme for this year's festival, guests will have the chance to encounter various nations, languages, cultures and values.
Select your topping and enjoy! Experience gourmet foods from different cultures! "World Donburi (World Don)" makes its debut!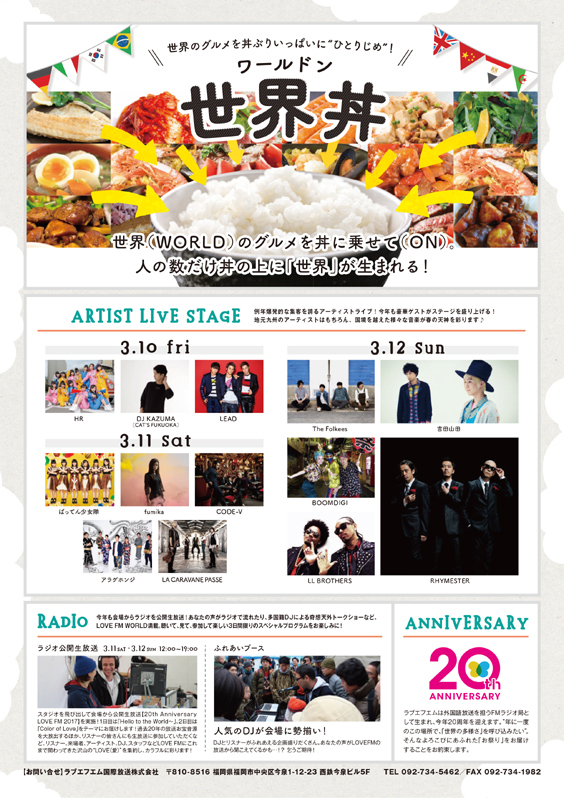 A special feature of the event is the "World Donburi (World Don)," which will give visiters the opportunity to sample foods from many different cultures. All you have to do this is buy a ticket and then select a dish that you want served on top of your rice from a choice of 10 food stands. Exchange the ticket at the booth and enjoy your very own original donburi (bowl of rice with food on top)! Depending on what you choose, you might end up experiencing tastes from China, Korea, ASEAN countries, Italy, Germany, UK, USA, Canada, South America, Australia, and Japan all at once! Enjoy the live stage performances while tucking in to a donburi perfectly suited to your taste!

And that's not all, 4th generation Hakata Ningyo Doll master Hiromine Nakamura will be joining forces with 3rd generation Arita Yaki ceramics master Yuki Inoue for a special collaboration and producing 20 limited edition "Kougei (Handicraft) Donburi." You can stay tuned to the LOVE FM FESTIVAL official site to find-out how it progresses. It's going to be fascinating to see what kind of "donburi" they create! Get a feel for the "Diversity in this World!" by experiencing the taste, sights and sounds that this early Spring festival has to offer! (Editorial Dept.: canna)
LOVE FM FESTIVAL 2017 Event Info
Dates: Friday 10th March to Sunday 12th March 2017
Times:
Fri. 10th March: 16:00 - 22:00
Sat. 11th March: 11:00 - 22:00
Sun. 12th March: 11:00 - 20:00
Venue: Fureai Hiroba in front of the Fukuoka City Hall (*Admission free)
Event info: Multi-cultural gourmet food event "World Donburi (World Don)"/live stage performances/live radio broadcasts/booths (selling food, drinks and various products, etc)/and much more.
*Depending on the circumstances, some aspects of the performances/events might change.
LOVE FM FESTIVAL Official Website:
http://lovefm.co.jp/lfs/
Related Articles
External Links