"FOSA Welcome Party 2017" this Sunday! Come and join!

Have a great time with international students starting new lives in Fukuoka!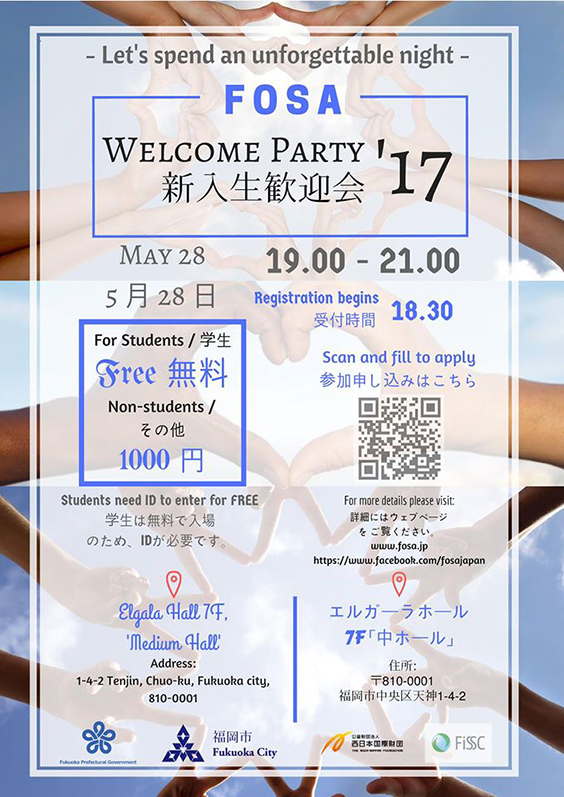 Spring is a time for turning over a new leaf and it seems that there are also lots of people around this time who are embarking on a fresh set of challenges in their lives. In line with the start of the Japanese academic calendar, many international students from Asia and all over the world come to Fukuoka in the Spring ready for the new semester. The Fukuoka Overseas Students Association (FOSA) are hosting a welcome party at Elgala Hall this weekend (Sunday 28th May) to welcome anyone about to embark on student life and still feels unfamiliar in their new surroundings.
International student members of FOSA with experience of living in Japan will also participate at the event. It is a great opportunity to get advice on student life, expand your network and make connections. There will also be food and drink, so make sure to stop by!
It is not just open to international students, local Japanese people are also welcome to join! Make the most of this chance to come into contact with various different cultures, with the ever-globalizing Fukuoka as your backdrop! Students can get in for free, while non-students will be asked to pay a 1,000 yen entrance fee. If you want to participate, make sure to apply on the FOSA website by clicking (>>
here!
) (Editorial Dept.: Gon)
FOSA Welcome Party 2017
Date: Sunday May 28th 2017
Time: 19:00-21:00 (*Reception opens from 18:30)
Venue: Elgala Hall 7th floor, Medium Hall (1-4-2 Tenjin, Chuo-ku, Fukuoka-shi)
Fee: Free (students) / 1,000 yen (non-students)
How to apply:
Click
here
* For more information on the "FOSA Welcome Party 2017," please check their official website (
http://fosa.jp/welcome-party-2017/
).
Related Articles
External Links