Press conference and talk held to mark the establishment of "Project Studio Q Inc." (Studio Q)!

New animation and CG production company set-up in Fukuoka! !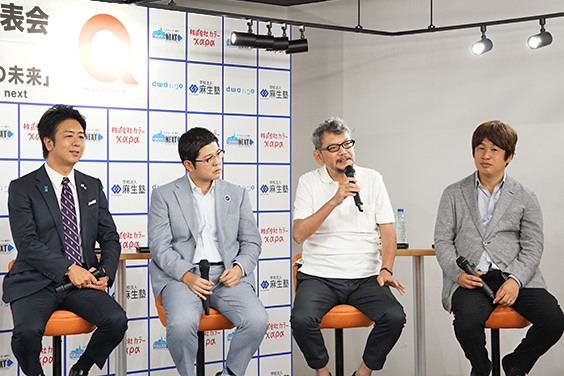 On July 12th a special press conference and talk were held at Fukuoka growth next, Chuo-ku, Fukuoka-shi, to mark the establishment of a new anime and CG production company called "Project Studio Q Inc." (Studio Q)!
There was a wonderful line up of speakers on the day, including representative director and president at Dwango Co., Ltd. Nobuo Kawakami, Khara, Inc. founder and president Hideaki Anno, Aso Juku educational foundation's chairperson Takeshi Aso, and Fukuoka City Mayor Soichiro Takashima. After the press conference the four took part in special talk, during which they covered a number of topics, including the story behind the establishment of Studio Q, how they envisage the company developing in the future, and why Fukuoka was chosen as the location for the new initiative. (Editorial Dept.: Mofa)
Four distinguished guests took part in the talk!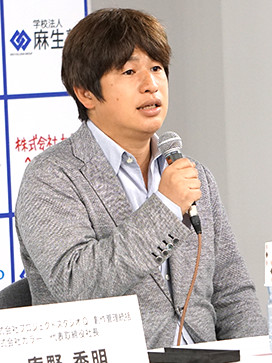 Mr. Nobuo Kawakami
(Dwango Co., Ltd. representative director and president)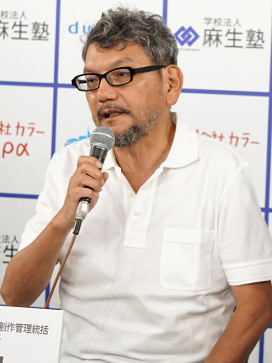 Mr. Hideaki Anno
(Khara, Inc. founder and president)
Mr. Kawakami explained how the studio came about and why they decided to set it up in Japan. He told the crowd, "Japanese anime is created in quite a different way to how a cartoon is produced overseas. We looked into creating Japanese anime abroad, but in the end, thought that Japan would be a good choice." He went on to highlight that one of the reasons they selected Fukuoka was because of how easy it is to access by transport.
He continued by stating that "It is not just about the ability of creative individuals, the kind of projects they are involved in is also really important. That will determine our growth. With that being said, we really hope to draw talented creative types to Studo Q."

President Anno, who serves as Studio Q's creative general manager also gave some insight into why they chose Fukuoka, he said "In the past Tokyo was the only place that had studios where you could develop the film that's required for producing anime. But now all the data is saved on hard disk, so not everything has to be done at the studios in Tokyo. Fukuoka has talented CG animators, but they don't come to Tokyo. If that's the case, we thought it's best to go down there."
Mr. Anno also spoke about the kind of creative figures that Studio Q is after, clarifying that "the most important requirement is a love for animation. If you have that, you will be fine."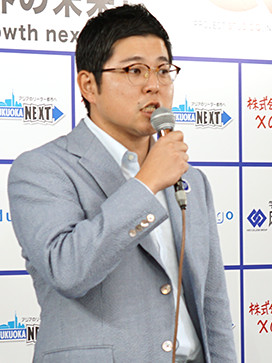 Mr. Takeshi Aso
(Aso Juku educational foundation chairperson)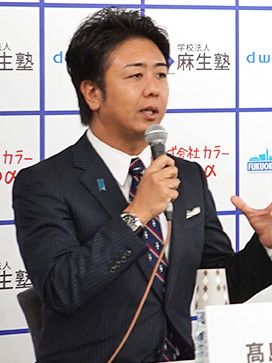 Mr. Soichiro Takashima
(Fukuoka City Mayor)
Mr. Aso, who is on the board at Studio Q, spoke about the relationship that the company will have with the vocational school he operates, "Having Mr. Kawakami and Mr. Anno, who are active overseas,involved will provide a great opportunity for the students to gain a better understanding of how the industry works."
He also spoke about the Studio Q as a place of employment. He told the audience, "I really want our students to find jobs that will last. I am really happy that Studio Q aims to become a company that has staff who are happy both at work and home."

Mayor Takashima, who attended as a guest, shared his thoughts about Studio Q opening. He said, "Mr. Kawakami and Mr. Anno have joined forces. They will be working together with Mr. Aso to foster creative individuals for the future. Let's not miss this opportunity." Mayor Takashima also spoke about his expectations for Studio Q in the future, adding "I am so happy that the new talent nurtured in Studio Q will be able to create work of real value in Fukuoka that will inspire and move people throughout the world. "
Company Overview
Company Name: Project Studio Q Inc. (株式会社プロジェクトスタジオQ)
Representative: President and Representative Director Toyoki Ohta (太田 豊紀)
Address: 7th Floor Hakataeki-minami MT Building, 1-8-12 Hakataeki-minami, Hakata-ku, Fukuoka-shi, Fukuoka-ken
Established: July 3rd 2017
Business: Animation and CG production
Official Website:
https://studio-q.co.jp/
External Links
PRESENTS
All the info. on asianbeat's present campaign!
* "A local specialty set discovered during the trip to Tagawa Area giveaway! Apply by Mon. 11 Jan. 2021 (JST)!