Check out the "Fukuoka Motor Show 2017 -Changing how we live together with our cars -" on December 15th-18th!

All range of cars from now to the future!
The bi-annual "Fukuoka Motor Show" will be at the Marine Messe Fukuoka, Fukuoka Kokusai Center, and Fukuoka International Congress Center from December 15th (FRI) - 18th (MON). The theme for this event is "クルマと変えよう暮らしの未来 (lit.: Changing How We Live Together With Our Cars)" and being showcased at each building.

Cars that were announced for the first time worldwide from the "Tokyo Motor Show 2017" will be at the Marine Messe Fukuoka along with domestic car and bike manufacture's concept cars and presentations. Additionally at the venue there will also test driving of new model cars and interactive activates for children, a station for "Gran Turismo SPORT" the PlayStation®4 game and many more interactive activates.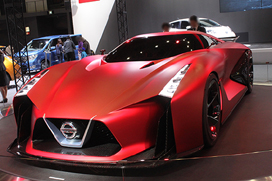 Photo from "Fukuoka Motor Show 2015"
(NISSAN CONCEPT 2020 VISION GRAN TURISMO)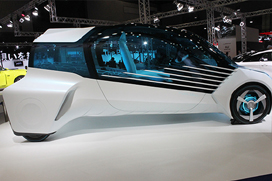 Photo from "Fukuoka Motor Show 2015"
(TOYOTA FCV PLUS)
The Fukuoka Kokusai Center will exhibit an impressive range of imported cars from around the world and host presentations related to the industry. If you are interested in overseas motors, make sure to stop by and check-out the vehicles on display! The outdoor area (to the east of the main entrance if you face the venue head-on) will give visitors the chance to get better acquainted with ambulances, police cars, and vehicles that are used by the Japan Self-Defense Force! Members of the public do not often get the chance to ride these kinds of vehicles, so do not miss-out!

The Fukuoka International Congress Center will serve as a third location for the event, hosting a series of lectures and talks by figures from the automobile industry. There will also be displays discussing the history and future of cars in northern Kyushu, as well as vehicles that have been manufactured by students based in Kyushu.
A food event called "GOGO! Gourmet Street" will see a total of 17 food and drink stands set-up shop to offer guests the chance to sample dishes from Kyushu areas that are perfect for the winter months!

The weather in Fukuoka has started to get colder, but there is no doubt that the excitement from this massive bi-annual event will help warm you! If you're car enthusiast make sure not to miss this event! (Editorial Dept .: Mofa)
Fukuoka Motor Show 2017
[Date]
 Friday 15th December to Monday 18th December 2017
 9:30 - 18:00 * Will close on the 18th (Mon) at 17:00
[Venue]
 Marine Messe Fukuoka (7-1 Okihama-machi, Hakata-ku, Fukuoka City)
 Fukuoka Kokusai Center (2-2,Chikkohon-cho, Hakata-ku, Fukuoka City )
 Fukuoka International Congress Center (2-1 Sekijo-machi, Hakata-ku, Fukuoka City)
[Theme]
 クルマと変えよう 暮らしの未来 (lit: Changing how we live together with our cars)
[Ticket Information]
 Standard: 1,400 yen (Advanced tickets 1,200 yen) *Free entrance for high school students and under.
[Inquiry]
 Fukuoka Motor Show Office
 TEL:092-711-5583
[Official Website]
 Official Website:
http://www.fukuoka-motorshow.jp
 Twitter:
@fukuoka_ms
 Facebook:
https://www.facebook.com/fukuokamotorshow
 Instagram:
https://www.instagram.com/fukuoka_motor_show_official/
Related Articles
External Links