What bargains will you find at the "Gokoku Jinja Nominoichi (Flea Market)" this weekends?

Discover all kinds of cool things!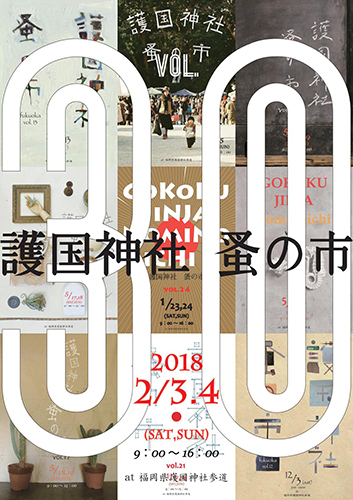 The 30th Gokoku Jinja Nominoichi flea market will be held on 3rd and 4th February 2018! The main hub will be set-up on the the approach that leads to Gokoku Jinja (Shrine), which is located right in the center of Fukuoka City. Now in its tenth year, this popular market welcomes a number of well-established traders from all over Kyushu. Visitors will be able to pick-up antique items and various other goods over the two days! And do not forget to check-out the "Kyushu Artisan" event! This special attraction gives artists active in Kyushu the chance to display and sell their creations. It will be interesting to see what kind of unique artwork will featured at the event!

The food and products available at flea market usually captures the local vibe! Just seeing the range of items on offer gives an insight into the characteristics and features of the surrounding area. You cannot help thinking of all the treasures you might be able to find when you see the excitement surrounding the wonderful selection of stalls! It's been cold lately, so check out the range of food stalls serving warm dishes and tasty beverages! Make sure to stop-by and experience the vibrant atmosphere for yourself! (Editorial Dept.: Gon)
The 30th Gokoku Jinja Nominoichi (Flea Market) [第30回 護国神社 蚤の市]
-Dates: Saturday 3rd and Sunday 4th February
-Times: 9:00 to 16:00 (*Rain or shine)
-Venue: Gokoku Jinja (Shrine) Sando (approach leading to the shrine)
-Address: 1-1-1 Ropponmatsu, Chuo-ku, Fukuoka-shi, Fukuoka-ken
-Official Website:
http://g-nominoichi.petit.cc/
-Twitter:
@gokoku_Dpart
-Instagram:
@gokoku_dpart
-Facebook:
Here
!
*Please check the official website for more details.
*The 31st Gokoku Jinja Nominoichi will take place around May or June 2018.
External Links