Exhibition celebrating half a century of Licca! The "50th Aniversary Licca-chan Exhibition" will be held at the Fukuoka City Museum!

"Licca meets Licca"
The dress-up doll Licca was first developed in 1967. Last year saw the much-loved toy celebrate its 50th anniversary! It might be over a half century since the initial release, but Licca still has a huge number of adoring fans. This is the 4th generation model of the doll. She has gone through various styles over the years that reflect how the times have changed. The company's official Twitter and Instagram accounts send out news everyday! The posts vary in topic from fashion to news about daily life. The accounts are hugely popular and boast 150,000 followers as of April 1st 2017! And it is not just children who keep up to date with Licca on social media, a significant portion of here followers are adults!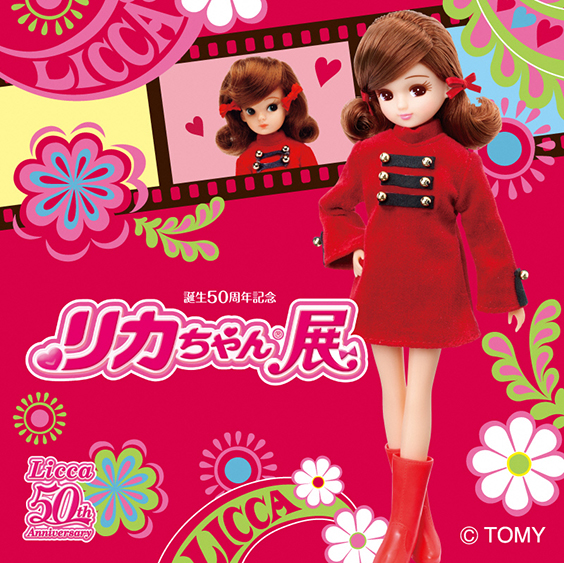 The theme of the exhibition is "Licca meets Licca." The event is being held this February to mark the 50 year anniversary! Approximately 580 dolls of Licca, as well as her friends and family will be featured. Visitors will also be able to take a closer look at precious items, such as notes that were taken during the development stage of the initial production to successive Licca houses. And don't miss the "50 Shunen Oiwai Collabo-Licca" (50th Anniversary Licca Collaboration) display! A total of 50 Licca-inspired items that were made in cooperation with famous individuals and brands such as "SWAROVSKI" will be exhibited!
Original goods and merchandise made for the exhibition will also be featured, including an official illustrated picture book that comes packaged with cool extras, such as Licca cut-outs and a diorama of her house. The 50th anniversary exhibition will run from Thursday 22nd February and give guests the chance to enjoy Licca's world while stepping back in time! Make sure to check-it-out! (Editorial Dept.: Sassy)
Commemorating the 60th Anniversary of Television Nishinippon Corporation's establishment | "50th Aniversary Licca-chan Exhibition"
Dates: Thursday 22nd February to Wednesday 28th March 2018 (Closed every Monday)
Times: 9:30 to 17:30 (Final admission: until 17:00)
Venue: Fukuoka City Museum (3-1-1, Momochihama, Sawara-ku, Fukuoka)
Entrance fee: Standard 1,100yen (900円), High school and university students 900yen (700yen), Elementary and junior high school students 500yen (300yen)
*Children younger than elementary school students are free. (*Must be accompanied by a parent / guardian)
*Please note: () Indicates price of tickets purchased in advance, and cost per person for group bookings of 20 or more. Please visit official website for more information about the discounts that are available.
Organized by: Television Nishinippon Corporation, The Nishinippon Shimbun Co., Ltd., TOEI COMPANY, LTD.
Cooperation from: TOMY COMPANY, LTD., Bunka Gakuen Costume Museum
Special cooperation from: Japan Toy Culture Foundation
Sponsored by: Fukuoka Prefectural Board of Education, Fukuoka City, Fukuoka City Board of Education, (Public Foundation) Fukuoka City Foundation for Arts and Cultural Promotion, Kyushu Railway Company, Nishi-Nippon Railroad Co., Ltd., FM FUKUOKA, cross fm, LOVE FM, Hakata-ori Industrial Association
Inquiry: Television Nishinippon Corporation Jigyobu (Division) TEL:092-852-5520 (Weekdays: 10:00 to 18:00)
Licca-chan Official Website:
http://licca.takaratomy.co.jp/official/50th/
External Links
PRESENTS
All the info. on asianbeat's present campaign!