Let's all support! The Rugby World Cup™ 2019 Japan is less than a year!

The world's top players come to Japan! "Come witness a once in a lifetime battle"!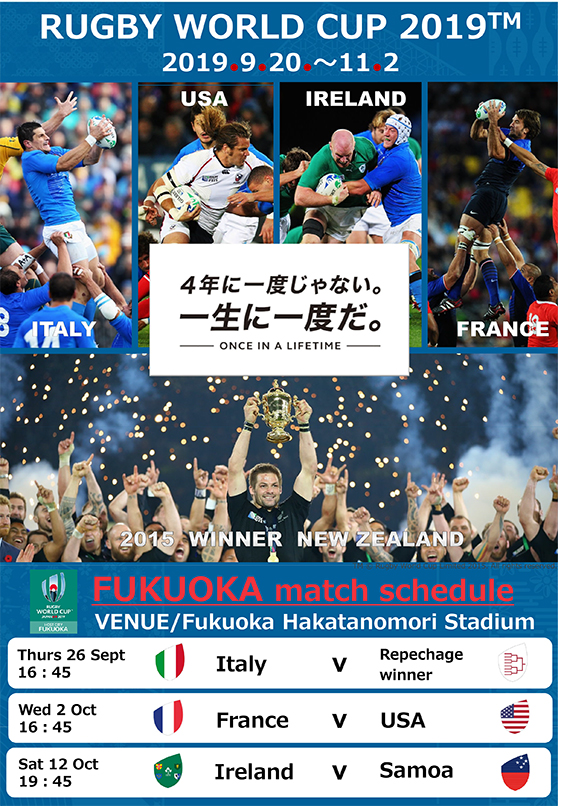 Rugby World Cup™ 2019 Japan is less than a year and it will be held in 12 cities throughout the country, from September 20th - November 2nd. Fukuoka prefecture, Fukuoka city as one of the host cities the Fukuoka Hakatanomori Stadium will host 3 high profile matches with world class ranking teams such as Ireland, France, Italy and such. For a big time event held for the first time in Asia, the best rugby schools, club teams in Fukuoka are holding a bunch of events throughout the region for the upcoming event, so definitely check out the events to see the charms of Rugby! (For more details check the TRY! FUKUOKA - RUGBY 2019 -
Twitter
and
Facebook
pages.) Supporters from all over the world, and everyone from Japan and Fukuoka!! Lets all come together to liven up the tournament! (Editorial Dept.: Gon)
*First General ticket Sales (Ballot) will end on November 12th 2018. General Ticket will be available to purchase from January 19th. You should get your tickets quickly for those wishing to see matches!
Rugby World Cup™ 2019 Japan (Fukuoka)
■Match Schedule (Fukuoka Venue)
Venue: Fukuoka Hakatanomori Stadium
- Thursday 26 September 16:45~ Italy VS Repechage Winner
- Wednesday 2 October 16:45~ France VS USA
- Saturday 12 October 19:45~ Ireland VS Samoa
■Ticketing Information
- First General ticket Sales (Ballot): Wednesday 19 September to Monday 12 November 2018
Ballot Result Notification: Monday, 26 November 2018
- Second General Ticket Sales (First Come, First Served): From Saturday 19 January 2019
 *You need to create and register an account to purchase tickets.
For more ticket information, please visit the official website >> (
https://tickets.rugbyworldcup.com
)
■Contact (Ticket Customer Center)
TEL: 0570-09-2019 (From overseas) +81-50-3786-6615
Opening Hours: 10:00 to 18:00 (JST) Service will not be available during the New Year's holidays.
E-mail: support@tickets.rugbyworldcup.com
■Official Website
https://www.rugbyworldcup.com/
Related Articles
External Links