#33 "Japanese Summer Festival" in Toronto - 3000 Canadians Gather for LinQ's Cultural Diplomacy Concert! (3/3)

There was already a small crowd building during the morning rehearsals, but past midday, Yonge-Dundas Square, where the event was being held, was packed. There would've been about 3000 people there. Most of them wouldn't have known who LinQ were, and what's more, they had to perform routines with three members that they would normally perform with five or more, but even with these limitations the three girls performed five songs, including their new song, "Hare Hare✩Parade," and the people of Toronto cheered them on enthusiastically.
It was a happy moment for me when I was speaking with the girls on stage as the emcee, but for the girls it was clearly much more moving.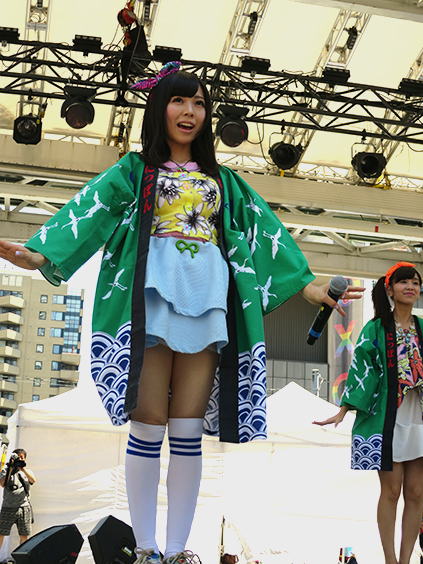 Ami Himesaki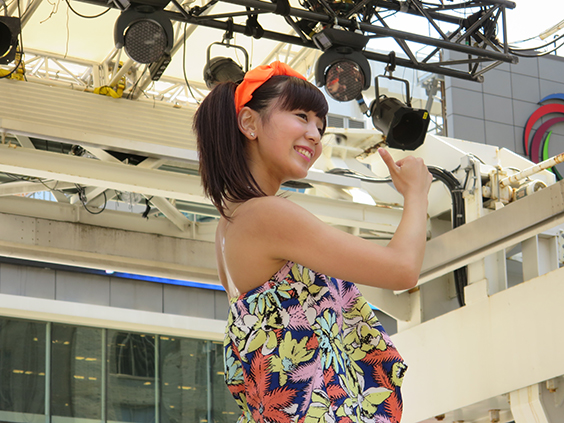 Chiaki Yoshikawa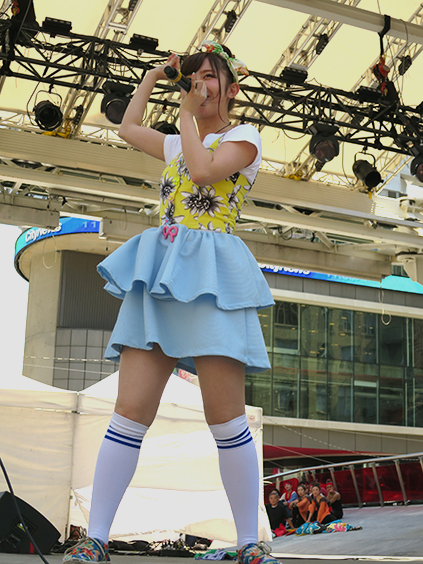 Sakura Araki
I asked the three about it after their performance.
Himesaki
"Putting on a concert in a setting like this was a first for me. I was worried how it would all go, but I was thrilled we had that many people come out to see us."
Yoshikawa
"I feel like my experience points have gone up. I think if there wasn't so much of a language barrier the people in Canada might have felt an even closer bond with us, so one thing I want to work on is my vocabulary. It's made me want to learn more about Canada and want to try and get even more people throughout the world to learn about us as well."
Araki
"I was reminded just how important it is to smile. It feels good when you meet eyes with someone and they smile back, and so I wanted to be as heartfelt as I could when I smiled, too. I don't like having to fake smile during performances. That's why I want to try harder to enjoy myself even more when I perform."
Ami Himesaki with cosplayers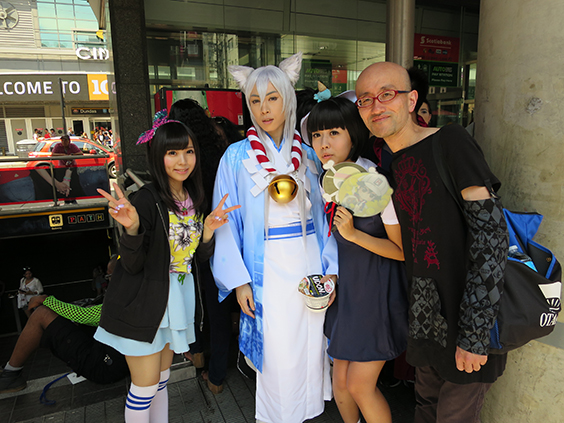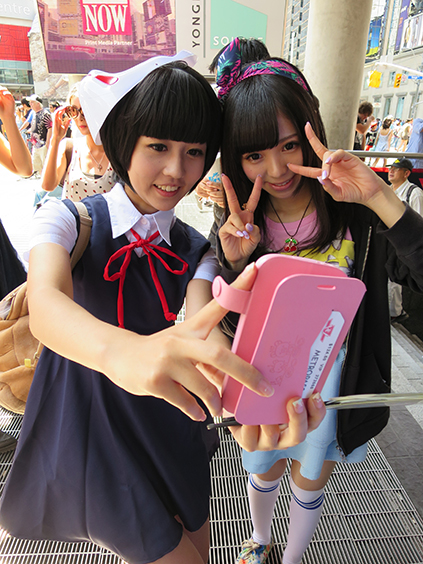 Yoshikawa Chiaki: Celebrating a successful cultural diplomacy trip to Canada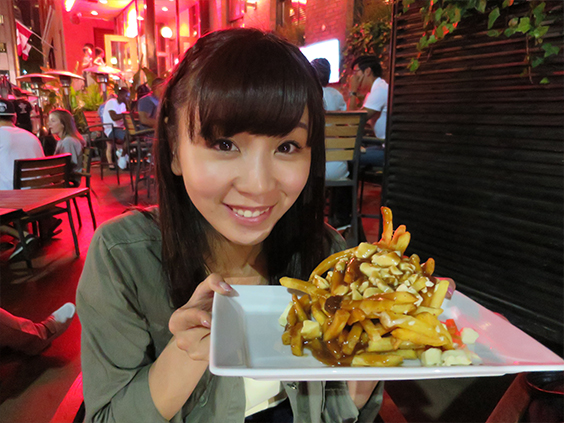 In Toronto, we were also invited to a send-off party for Japan's national rugby team, held at the official residence of the Consulate-General. Fukuoka is home to a lot of strong high school rugby teams, and even in the national team, five members hailed from Fukuoka. We might belong to completely different fields, but we were both in Toronto representing Japan. And it's encounters like this that are just so much more likely when you're overseas, too.
At the official residence of the Consulate-General of Japan in Toronto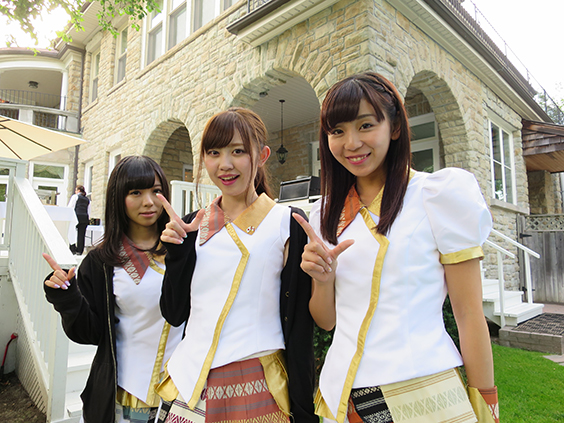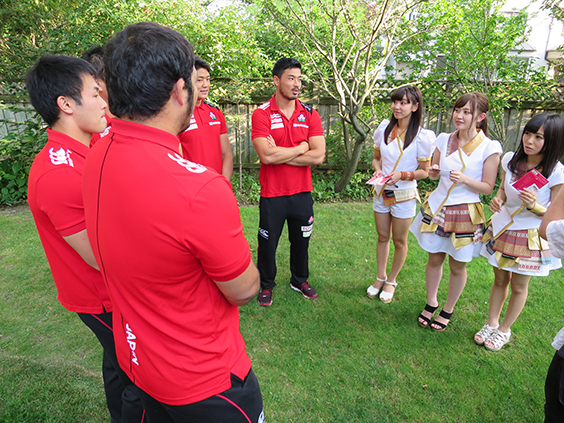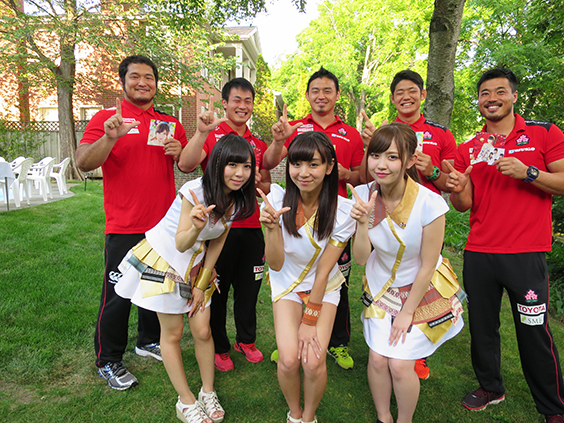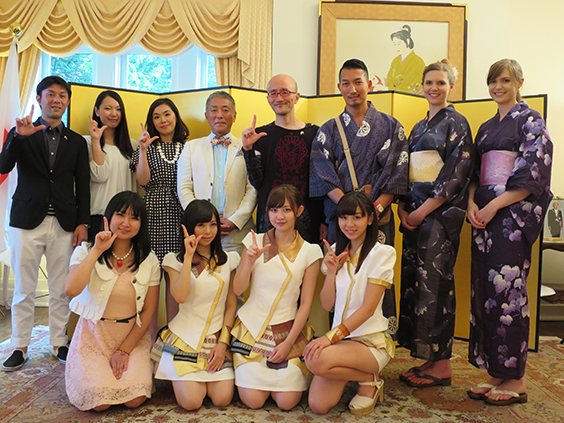 Downtown Toronto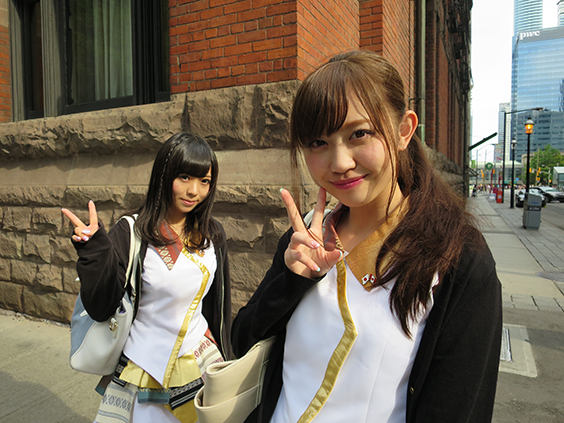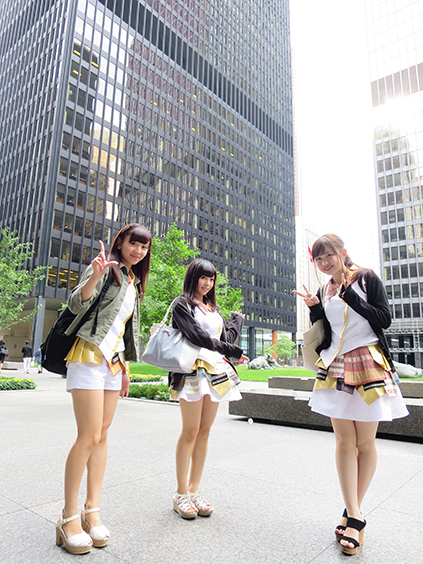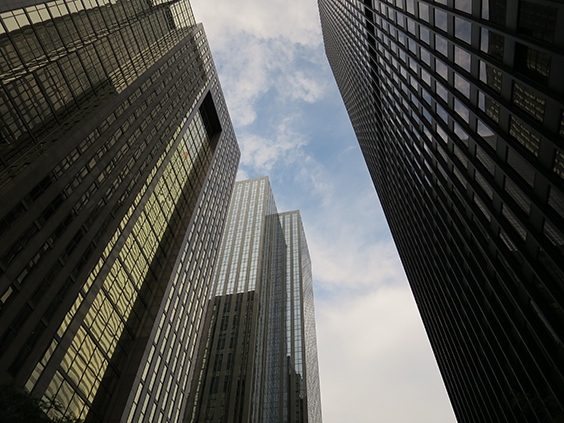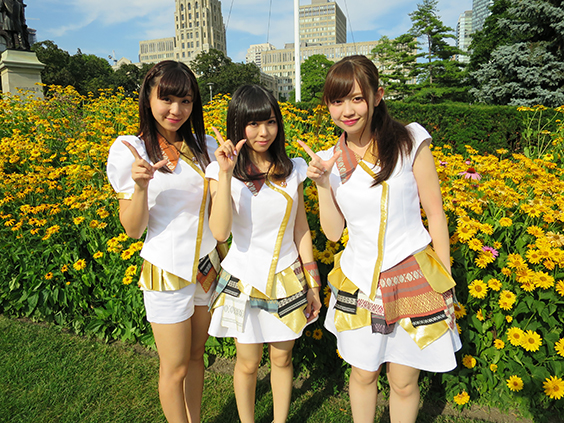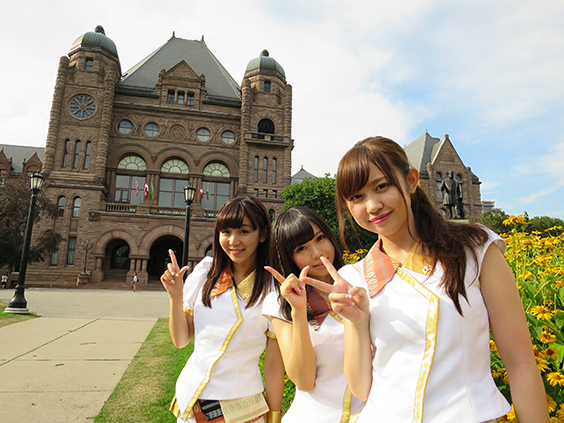 Of all the LinQ members, Yoshikawa often takes on the role of listener whenever the girls get caught up in a conversation with each other, but one of the most memorable things she said during the trip was on the night of the performance when she said, "I'd love to become the person that helps LinQ connect with more people around the world, and after this experience, I really want to learn English."
So I spent a fair number of days in July with the LinQ members. If the various things the girls experienced overseas lends itself to their continued growth, then as one of the organizers of the events in Russia and Canada, I couldn't be happier.
A new article alternate Wednesdays!
*Next update: the 16th of September
Columnist: Sakurai Takamasa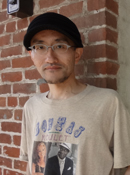 Contents Media Producer, author, specially-appointed professor of Digital Hollywood University / Digital Hollywood University graduate school, and International Otaku Expo Association Executive Office Director. Carrying out cultural diplomatic activities in over 150 cities across 27 countries/regions in total, has held numerous positions in various consultancy committees for the Ministry of Foreign Affairs. In 2009, served as a producer for the "Kawaii Ambassador" program, which was established by the Ministry of Foreign Affairs, has also pioneered cultural diplomacy that makes use of Japanese pop culture, such as anime fashion and music. Frequently invited as a guest to various Japanese events across the globe, has authored several books including, "Nihon ga Suki sugiru Chugokujin Joshi" (PHP Shinsho), "Sekai Kawaii Kakumei" (PHP Shinsho), and "Anime Bunka Gaiko" (Chikuma Shinsho). Has also worked as a television commentator, radio personality and contributed articles for newspapers, as well as web magazines. Currently writing the column, "Pop Culture Chronicles" for the asianbeat website (in Japanese, Chinese and English.)

-twitter http://twitter.com/sakuraitakamasa/
Pop Culture Chronicles: http://asianbeat.com/en/popculture/
Related Articles
J Pop Culture Observations
- Back Number

This comment section is for readers to leave opinions and comments. Inappropriate comments may be deleted, so please remember to be respectful. Thank you!