#33 "Japanese Summer Festival" in Toronto - 3000 Canadians Gather for LinQ's Cultural Diplomacy Concert! (1/3)

For me, July 2015 was somewhat of a "LinQ month." It began with Ami Himesaki, Manami Sakura and Fuko Shiira joining me on the Japan-Russia Youth Exchange Group, which I reported on in my previous articles, and I also took on the role of special commentator at their annual summer festival held in Fukuoka. And then the third episode in my "LinQ month" saw me join Ami Himesaki, Chiaki Yoshikawa and Sakura Araki at the "Japanese Summer Festival" held in Toronto, Canada, on July 26.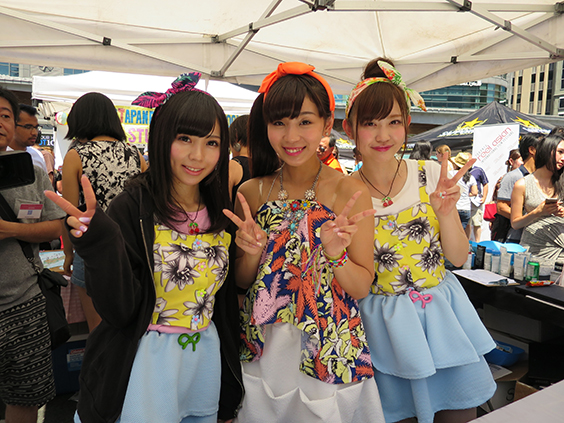 (From left) Ami Himesaki, Chiaki Yoshikawa, Sakura Araki
The setting of cultural diplomacy this time around was the "MATSURI: Toronto Japanese Summer Festival," held at Yonge-Dundas Square in downtown Toronto. Some of the local Japanese restaurants put out yatai street stalls offering the flavors you might expect of a regular summer festival in Japan, like yakitori, takoyaki and shaved ice, while the stage played host to various live performances. One of those performances was the LinQ cultural diplomacy concert, organized by the Consulate-General of Japan in Toronto and yours truly.
LinQ's cultural diplomacy concert at Toronto's "Japanese Summer Festival"