Fun and Fascinating Fukuoka Part1: Sazae-san Street, Dante Monument & Hard Rock Cafe(1/24)

CULTURE WATCH: New and exciting news from the editorial corner of asianbeat. From this October onward we will be launching articles on enjoyable places in Fukuoka for the youth of Asia for the first week of every month. 'Fun and Fascinating Fukuoka,' will be featuring the best of our pop culture hotspots and particularly enjoyable areas for travelers, locals, and people of all ages! 

Should a friend from overseas pop by for a visit and you're not entirely sure what to do or where to take them, with 'Fun and Fascinating Fukuoka' you need not worry any longer! From the ordinary to the extraordinary, we will be selecting some of the best spots that Fukuoka has to offer, some of which are from our very own experiences. First on the agenda: The Momochi Area – home to Fukuoka Tower and Yahoo Dome.
Sazae-san Street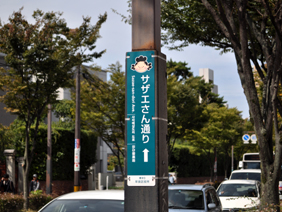 First off, let's take a look at 'Sazae-san Street,' built on May 27th 2012, and only the second to be made in all of Japan.
The late cartoonist, Machiko Hasegawa, was originally from Fukuoka. Her conception of Sazae-san was based upon the land and area of Momochi and that is why the 1.6 km strip between Nishijin and Momochi has been named 'Sazae-san Street.'
Hasagawa first published her four-frame comic strip in a local paper (the Evening Fukunichi Newspaper) in April 1946. Shortly afterward, Sazae-san became an anime that could boast nationwide popularity and would come to dominate the living room every Sunday evening during tea-time. There is also a monument that has been established in the middle of the street in honor of this.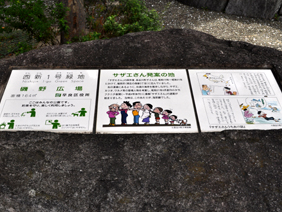 After my travels abroad, and contrary to my initial impression of 'Sazae-san' being either a relatively unknown show or something young people, especially in Asia, would discount as a cartoon for small children, I discovered that upon interviewing foreign students studying in Japan that they not only knew what it was but also knew that it was televised every Sunday at 18:30.
The authenticity with which the storyline depicts Japan is the reason behind the charm it holds as a cartoon. When I tell people that the birthplace of this concept was Fukuoka, and this city's very own Iwataya was the backdrop to which Sazae-san and Masao-san first met, everyone reacts with uniform expressions of shock.
As a matter of fact, a while back, I remember singing the opening song to 'Sazae-san' with a few foreign students at a cultural exchange gathering. And maybe because of this, I feel that 'Sazae-san Street' is a definite must-see.