You Think That's Air You're Breathing?

Beware the Air!!
It's that time of year again, when regardless of your gender, wealth, or social status, cancer-causing smog from mainland Asia seeks to put your health and others' at risk. News broadcasts have shown this photochemical substance that has been spiraling across China and Korea has recently made its way to Japan, and citizens on high alert are now breaking out their masks, which are reserved for such occasions.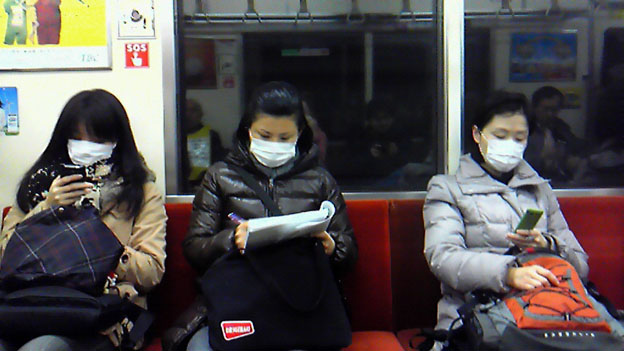 Concentrations are currently thought to be highest in Japan's southernmost island (excluding Okinawa) of Kyushu. Winds being blown in mainly from the west carry the signature polluted trademark of having passed through the greater Asia. While undoubtedly most parts of the world cannot claim to remain completely untainted by man-induced contaminants, what has officials alarmed is the fact that these air currents have brought with them concentrations of these photochemical particles at 50 micrograms per cubic meter of air when the official safe limit is only 35 micrograms.

Japan already has to grapple with the yellow sands continually being dusted in from Mongolia and China, which were also known carriers of these poisonous particles; however, upon seeing that the seasonal timeframe is off, experts have come to conclude that these toxic debris have taken on a more direct and new form. Children and people with respiratory problems are at an especially high risk of falling victim to this wind-riding toxin.

Nevertheless, some are making the best of the worst and accompanying the sweeping endemic this year is a new line of business for Japan's already thriving mask industry - 'professional masks.' The regular masks that you see people wearing during flu-season are not sufficient to prevent the inhalation of micro-pollutants and so these professional masks, not unlike those worn by fumigation workers and individuals exposed to lethal chemicals on a daily basis, have now been introduced to the lineup of masks that serve as landmark corners to convenience stores and super markets throughout Japan.

A new innovation that has also caught the interest of the public eye is what has been dubbed the ozone generator. Previously having been thought to have possible harmful side effects, the acidic derivative of ozone -- which is the primary operative mechanism behind these apparatuses -- was temporarily forgotten but has now comeback with a bang, as it has been found to be much more effective than its ion-based counterpart.

Finding popularity especially among doctors, it is said to be capable of destroying allergy-triggering pollens, bacteria, viruses, and even get rid of any strong, bad smells (including but not limited to dust, pet, smoke, and fungal odors). Weighing only 85 grams and having an effective range of approximately one meter, the mobile version can even be strapped around your neck and carried around at your own convenience. It also has the added benefit of removing cockroaches, mice, and mites when you leave it charging in your house!

Editorial Dep't. - Maria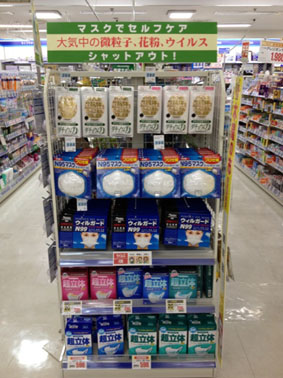 ● "Professional masks" on sale at a Japanese supermarket.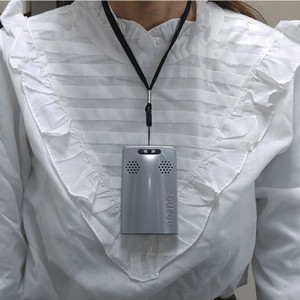 ● Poratable ozone generator.
PRESENTS
All the info. on asianbeat's present campaign!