Hakata's Traditional Crafts are Reborn with the Help of Students.

Hakata's Traditional Crafts are Reborn with the Help of Students.
The other day, Project 2013, an exhibition created by Kyushu Sangyo University's Project Base Initiative opened in the ACROS Fukuoka. The exhibition includes textile and leather goods, shoes and even furniture, all created by students in collaboration with various companies.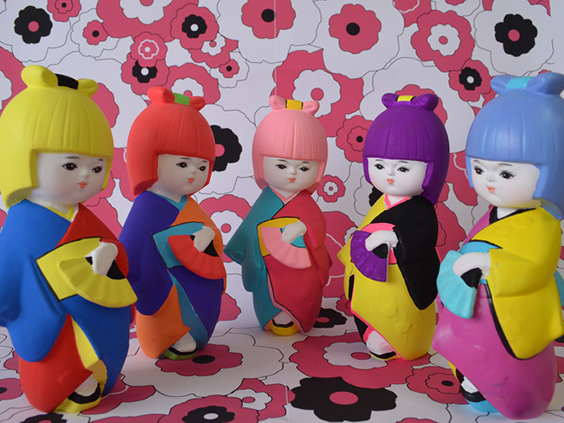 In this great exhibition I noticed the dolls from the Hakata Dolls Rebirth Project. The round Hakata dolls were in cute packages with vivid colors, it felt like I had been struck by lightning....
Nowadays, there is a fear that the next generation will lose their connection to the Hakata Dolls, due to their changing living situations and lifestyles. This initiative hopes to give the youth of today an opportunity to find out about Hakata Dolls. I thought about decorating my room with these cute dolls or giving them to friends as presents.
I've gotta go and buy one! At least that was my first thought, but when I went to the project's exhibition they were already sold out.

However, because they are so popular, more are already being made. One figure costs 1890 Yen. It's not expensive, so when they restock them I think I'll be buying more than one!

The next exhibition is in August at Tokyo Midtown and they are bound to sell out again. This is one movement to watch!

Editorial Dep't. – Asami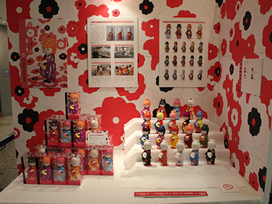 The Hakata Doll Rebirth Project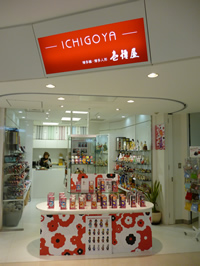 ■Basic Outline
・ Schedule:April 2012-March 2013
・ Sponsers:Ichigoya Co.Ltd, Goto Hakata Doll Co.Ltd
The making of Hakata dolls is considered a traditional Fukuoka art, along with Hakata Ori (Hakata weaves). About 50 years ago nearly every household had Hakata dolls decorating their interior. Recently however, with the dynamic changes occurring in Japanese living and housing, undoubtedly fewer and fewer people wish to ornament their homes with these dolls. Young people especially, no longer feel inclined to do so. And now, in an attempt to revive this culture we would like to reintroduce the idea of giving these dolls as gifts to friends, taking them home for yourself, and in general restoring it to its former role in everyday life. Since 2012, the dolls are being distributed as souvenirs with different colors and patterns and wrapped in plastic bags so that they can be displayed anywhere with ease.
Previously, these Hakata dolls had been exhibited as a local business promotion at Tenjin IMS Hall from February 26th (Tuesday) to March 4th (Monday) 2013. They are currently now being sold in Ichigoya Co.Ltd shops throughout Japan.
PRESENTS
All the info. on asianbeat's present campaign!