The Mexican Kawaii Ambassador, Daniela Gives us a Tea Party Report!(1/7)

Lolita fashion from Japan, to Asia, and beyond!
Last year we announced in this very editorial corner that the Japan Lolita Association's executive office was established in Fukuoka and that CreamyRuby became the Kawaii ambassador for Hong Kong and A.S.Kitsune for Taiwan.
(
[Culture Watch] From Fukuoka to the World: Kawaii Culture is here to stay!
)
We've also posted an exclusive with the Japan Lolita Association head,
Misako Aoki and her Lolita Lecture
in addition to
other special articles on Lolita fashion and the like
.
Kawaii ambassadors have been appointed not only in Asia, but worldwide. Originating in Japan, it can be said for certain that Lolita fashion is slowly gaining recognition around the world.
Daniela Michel who is very engaged in spreading the word of Lolita fashion in Mexico, as well as Latin America does so through her website, "My Lolita Style." An active part of the worldwide Loita scene, Daniela also hosts Lolita Tea parties in Mexico with the Korean Lolita brand LIEF.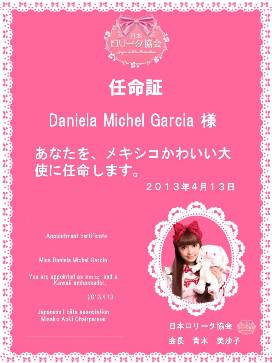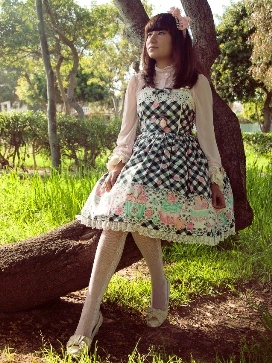 Click the image and it will automatically go to the next.
Now Daniela has sent us an update on one of her most recent Lolita Tea parties. On the following pages you can read a message from Daniela herself and see some of her exquisite fashion snaps.
Please have a look at this Mexican Tea Party for yourself!
Japanese Lolita Association Outline
Founded: March 1st, 2013
President: Aoki, Misako
Head Secretariat: Yoshihara, Kazuo
Number of Members: 1,680 (As of April 20th 2013, 70% are from overseas)
Requesting the following number of "Kawaii Ambassadors": 200 people (As of April 20th, 80% of our representatives are from overseas)
Current "Kawaii Ambassadors": Mexico, Brazil, Argentine, Taiwan, Hong Kong, Shizuoka prefecture, Okayama prefecture, Fukuoka prefecture
Official HP:
http://jlolita.org/
Facebook:
https://www.facebook.com/japanlolita