JR Kyushu limited express train wrapped with Tanjirō and other characters running now! The real "Mugen Train" is coming soon in November!

Discover the "Demon Slayer Trains" in Kyushu, Japan!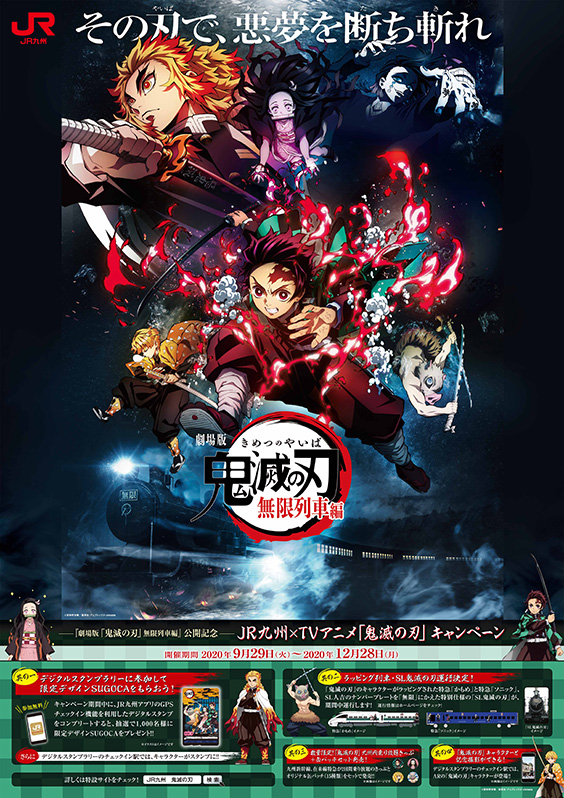 "Kimetsu no Yaiba" is a manga series that has exceeded 100 million copies in circulation, gaining huge popularity inside and outside Japan. As the theatrical version "Demon Slayer: Kimetsu no Yaiba the MOVIE: Mugen Train" will be released on Friday 16 October in Japan, JR Kyushu and "Kimetsu no Yaiba" has started a collaboration campaign! You will be able to see various types of train wraps based on characters from the movie, e.g. the protagonist Kamado Tanjirō and Nezuko, running around Kyushu until the end of December. The limited express "Kamome" (operating between Hakata and Nagasaki) has started the campaign, while another limited express "Sonic" (operating between Hakata/Nakatsu and Oita) will start the launch on Monday 12 October.
In addition, as the movie is set in the steam locomotive, there will be a real "Mugen Train"! By changing the number plate to "Mugen" (infinity), the SL Hitoyoshi Steam Train will run as "SL Kimetsu no Yaiba" for 5 days in November, during weekends / public holidays. Usually runs only within Kumamoto Prefecture, this time the train will be operating one-way from Kumamoto to Hakata, hence you might have a chance to see it at Hakata Station! Whether you have seen the movie or not, you will definitely be captivated by the "Kimetsu no Yaiba" vibe! Check the official website of JR Kyushu to find out the operating schedule! (>>
HERE
)!
Limited Express "Kamome"


The "Kamome" train with Kamado Tanjirō, Kamado Nezuko, Hashibira Inosuke, and Rengoku Kyojurō!
Limited Express "Sonic"


Only the 4th and 5th carriages are wrapped, with the greatest swordsmen in Demon Slayer Corps, "Hashira"!
Special Train "SL Kimetsu no Yaiba"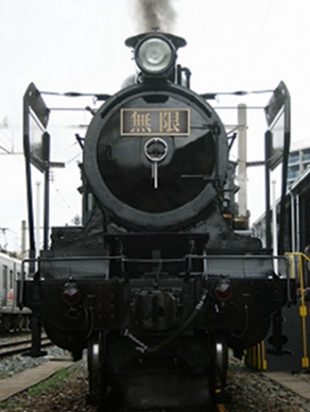 Moreover, commemorative tickets with can badge sets (15 types) can be purchased! You can also play the digital stamp rally using GPS, and many other interesting events that are included in the campaign! Complete all 13 locations for the stamp rally and get the limited goods! (Editorial Dept.: Nika)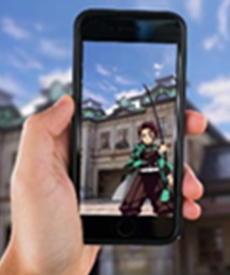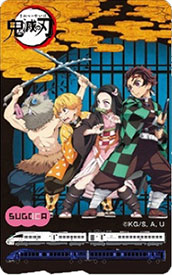 AR "Kimetsu no Yaiba" characters will appear at a check-in station! Complete the 13 locations at different train stations and win a limited edition of SUGOCA by lot♪
Digital stamp rally: List of stations available for GPS check-in and AR characters

[Mojiko Station / Fukuoka Pref.] 竈門 炭治郎 / Kamado Tanjirō
[Hita Station / Oita Pref.] 竈門 禰豆子 / Kamado Nezuko
[Hakozaki Station / Fukuoka Pref.] 煉獄 杏寿郎 / Rengoku Kyojurō
[Tosu Station / Saga Pref.] 不死川 実弥 / Shinazugawa Sanemi
[Sasebo Station / Nagasaki Pref.] 宇髄 天元 / Uzui Tengen
[Isahaya Station / Nagasaki Pref.] 時透 無一郎 / Tokitō Muichirō
[Beppu Station / Oita Pref.] 嘴平 伊之助 / Hashibira Inosuke
[Bungo-Mori Station / Oita Pref.] 伊黒 小芭内 / Iguro Obanai
[Misumi Station / Kumamoto Pref.] 我妻 善逸 / Agatsuma Zenitsu
[Aso Station / Kumamoto Pref.] 甘露寺 蜜璃 / Kanroji Mitsuri
[Miyakonojō Station / Miyazaki Pref.] 胡蝶 しのぶ / Kochō Shinobu
[Kirishimajingu Station / Kagoshima Pref.] 冨岡 義勇 / Tomioka Giyū
[Ibusuki Station / Kagoshima Pref.] 悲鳴嶼 行冥 / Himejima Gyōmei


© 吾峠呼世晴/集英社・アニプレックス・ufotable
Related Articles