Kappa Ramen (かっぱラーメン)

The focus of attention here are the straight, thin, chewy noodles.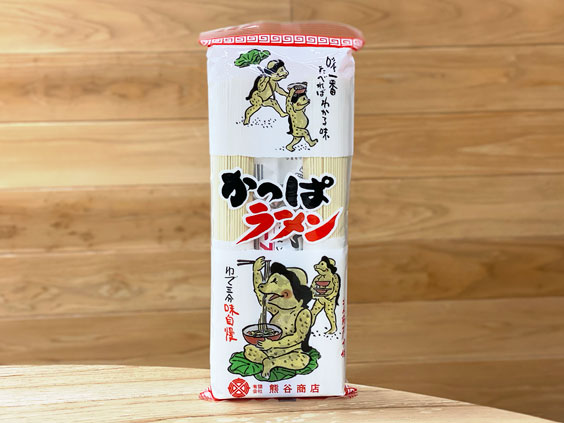 What does Kappa Ramen taste like? This instant ramen noodle is made by Kumagae Shoten, a noodle factory which was established over 100 years ago and is located in Yoshii-machi, Ukiha City (in the southeastern part of Fukuoka Prefecture). Nearby, the largest river in Kyushu, the Chikugo River, can be found. Kappas are legends from a long time ago, they are said to have lived in those rivers Even nowadays people like telling Kappa stories and the Kappa figures are still loved by many local people. An adorable illustration of such Kappa figures are drawn on the noodle packages.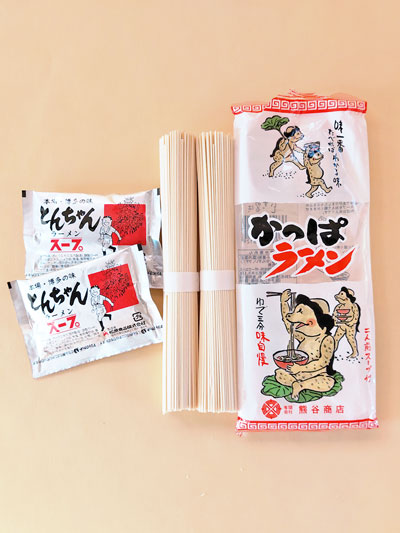 The package includes instant noodles and soup paste for 2 people.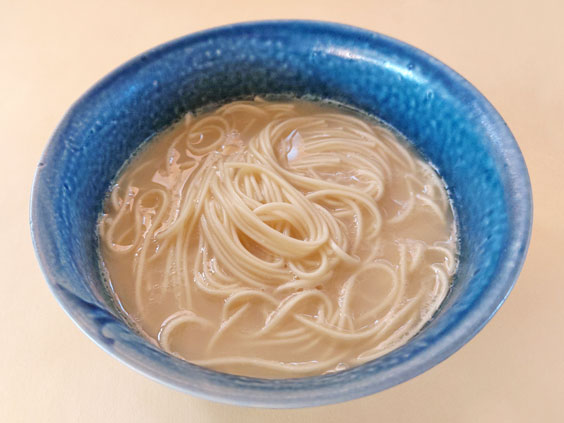 If you like chewy, al dente noodles, we recommend boiling your noodles a little shorter than suggested on the package.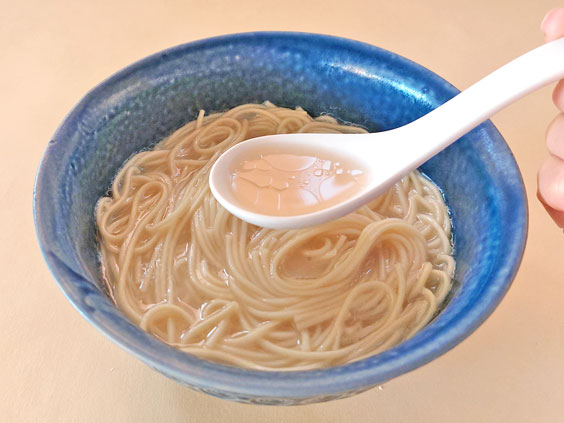 The rich Tonkotsu-pork-soup is delicious!
The package contains 2 servings of thin straight noodles and 2 soup pastes. This time we tried the Tonkotsu-pork-soup flavor, which Fukuoka is famous for. Boil the noodles in a pot for about 3 minutes, turn off the heat and then just add the soup paste. This is a very easy way to eat delicious tonkotsu ramen, it is mild with a delicious aroma and flavor.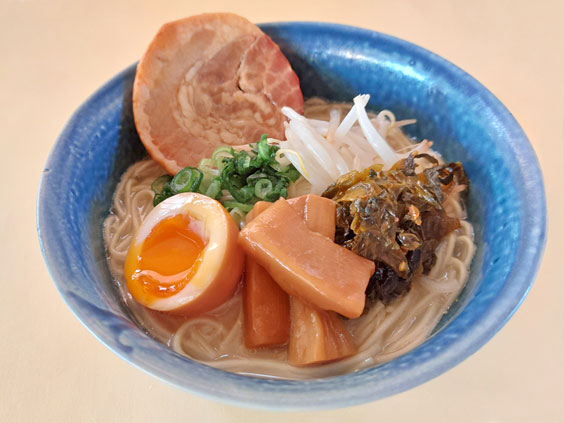 The pickled mustard greens, which are popular in this region of Fukuoka, are the perfect condiment for this tonkotsu soup. We suggest trying your own original topping ideas.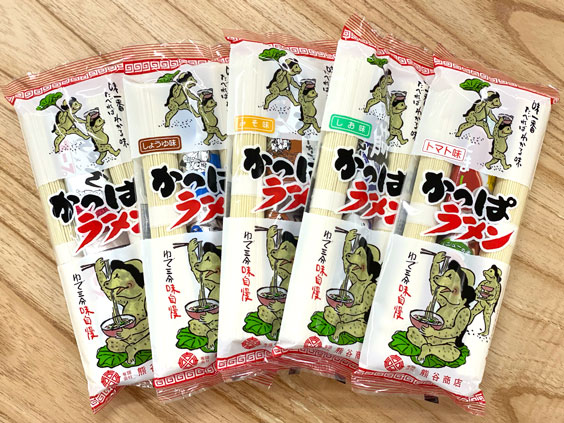 Besides tonkotsu-flavored soup, they offer a variety of different flavors like soy sauce-, miso-, salt- and tomato-flavored soup. Either you buy Kappa Ramen at the Ukiha City farmers markets "Niji no Minounosato" or "Michi no Eki Ukiha", or you can order it online (domestic shipping only). Please make sure to give it a try when you have a chance!
INFORMATION
Kumagae Shoten / 有限会社熊谷商店
- Address: 1916−19 Tominaga, Yoshii-machi, Ukiha-shi, Fukuoka-ken Japan
- Tel.: 0943-75-2700
- FAX:0943-75-4758
- Facebook:
@kumagaeshoten
* All information correct as of April 2022. Products introduced in this article might be sold out.