Mojiko Retro - KAIKYO PLAZA -
INFORMATION

In order to prevent the spread of COVID-19, some of the facilities might have taken various measures such as reducing business hours or temporarily closing their doors. For more information, please check the relevant facility's official website or social media account.



The perfect place for finding souvenirs! Keep an eye out for "BANANA MAN" and "Poké Futa"!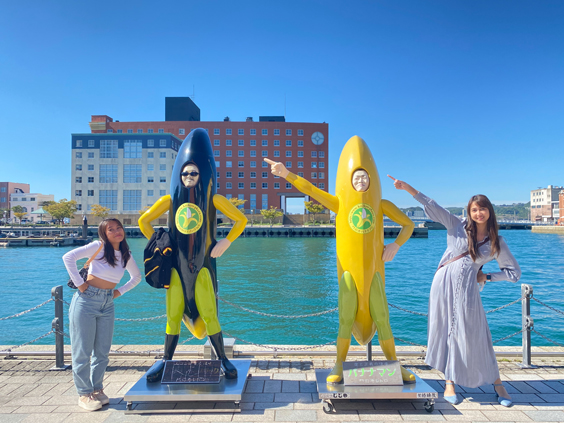 The "KAIKYO PLAZA" shopping complex is located in the vintage streets of Mojiko Retro District (Kitakyushu city, Fukuoka Prefecture). There are more than 30 shops and restaurants to explore in this two-storied building facing the sea. There is also something really fun called "banana no tataki uri (Mojiko Banana Auction)!" It is a great opportunity to pick up some cheap bananas and to hear the salesperson put on a fun show in an attempt to attract the public to check-put the produce! Because its so popular in Mojiko, you'll also be able to find lots of banana flavoured snacks and sweets in the local area! Indonesian influencers Stefi and Ayu had a great time trying banana flavoured ramune and donuts while out along the terrace. Be sure to keep an eye out for the "BANANA MAN" fairy and manhole covers that features the "Pokémon" character "Poké Futa" in the design!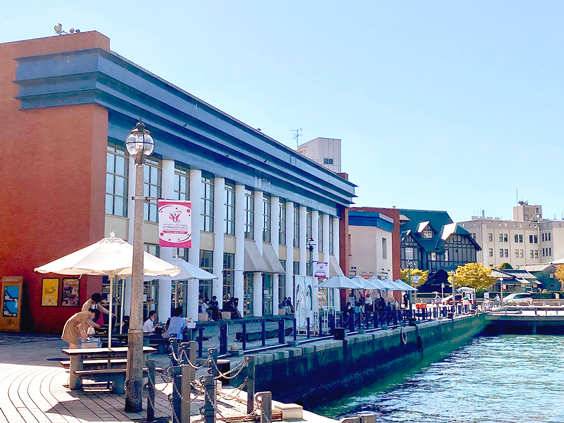 KAIKYO PLAZA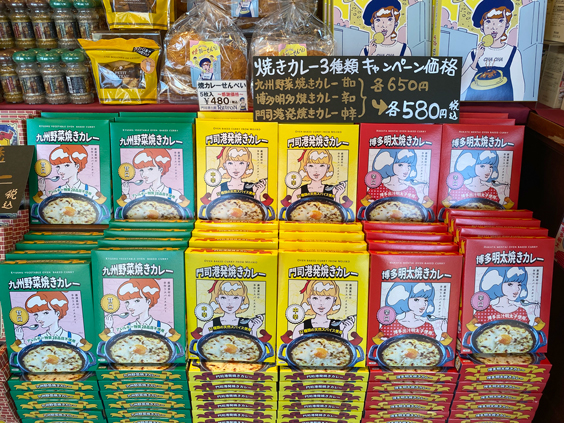 Check out this pre-packaged yaki (baked) curry! The stylish packaging makes it the perfect souvenir!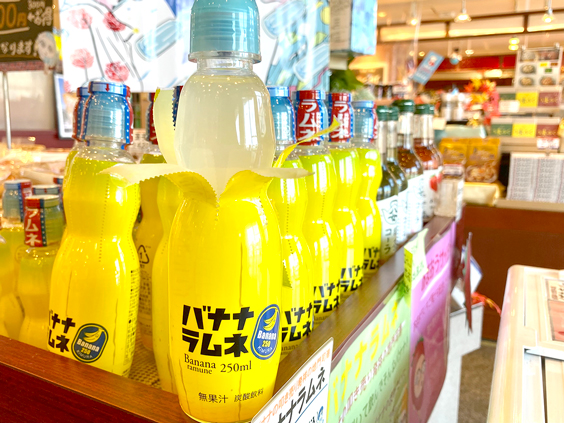 Make sure to try the "Banana Ramune!" Peel the packaging along the dotted lines and your bottle transforms into a banana! The drink has a lovely subtle flavor that you are sure to enjoy!

Stefi: You can have a lot fun searching for souvenirs at "KAIKYO PLAZA!" It's such a fun spot! I like ramune so I was happy to be able to try the banana flavored version that is you can only really find at KAIKYO PLAZA!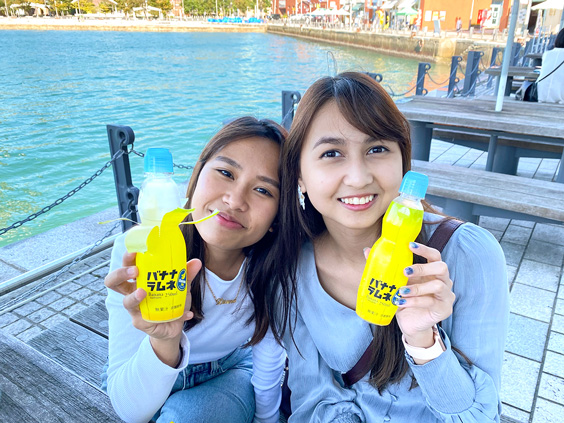 Ayu: You can smell the banana ramune as soon as you open the bottle! The idea of making the bottle label resemble a banana skin when you peel it along the lines is so cool! The drink itself was also very tasty!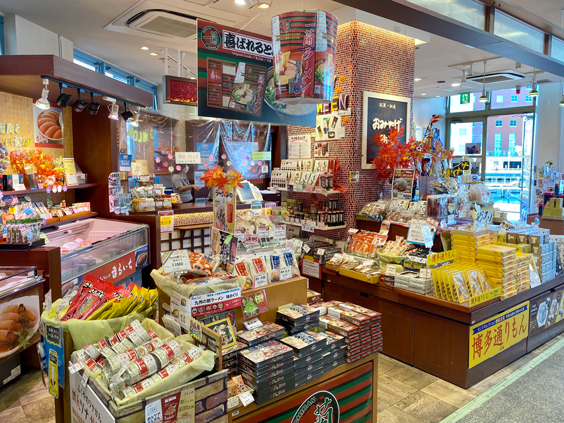 This is great spot to pick-up classic Fukuoka souvenirs such as "Ichiran Ramen" and "Hakata Torimon!"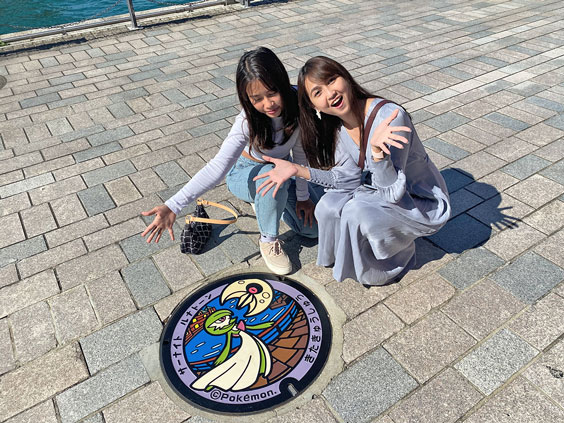 The "Poké Futa" manhole covers in front of KAIKYO PLAZA feature Gardevoir and Lunatone in a nighttime scene!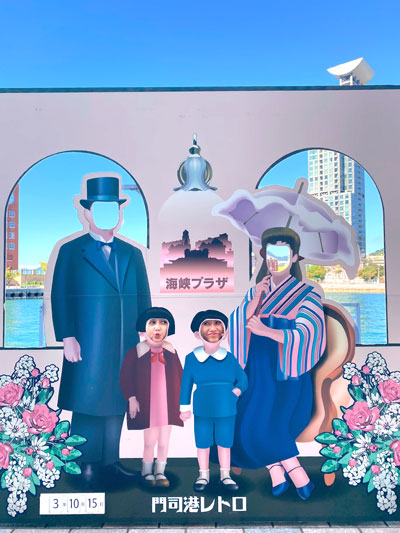 There are lots of fun spots to take a photo!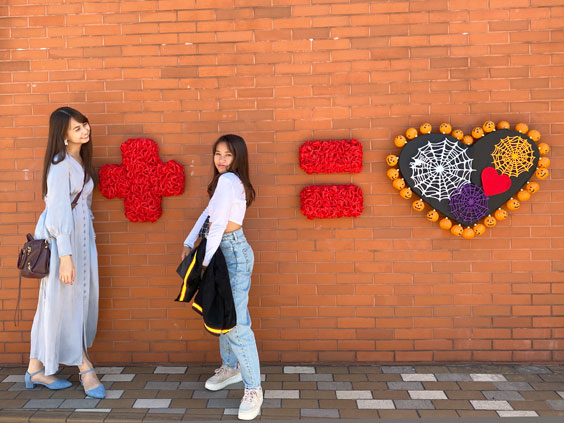 INFORMATION
Mojiko Retro KAIKYO PLAZA / 門司港レトロ 海峡プラザ
- Address: 5-1 Minato-machi, Moji-ku, Kitakyushu-shi, Fukuoka-ken Japan
- Official Website:
https://www.kaikyo-plaza.com/
- Facebook:
@kaikyoplaza
- Instagram:
@mojiko_kaikyoplaza
* All information correct as of October 2021. There are occasions when the layout of the store differs from the current. Products introduced in this article might be sold out or discontinued.
INFORMATION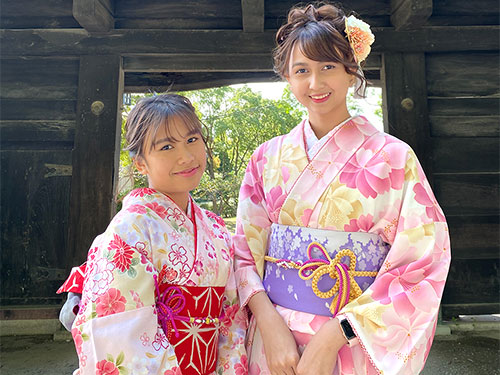 (From the left) Ayu and Stefi
Stefi (Stephanie Pricilla Indarto Putri)
- Twitter:
@sutepiii
- Instagram:
@sutepiii
- YouTube:
HERE
!
Ayu (Sasaki Ayu)
- Instagram:
@sasaki_lisana
- Hot spots around this area! -