Interview Now - Shiritsu Ebisu Chugaku Kaho Kobayashi, Riko Nakayama) -(1/3)

"Shiritsu Ebisu Chugaku," known more simply as "Ebichu" are an 8 piece female idol-group, who released their second full album "Kinpachi" on 28 January. 2 members of the group, Kaho Kobayashi (Attendance Number #11) and Riko Nakayama (Attendance Number #12) visited Fukuoka the day after their album was released, and gave us an in-depth interview in which they shared some behind-the-scenes details about their latest album, spoke to us about their gig in Taiwan at the end of January and (as they are both still junior high school students) even about what they get up to during their school holidays!
Working on my first album filled me with excitement! (Kobayashi)
Kaho Kobayashi (Kobayashi)& Riko Nakayama (Nakayama): "Good morning! Asa no Chime ga Narimashita (lit. The morning bell has rung!) We are Shiritsu Ebisu Chugaku! Nice to meet you!"

Q.(asianbeat):You two are in junior high school, right?! Both of you in the DVD seemed more grown up. Ahh, you girls are so sweet!...

Kobayashi & Nakayama: Oh, thank you so much!

Q.First of all, can you tell us where the name of your 2nd album "Kinpachi" (in stores from 28 January, Japan) came from?

Kobayashi: We are Shiritsu Ebisu Chugaku (Ebichu), there are 8 of us in the group. Our new album title "Kinpachi(金八)" has taken its name from several things. One meaning is that the 8 of us are golden eggs.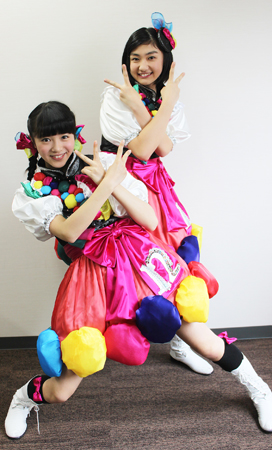 Riko Nakayama (left) and Kaho Kobayashi (right)
Also, each of the two Chinese characters (kanji) that make up "金八(Kinpachi, Golden Eight)" have a line of symmetry down the center, which is a good omen. As they listen to the album, I think people will come to understand the meaning of the title.
Q.In the photo on the album cover all 8 of you have "金髪"(golden hair, Japanese pronunciation of "金髪" is "Kinpatsu"), I guess its like a pun, the album title "Kinpachi" and "Kinpatsu", right? And also, the lead single "Kinpachi Dance Music" contains the lyric "we want to appear on the "金曜八時* (Friday at 8 o'clock)" night show on Music Station (one of Japanese TV's main music programs produced by TV Asahi)."(lol)
*
The kanji for 金曜八時 can be shortened to "金八," the same as the album title.
Kobayashi & Nakayama
: Exactly!!!
Kobayashi:
The title of this album has many meanings.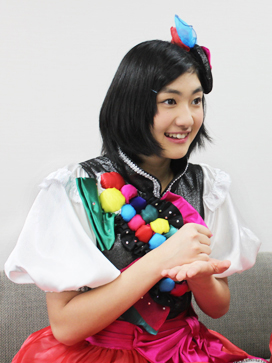 Q.For you two, this was the first album that you have recorded, how was it?

Kobayashi: Until now I've recorded two singles, so I was just so happy to be involved with my first album. The number of tracks I have been involved with has increased, so I am really excited!

Nakayama: The amount of tracks on the album has increased, and there were tracks that I really enjoyed. Listening to the completed album, there are songs that are really enjoyable, and also songs that you can unwind to, there's lots of tunes on the album that draw out all different kinds of feelings and emotions when you hear them, so I really want everyone to check it out!
Q.It surprised me that all the songs come from such different musical genres! Were they not difficult to remember?

Kobayashi: As none of the songs are the same, even the rehearsals were fun! It wasn't difficult!

Nakayama: When I think that we will get to perform these songs live... It makes me so happy!

Q. Do you have any particular favorite songs from this album?

Kobayashi: I like them all, but I would recommend "テブラデスキー~青春リバティ~[Teburadeski (Seishun Liberty)]." The hook of the song, "when you hurl away your heavy baggage, run full steam ahead..." is really gutsy and positive, hearing it I feel a kind of courage bubble up inside me.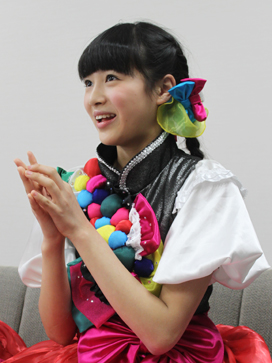 Nakayama: For me, its "Kinpachi Dance Music." In this song, there is a section in the lyrics where Mirei Hoshina (Attendance Number #7) and me speak as if we're in a TV commercial, please listen to it. I think it's a really fun song.

Q. In what kind of situation would you like fans to listen to this album?

Kobayashi: If they are just generally driving in their car, or if they have some free time at home, I hope they can listen to it in all kinds of situations.