Interview Now - Tochi Ueyama, Suu Minazuki, Takahiro Seguchi, Haruhiko Mikimoto, Reine Hibiki, Makoto Kaneuji (Manga CPO) -(3/3)

"Manga" is a common language for people all around the world!
ab: Do you have any manga-themed events or projects coming up overseas?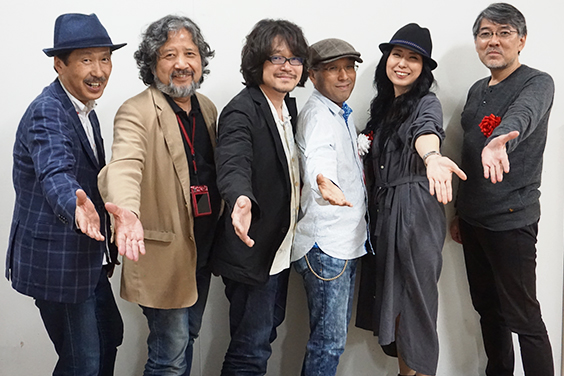 Ueyama
: I participate in "Manga Japan" and every year I join in with "Manga Summit," which is held at different locations across Asia. This year it will be in China and next year it will be in Japan. I find it so much fun to participate in "Manga Japan!" We meet once a month and I participate when I'm in Tokyo for work. For the Asian summit, wherever it's held, people gather from places such as Hong Kong, China, Taiwan, Korea and Japan. Once the meetings have finished, we all go out for a drink and have good time painting the town red.
ab: People are really forging bonds and sharing experiences through manga! Do you have a message for the asianbeat readers? Or any advice for aspiring manga artists, such as how they can improve their work, or any words of wisdom they should keep in mind?
Ueyama
: There's so much manga out there already, the most important thing is to tell your story as best you can. That's always a challenge and can be a bit scary, but it's worthwhile in the end. For example, if you are telling the same X'mas and New year story 30 times or more, you've really got to think, "how am I going to do it this year?" For me, I want to try and tell the story in the best way possible.
"Manga" is a common language for people all around the world! Even if you're from different parts of the world, through manga you can enjoy communicating with others. It would be great see everyone make the most of this and create great new friendships.
Minazuki
: I guess this just goes for manga, but first of all I think it's important for a sketch of a human body to include the muscles and bone structure correctly. You should be able to see
the person from every angle possible in your head and recall that memory when you're drawing. Then, make sure you are intent on recreating the image of that person again and again. That's how you go about making manga.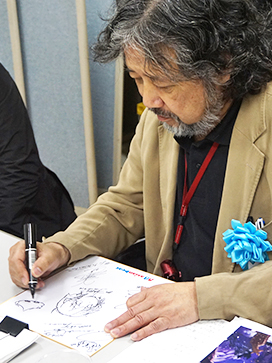 In terms of the story, there are not so many people who have a natural god given talent, so if there is something that you want to write, just do it straight away and get it out. Rather than finding it fun yourself, I hope you'll get to know how great it feels to find out that readers enjoyed what you created.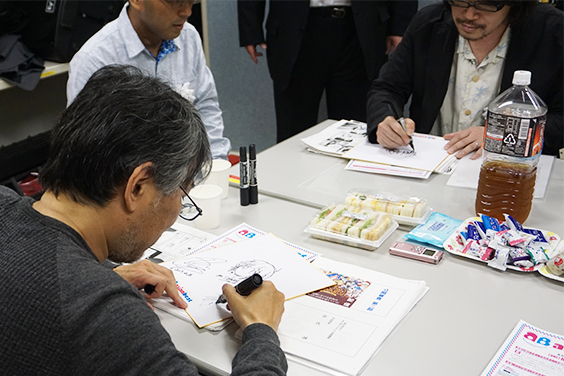 Seguchi
: Everything requires talent in its own right. But, I've never met someone who just can't draw at all. If you draw, then you will definitely see an improvement. However, I'm not sure that's necessarily the case for making up a story, I think there are people who might write and write, but not dramatically improve. That's why I think you need to do more than just watch lots of anime and read manga. Of course that's important, but I think in the long-term it's important for manga artists to understand different viewpoints by watching all kinds of films and listening to all sorts of music.
Mikimoto
: In terms of illustrators, if you include the painting field, there are so many talented individuals. So, always try to find paintings and things that inspire you, it's hard to say what's good and bad, especially when it comes to this kind of thing, but just keep a positive mindset and challenge yourself.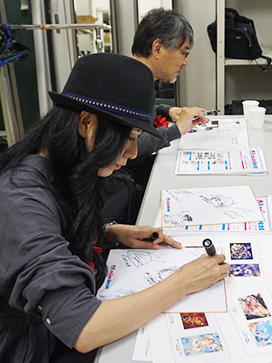 Hibiki
: Speaking about illustration, don't forget what it is that you want to show; polish the drawing skills that you already have, they will become your strongest weapon.
Just fall in love with the characters you draw. When I draw a cute female character, I have a strong feeling that I want the reader to feel that sense of cuteness. As long as I'm drawing, I want to bring that out of me and try to improve. I think that will surely catch somebody's attention. Rather than being vague about wanting to draw and get better, I hope that people practice with a clear idea of what they want to create.
Prizes to be Won!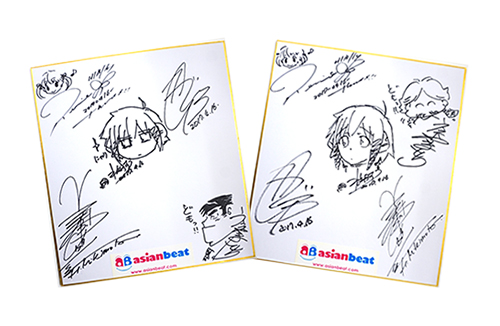 Prize giveaway for asianbeat readers! Apply now to be in with a chance of winning a card signed by Tochi Ueyama, Suu Minazuki, Takahiro Seguchi, Haruhiko Mikimoto and Reine Hibiki! We have two to give away, so make sure to apply straight away! We're looking forward to hearing from you!
(* The two cards that can be won are pictured above. Entrants can not choose which card they want to apply for.)
[Application ]
Wednesday May 10 to Sunday July 9th 2017
[Announcement of Winners]
Wednesday July 12th 2017
The application period is now over. Thank you!
The lucky winners are...アル sanIsaiah san
(Please note, winners will receive an email directly from asianbeat. If you don not reply with a confirmation message within a week, you application will become invalid and you will not be able to claim your prize.)
"MCPO AWARD 2017" Ceremony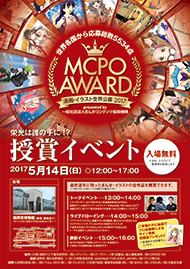 The competition received a total of 5,534 pieces of work from across the globe during the application period, which ran from Thursday 17th November 2016 to Wednesday 15th February 2017. The winning works will be announced based on the selections made at the public screening, which was held on Sunday 16th April 2017.
Date:
- Sunday 14th May 2017 (12:00-17:00)
Venue:
- Fukuoka City Museum (Auditorium, Lecture Room 1)
3-1-1 Momochihama, Sawara-ku, Fukuoka-shi
Content:
- Exhibition of works featured at the public screening, as well as a talk, live drawing session and award ceremony.
*Free admission (tickets will be distributed at the entrance on the day of the event)
PROFILE
Tochi Ueyama
Famous for the manga "Cooking Papa," which celebrated its 30th year in 2015 and also won a Special Award at the 39th Kodansha Manga Awards. With its 139th volume published on 22nd November 2016, "Cooking Papa" lies behind Kochikame and Golgo 13 as one of the longest running series in Japan. Consistently breaking the record for the longest running cooking-themed manga. Weekly recipes are posted in the work. One of the dishes featured, the "Onigirazu," (lit. trans. can not be gripped) a large sandwich-shaped onigiri that has rice and filling enclosed in a large piece of nori seaweed, gained huge levels of attention.
Suu Minazuki
Debuted in 2001 with "Night Keeper," which appeared in GANGAN POWERED (published by Square Enix). Most famous for "Sora no Otoshimono (Heaven's Lost Property)," a 20 volume piece of work that has sold more than 4 million copies. The story was turned into an anime with the first installment broadcast in 2009 and the second in 2010. The movie version was released in 2011, with the second installment hitting screens in 2014. Currently working on "Plunderer," which is appearing in Shonen Ace (Vol.7 is coming soon!).
Takahiro Seguchi
Manga artist who was born and currently lives in Fukuoka. Best-known for "Oyama! Kikunosuke." Currently working on "Mangaka Settai Gohan (漫画家接待ごはん)," which is appearing in Shonen Ace, and "Oyama! Kikunosuke-san," which is appearing in Young Champion-retsu. A fan of Avispa Fukuoka, Fukuoka Softbank Hawks, sake and noodles.
- Official website:
http://kurokamigakuen.wixsite.com/seguchi-takahiro
- Blog:
http://seg552.hatenablog.jp/
- Twitter:
@takahi_RO
Haruhiko Mikimoto
Born it Tokyo. Participated in the "Studio Nue" original project in 1980. Went on to design characters for popular and much-discussed works, including "Cho Jiku Yosai Macross (Super Dimension Fortress Macross)," "Megazone 23," "Top wo Nerae! (Gunbuster)" and "Kido Senshi Gandam 0080 Pocket no Naka no Senso (Mobile Suit Gundam 0080: War in the Pocket)." The innovative, refined, finely drawn characters that appeared in these titles garnered a great deal of attention and huge levels of praise. Currently involved in a wide range of projects, including illustration work, manga series and character design for games. Has recently been engaged in developing characters for anime titles such as "TYTANIA" and "Kotetsujo no Kabaneri (Kabaneri of the Iron Fortress)."
- Official website:
http://www.mikimotoharuhiko.com/
Reine Hibiki
Born in Hitachi City, Ibaraki Prefecture. Was a runner up at the 8th Cobalt Illustration Awards in 1997. Gained popularity after providing the illustrations for Oyuki Konno's "Maria-sama ga Miteru" (published by Cobalt, Shueisha). Got married on July 7th 2012 and gave birth to her first daughter on March 11th 2014. A huge fan of "Ramen Jiro," has in recent years produced a number of illustrations that combine beautiful women and extra large servings of pork ramen. Got involved in an official T-shirt charity in 2016.
- Twitter:
@cofixx
Related Articles
External Links