Interview Now - Tochi Ueyama, Suu Minazuki, Takahiro Seguchi, Haruhiko Mikimoto, Reine Hibiki, Makoto Kaneuji (Manga CPO) -(1/3)

The manga and illustrator "MCPO AWARD 2017" judging panel met on Sunday 14th April 2017 to hold a public screening of works received from all over the world during the application period that ran from November 2016 to February 2017. The special panel that was put together included Fukuoka natives Tochi Ueyama, Suu Minazuki Takahiro Seguchi, as well as popular illustrators Haruhiko Mikimoto and Reine Hibiki! We met up with them to talk about the response to the first ever "MCPO AWARD 2017" and the points that aspiring manga artists should keep in mind if they are looking to improve. We have signed cards to give away, so be sure not to miss-out!
I want this to be a gateway to success for aspiring manga artists.
asianbeat (ab):We heard that the "MCPO AWARD 2017" had a total of 5,534 entries despite this being the first time the competition has been held. It's a response that's exceeded expectations. What were you expecting before the application period started?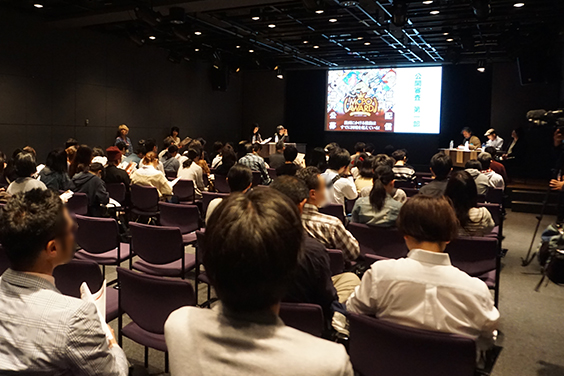 Here's the room just before the start of the 1st "MCPO AWARD 2017" public screening of applicants' works.
Tochi Ueyama (Ueyama)
: I did not think there would be as many (applications) as that. If we had one more piece, there would have been 500 in the Manga Section alone (lol)! It began to get serious when we got about 500. I felt a little bit like "Wow, let's really give it our all!" (lol)
Everyone
: (lol)
Suu Minazuki (Minazuki)
: I never thought that there would be so many. It was surprising how many applications came from abroad!
And I thought the ones that we would get were mainly going to come from Korea and China, but there was a lot more than that. We even got applications from Africa, which was a bit of a surprise. Cultures can vary so much, so I felt a bit nervous judging whether a piece was interesting or not based solely on my feeling and intuition.
*"MCPO AWARD 2017" number of applications: 5,035 in the Illustration Section and 499 in the Manga Section (5,534 in total)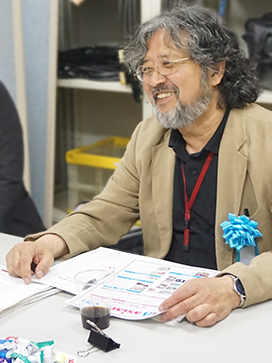 Tochi Ueyama
ab: With selected pieces due to be published in magazines and books, as well as seen throughout the world on the internet, there are some big benefits for the winning works from the "MCPO AWARD 2017." It will be exciting to see how the award winners get on. What are you hoping for?
Makoto Kaneuji (Kaneuji)
: I want this to be a gateway to success for aspiring manga artists. I've been talking about this with President Yamamoto from Sougeisha. (who is overseeing the publication of the winning works). It would be great to create something like a manga magazine that could serve as a gateway to success for these artists and feature works from all over the world here in Japan. That's what I'm working towards.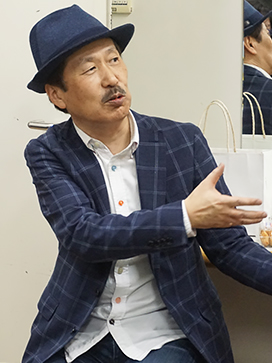 "Manga CPO" representative Makoto Kaneuji
The winning works are scheduled to be printed at some point this summer. They will also be appearing on "MediBang" and "Manga Oukoku" (lit.: Manga Kingdom) websites, so it's a big opportunity for those selected. I was also taking with Mr. Mikimoto about how to get "Comiket" or "Comitia" involved.
Haruhiko Mikimoto (Mikimoto)
: I think that would be really interesting.
Kaneuji
: There is a limit on human resources at the moment. But we will be able to start moving when things calm down a bit.
"Manga CPO" is non-profit, but having a scheme where we could pay back the artists when their works are sold, that would be great. Then maybe next year we would have 10,000 entries. That's what I'm expecting!
ab: We're excited about future developments and how they unfold! Including the likes of Mr. Ueyama, Fukuoka Prefecture is famous for producing many famous manga artists. In what way do you feel you are connected to the local area?
Ueyama
: I think there are a lot of people in Fukuoka who are open to trying new things, we call them "nobesemon!*" (lol) They might give something a go after seeing it and thinking that it looks interesting, or fun.
ab: People get really excited even during festivals, such as "Yamakasa" and "Hakata Dontaku!"
Takahiro Seguchi (Seguchi)
: Yeah, I agree. In a good way, I think that people here tend to be pretty inquisitive. Fukuoka is a good sized city. It is convenient and an easy place to work. Before I came to Fukuoka, I was in Oita and Kumamoto. But it was a different world wanting to become a manga artist in those places. It felt like "oh, it's impossible, I can't do it!" But young children in Fukuoka are more like "Why can't I do it?" (lol)! I feel that there is that kind of natural sense of confidence.
Ueyama
: "Nobesemon," right? (lol)!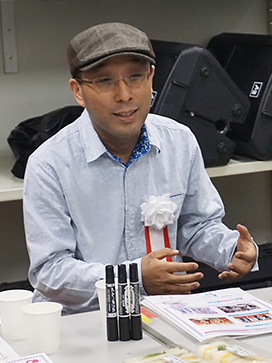 Takahiro Seguchi
* Nobesemon: Hakata dialect meaning someone who gets totally absorbed, influenced by something or easily carried away.