Interview Now - Tochi Ueyama, Haruhiko Mikimoto, Takahiro Seguchi, Koushi Rikudou, Eisaku Kubonouchi, Makoto Kaneuji (Manga CPO) -(1/3)

The 2nd "MCPO AWARD 2018" received a total of 3,678 entries (294 manga strips and 3,384 illustrations)! A special public screening (viewing) and award ceremony were held to celebrate the winning works on 1st July! We got the chance to sit down for an interview with members of the judging panel Tochi Ueyama, Haruhiko Mikimoto, Takahiro Seguchi, Koushi Rikudou, and Eisaku Kubonouchi. A representative from the contest organizers Manga CPO, Makoto Kaneuji also joined in with our discussion. We touched on a range of interesting topics. The artists spoke about the kind of advice they would give to their younger selves when they were first starting out, their approach to art and current mindset as a professional, as well as the experiences they go through when creating their work. They also had a message and advice for aspiring manga artists! Read on to find-out more!
*Mr. Kubonouchi asked for his face not to appear in the article, so we have posted illustration of him instead.
There is very little difference between the technical ability of professionals and amateurs!
asianbeat (hereafter referred to as ab): You have just finished the public screening and judging for the 2nd "MCPO AWARD 2018." What did you think about this year's applications?
Tochi Ueyama (hereafter referred to as Ueyama)
: One of the requirements for this year's applications was that the entries had to fit into one of the themes we created. There was a slight decrease in the number of entries. I have only been involved since the final screening stage, but I feel that there has been an increase in the level of manga and amount of quality reading material submitted.
*Themes for the manga section: Encounters, excitement, ambition, heart-touching
*Themes for the illustration section: Character-driven, plot-driven
ab:Mr. Kubonouchi, you served as a special judge for the 2nd "MCPO AWARD 2018." This was also your first time participating in the event. What kind of impression did the artwork have on you?
Eisaku Kubonouchi (hereafter referred to as Kubonouchi)
: I think everyone is really skillful.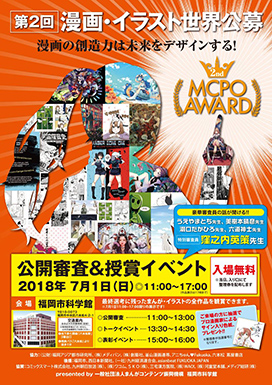 I mentioned this during the review of the works, but I think there is actually very little difference between the technical ability of professionals and amateurs! But if you are looking for areas to be critical, I suppose it could be the originality. Overall, quite a lot of pieces might be lacking a sense of identity. The originality in some pieces are not so strong. That is something I feel about a lot of artwork currently out there.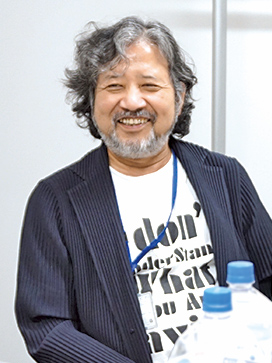 Tochi Ueyama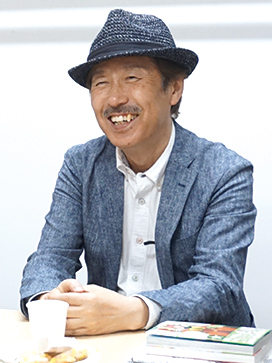 "Manga CPO" representative Makoto Kaneuji
ab: What are your plans for the next "MCPO AWARD?"

Makoto Kaneuji (hereafter referred to as Kaneuji)
: We have not started planning it yet. Nowadays, most Japanese manga and anime seem to be aimed at adults, don't you think? When I go abroad, people often ask, "why are there not so many works produced for children in Japan?" Recently, I've been involved in a manga and anime related projects in China. I've noticed that they are producing content aimed at children! That made me think, "let's make more manga and anime for kids"! We want to establish a category in the competition specifically for manga aimed at children. We have been operating without a huge team, so things have been a little difficult like last year. There are various things we need to do in order to create this new category, such as talking among all our staff. But establishing a section that celebrates work directed at children is definitely a major aim. This time, we have received some comments as well as valuable advice about the running of the event. We'll make sure to put this to good use and make an even more enjoyable event for everyone next time.
If there were certain things I would have known from a young age, life might be quite different now!
ab: If you could go back, what words of advice would you give to yourself when you were first starting out as professional manga artists and illustrators?
Takahiro Seguchi (hereafter referred to as Seguchi)
: I would like to say "do not hesitate or waver. Go for it!" Even now I sometimes get a little lost, but ultimately what I experienced during those times became sources of strength. I have become more skillful over the years and learnt to do various things. So, what I can say to you is do not over-think, just trust your own thoughts and ideas.
Koushi Rikudou (hereafter referred to as Rikudou)
: "One way or other, make sure to study!" When I first started out I just enjoyed painting, but after about two or three years I started to get a bit lost and run out of ideas (lol)! You'll use up your ideas pretty quick, so I think it is important to increase your knowledge by watching movies or reading books.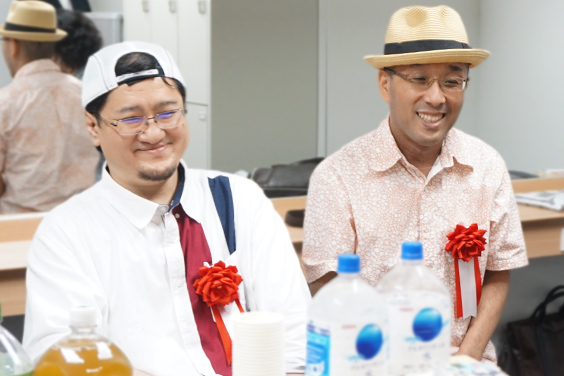 From left: Koushi Rikudou, Takahiro Seguchi
Haruhiko Mikimoto (hereafter referred to as Mikimoto)
: Yeah, I also think its good to study a bit more. This is something I feel more certain about now. I entered this industry as an anime fan and I used to watch anime quite a lot. It's not just about anime, but in real life, too... If there were certain things I would have known from a young age, life might be quite different now! That's something I have thought about quite often (lol)!
Ueyama
: When I first started out, I didn't really know what I was doing, I just drew. I have drawn for weekly publications for about 30 years. I have had to expose who I am. So I think it would be better if I had totally put myself out there from the very beginning and not drawn with any airs and graces. When I made my debut I was still thinking about trying to look cool.
Kubonouchi
: I guess everyone has already covered all the main points. The only thing I can think to add other than what has already been discussed would be "treat your assistants with more kindness!"
Everyone
: Yeah, that's right!
Kubonouchi
: In the past I was acting like a crazy army sergeant (lol). So I think it would be good to be kinder and more gentle. At those times, people's capacity might not be so great. Because I was busy working hard, I did not put so much effort into nurturing and caring for people.
Ueyama
: I was pretty energetic when I was younger. With lots of energy and vigor I would say, "even though I was up all night yesterday, I will do the same today! That's how things get done!" These days I'm not so tough. I think I have become a bit softer (lol)!
Kubonouchi
: Totally! I've become much softer as I have got older (lol)! I'm also much more amicable to assistants!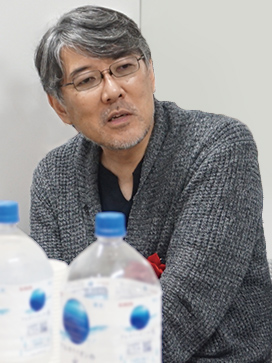 Haruhiko Mikimoto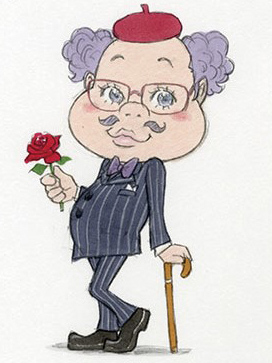 Eisaku Kubonouchi