Interview Now - 高田憂希 (Takada Yuuki) -(1/2)

A special talk featuring voice actor Takada Yuuki took place right at the beginning of the KPF2019! We had a chance to chat to Takada, who was appointed a Kitakyushu Tourism Ambassador at the KPF2017, after the event! Don't miss our exclusive interview!
A love story between an elementary school girl Cinderella and an android prince!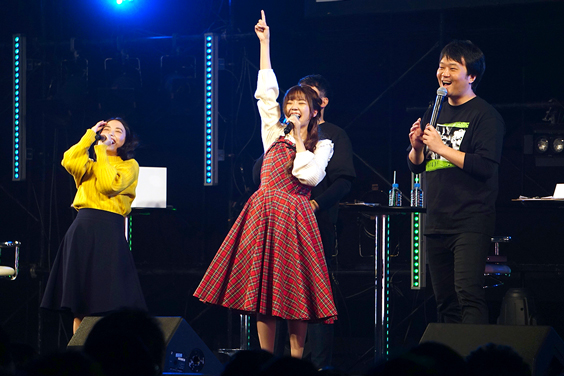 "Takada Yuuki's homecoming event 'Kaette-kitaccha-ne!' Vol.8" took place on the first day the KPF 2019! The special talk featured Takada's friend and fellow voice artist Haruse Natsumi made a special guest appearance during the talk! The first half of the show featured a question and answer session with the audience. Haruse spoke about her impressions of Kitakyushu. She said "The Seijin-shiki (Coming of Age Ceremony) is extraordinary!" She also revealed that her nickname used to be "zashiki-warashi" (a household spirit), which got a lot of laughs from the people in the crowd!
The second half of the event included an attraction called "Narikiri Rodokukai" (lit.: playing roles for a public recital). The two voice artists improvised the dialogue and spoke in a number of regional dialects. Haruse, who is from Kagawa Prefecture, pretended to be a stepmother telling her girls to get ready immediately. She was calling out, "Antara, hayo doresu ni kigaento akanyaro" (lit.: girls, put on these dresses right now!). She also transformed into an android prince and asked Cinderella to dance by saying, "Himeyo, douka watashi to odotte moraemasenka?" (lit.: Princess, may I have this dance?) Takada took on her role of the elementary school student "Cinderella," but responded in a strong Kitakyushu dialect. Takada exclaimed, "Uchi nanka de ii-ccharoka..." (lit.: Are you sure you want me...)!" The crowd loved it! The atmosphere inside the venue was incredible! And the casts shot a promotional video for KPF and asked the audience involved... It's became kind of annual part of the event! (>> Click
HERE
to watch it!)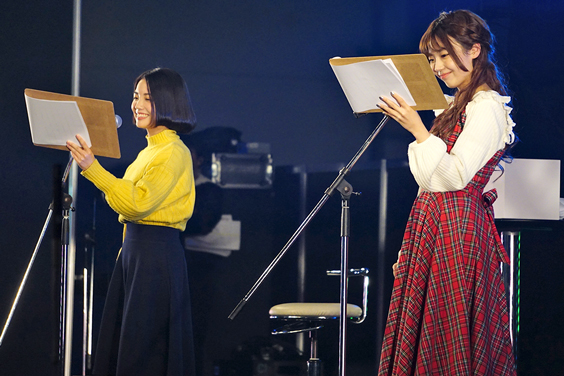 From left: 春瀬なつみ (Haruse Natsumi) and 高田憂希 (Takada Yuuki)
PRESENTS
All the info. on asianbeat's present campaign!