Interview Now ~LM.C~(1/2)

LM.C's maya and Aiji visited Fukuoka as a part of their "LM.C TOUR 2014 PERFECT FANTASY" on April 3rd, 2014. In this interview they reveal the reasons behind why they decided to become Visual-kei musicians, what they keep in mind when they write their music, their experiences in Fukuoka, and finally a message for their fans.
I guess our "concept" is that we have no concept.
Q.(asianbeat)Tell us, why did you decide to become Visual-kei artists?

maya
:When I was little I saw the band "X", which later changed its name to "X JAPAN" and that was a definite source of inspiration for me. Back then, the word "Visual-kei" didn't even exist yet but just knowing about them motivated and drove me to become a Visual-kei artist.
Q.What about "X" appealed to you so much?

maya
:Well, I'm not sure if it was admiration so much as being so stunned by their appearance that it had a lasting impact on me. I was an elementary school student back then and the only word I can really use to sum up my feelings would be "shock." I remember thinking: "What is this!!?" and looking back, that moment was really the start of things. I had heard their song, liked it a lot and decided to buy their CD. Only, when I got home I thought I had bought the wrong one because the contradictory nature of the whole thing really blew my mind.
Q.What finally cemented your decision of becoming a visual-kei artist?

maya
:At first, I really wanted to play the guitar. I always felt guitarists were really classy and cool, so I would often rehash some tunes I picked up along the way on the guitar. I guess this was the official starting point of my career.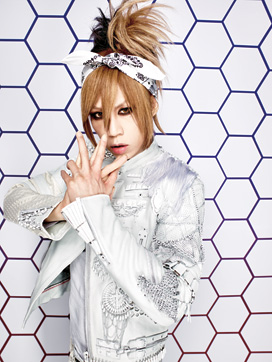 Vocal:maya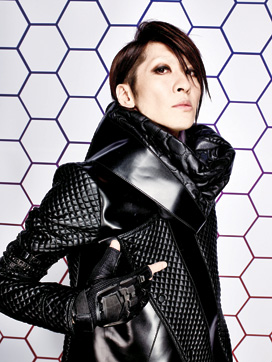 Guitar:Aiji

Q.What is LM.C's concept as a band?

Aiji
:We don't have a musical concept. If anything, not having a concept is our "concept." We just concentrate on whatever we feel is suitable at the time. If you've listened to any of our music you probably noticed that many of our songs don't hold to a specific musical style or genre. One thing I do always try to keep in mind however, is to always be happy. I think happiness is the key to life and I just try to enjoy myself whether it be during interviews or daily life.
Q.What is the most important thing, when you make music?

maya
:In my case, it would be to enjoy the process of making music. It's something that I've started to feel even more strongly about lately. Normally, the production periods and deadlines are set in advance; however, we try to look for ways to do what we want to do, when we want to do it.
Q.Was that a thought that you had even when forming your band?

maya
:I guess anyone who was motivated enough to form their own band will eventually be able to perform live or to write lyrics naturally as the time goes by. However, by repeating this year after year, it eventually starts to feel like routine work. Sometimes its repetitive nature makes me feel like I'm being forced into it and makes me forget the objectives I had laid down in the early days. When we initially started our band, we were simply satisfied with making music and it came pretty naturally to us. Once we took it up as a career, psychologically we feel restricted in our creativity so we try to remind ourselves not to.
Our fans have become more passionate and I can feel that they have been waiting for us.
Q.You two are from Nagano-Prefecture, right? How many times have you been to Fukuoka?

maya
:Many times! (lol) As LM.C, we come to Fukuoka every year.
Aiji
:Maybe this is our seventh time.
maya
:LM.C has been active for 7 years and since we visit Fukuoka every year, this would be our 7th trip here.
Q.Do you feel that your Fukuoka fans are different to your Tokyo or Osaka fans?

Aiji
:Well, first off there is that physical distance between us. Maybe because of this I feel that the fans are waiting for us and that energizes our performances!
Q.So what you think about Fukuoka?

Aiji
:It's great. I like the Fukuoka so much that sometimes I come here privately. We visit many places in Japan for business trips but we don't have many chances to travel Japan outside of work. That being said, Fukuoka is definitely one of the cities which makes me want to come back for more.
Q.Is there any place in particular in Fukuoka you want to go or any special food you want to eat here?

maya
:Nothing in particular comes to mind. The restaurant we went to yesterday was really good, though.
Q.What did you have?

maya
:What kind of food did they serve…?
Aiji
:It was a seafood restaurant by the name "Seimon-barai" in Nakasu [Fukuoka]. We really wanted to eat the squid-sashimi there.
Q:Did you like the squid-sashimi?

Aiji
:It was excellent! The Mackerel is a personal favorite, though. The place was something between a fancy restaurant and a Japanese-style bar "Izaka-ya".