Interview Now - 古賀葵 (Koga Aoi), 古川慎 (Furukawa Makoto) -(1/2)

"Special Exhibition Kaguya-sama: Love Is War" is currently taking place in Fukuoka and runs until Sunday 5th June 2022. Voice artists Koga Aoi (who plays the role of Shinomiya Kaguya in the TV anime "Kaguya-sama: Love Is War") and Furukawa Makoto (who portrays Shirogane Miyuki) visited this exciting retrospective. We spoke to them during their trip and discussed some of the must-see items on display. The two stars spent some of their time as students in Fukuoka, so we asked them what fun local activities they would recommend. We have a wonderful prize to give away to one lucky asianbeat reader. Keep reading if you want to find out how to apply!
An exhibition full of surprises!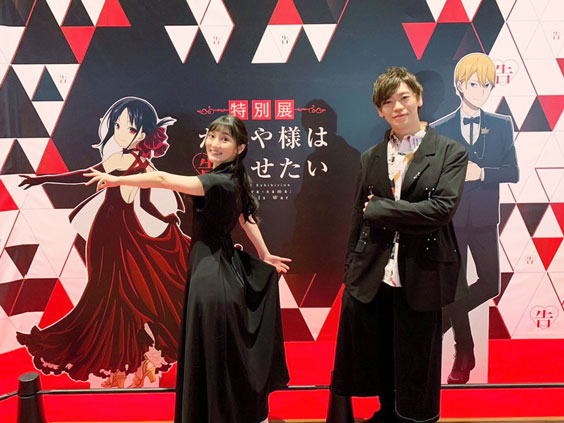 (From left) Koga Aoi and Furukawa Makoto
asianbeat (ab): This is the first time that a "Kaguya-sama" exhibition has been organized. What's your impression of the displays? Did any exhibits stand out?
Koga Aoi (hereafter referred to as Koga)
: I was really impressed to find storyboards and original drawings that you do not often get a chance to see. The drawings of "Chikatto Chika Chika♡" which is featured during the closing credits of episode three (season one) is awesome. These kinds of items are so wonderful!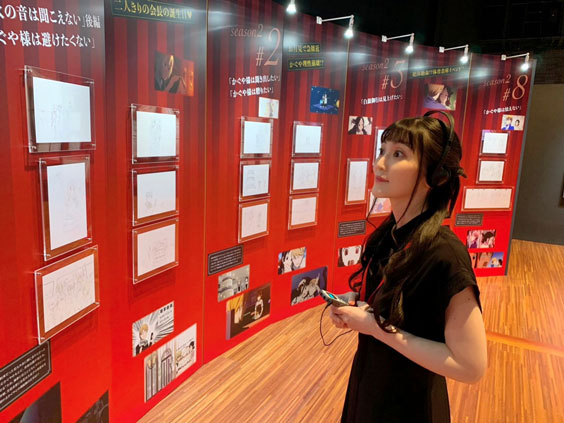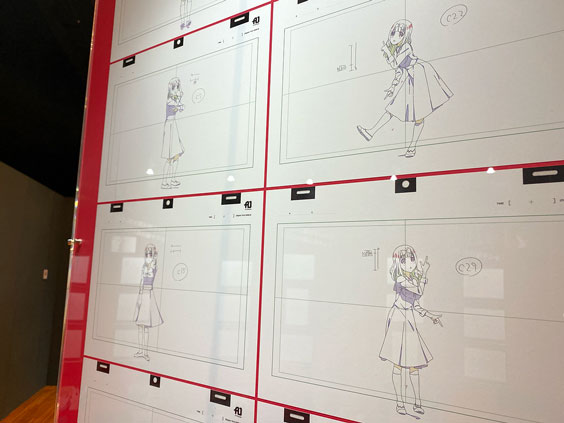 Here are some of the original drawings of "Chikatto Chika Chika♡"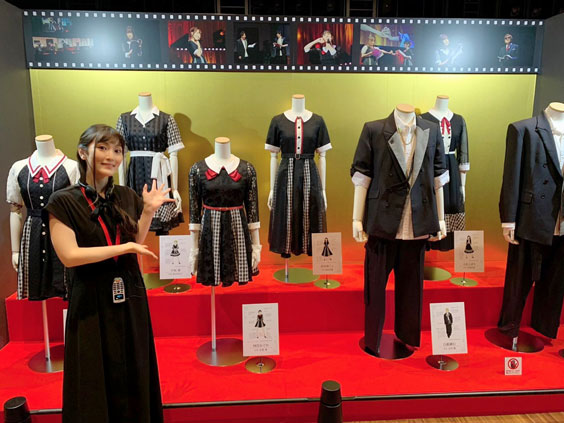 Some of the costumes used for the "Kaguya-sama: Love Is War on Stage - Shuchiin Ongakuan-" are currently on display!
Furukawa Makoto (hereafter referred to as Furukawa): I was excited to see the special opening video that is being played by the entrance. It is not just storyboards... The displays also feature all kinds of goods and merchandise that have been released. I was surprised to see so many items on display. I couldn't help but say things like "wait. what's this?"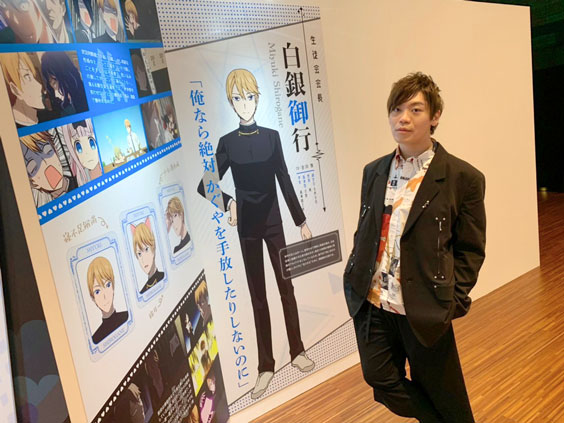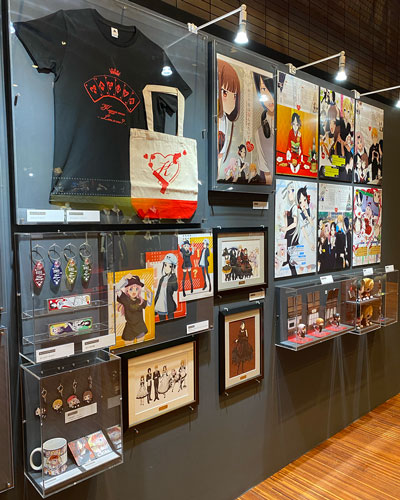 Here are some of the goods and merchandise that have been released so far!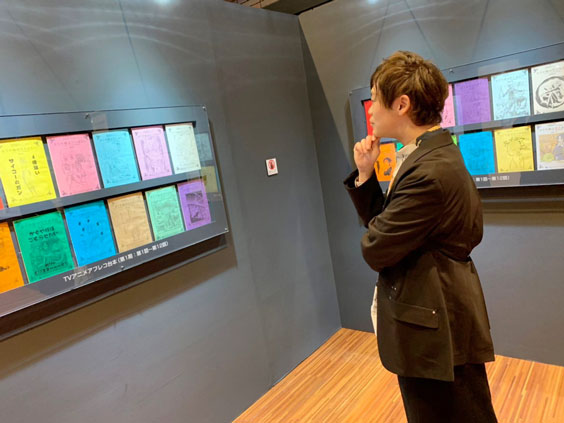 ab: It's been about three years since the anime series was first broadcast in 2019. What does the show mean to your lives?
Furukawa
: I approach the role of Shirogane Miyuki by drawing on techniques that I've acquired in different jobs as well as my own emotional trials and tribulations. It feels like the culmination of the characters I have portrayed up until now.
Koga
: I get a lot people asking me to say Kaguya's line "o-kawaii koto (lit .: how cute)!" My world has definitely expanded alongside "Kaguya-sama."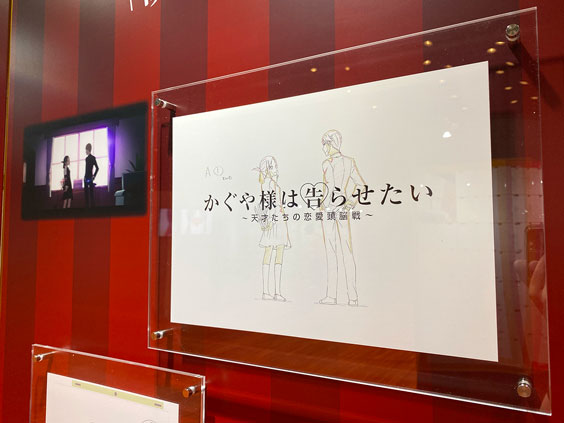 ab: What kind of advice would you give to Kaguya and Shirogane? The characters can be a bit clumsy when it comes to romance, right?
Koga
: I understand how they feel because I also prefer it when the other person confesses their feelings first... I think Kaguya is fixated on the outcome. On a personal level, I just haven't got the courage! But Kaguya and Shirogane are becoming more direct and outspoken. If they are in that kind of mind space, I think they can really give it a shot! I'm definitely backing them!
Furukawa
: I'd like to say "Shirogane... Go for it!" Take action and then the rest will fall into place. But I am not sure he would listen (lol)!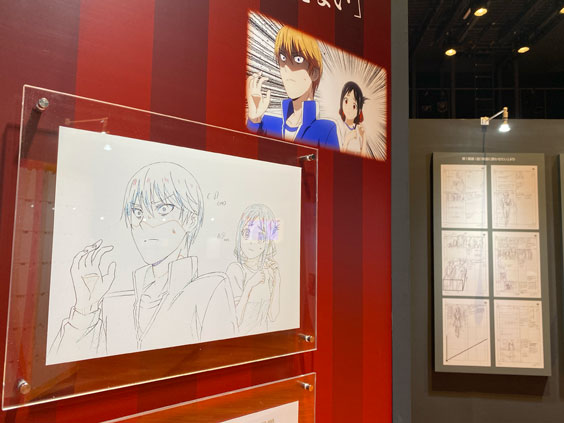 ab: Which character in the student council are you most like in real life? Can you relate to any of the characters in the show?
Furukawa
: I would probably go for Ishigami Yu. I'm a bit antisocial (lol)! I think that Koga is a mixture of Kagura and Fujiwara.
Koga
: Well... I'm not too sure... But let's go with that (lol)!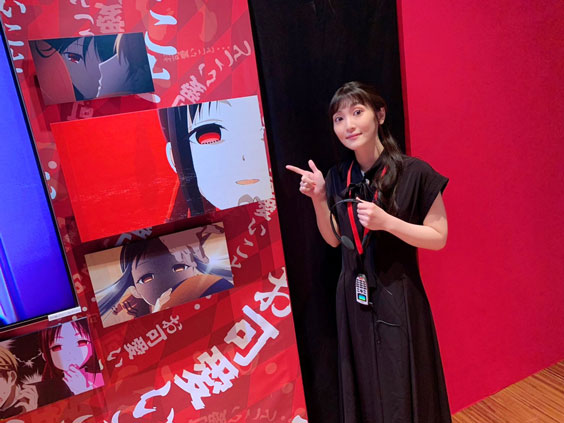 ab: The phrase "Ultra Romantic" is attached to the third season's title of the Kaguya-sama TV anime. Can you think of any analogies or personal anecdotes that are connected to the "Ultra Romantic" title?
Furukawa
: Incredibly detailed figures of Fujiwara Chika and Shinomiya Kaguya are on display at this exhibition. I think this level of detail is "Ultra Romantic!" Please check out the care that has gone into creating these figures. Even the fishnet tights are just how you imagine them to look!
Koga
: So... Let me see (lol)... The other day, I saw a couple in their 40s or 50s holding hands with their fingers intertwined. Well, I guess more than just that... I think the connection that couple's share is "Ultra Romantic!" That's what I would like to experience as I get older!
©赤坂アカ/集英社・かぐや様は告らせたい製作委員会
Guest Photos Provided by: "Special Exhibition Kaguya-sama: Love Is War" Official