Currently the most famous Japanese! Mizuki Ichiro 40th debut anniversary (Part 2)(1/2)
10 Questions for Aniki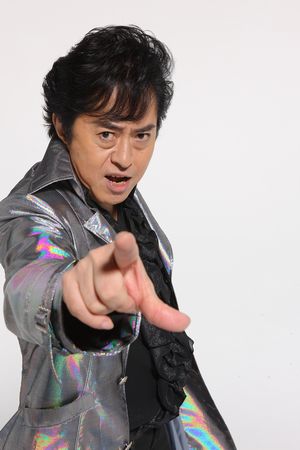 Q1.How does it feel becoming the most famous Japanese?
A.It was a shock. The day I got the news that I was ranked "the most famous Japanese in the world" I got many congratulatory emails. I wasn't quite sure what was going on.
My staff checked the net and we finally found out what was going on. It hasn't really sunk in yet. In anime, it is the characters and the special effects that are at the forefront, but anime songs and singers like myself have only become known recently.
However, after 40 years and 1200 songs I think you can say that there is nobody in Japan who hasn't heard my voice.
After working on anime for such a long time, those anime have eventually been broadcast overseas, and it goes to show that now there are many who have grown up with my songs not only in Japan but overseas too. It is not an award bestowed on me, rather it is in Wikipedia which is a format that anyone can edit, and I am honored and pleased that I have got the award.
Q2.You often perform overseas. Is there one country that has left a big impression?
A.Anime song fans are the same all over the world.
They learn the original song in Japanese and sing along.
Because foreigners don't have as much a chance to see me they are even more hyped up. Some even cry, some know all the words and dance moves and sing along perfectly. The first time I saw this in Hong Kong left a lasting impression.
Mazinger Z was popular first throughout the world, being about super robots. In some countries the popular songs differ. It is really interesting.
Sometimes, due to the Internet, some songs are popular despite never being broadcast on TV in the country. When I went to France the coordinator told me that Com Battler V had never been broadcast, but when I started singing the theme song they chimed in dancing and singing "V V V". It was a real rush!
Q3.What country would you like to visit for a holiday?
A.There are many countries I would like to visit but rather than a holiday I would like to spread the gospel of anime songs.
There are many people in the world who would like to hear me sing live.
I would like to visit the 92 countries that translated my profile page in Wikipedia. I would like to visit as many as possible.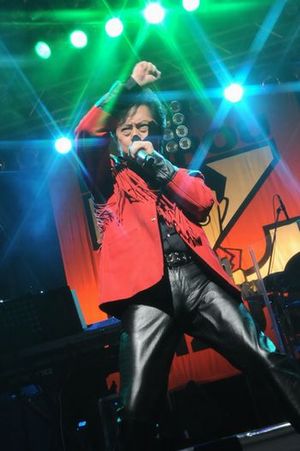 Q4.How do you feel when you are singing anime songs?
A.When I sing I feel healthy in both body and soul. You all should try it.
I also quite like ballads.
Q5.What anime do you like?
A.I like all the anime that I have sung the theme songs to. By the way, when I was a boy, there were practically no anime. I liked GEKKO KAMEN though.
Q6.Which artists do you respect?
A.It is difficult to name only one singer that I respect. When I was young my mother was a fan of standard jazz singers like Frank Sinatra and Tony Bennett, so they influenced me. When I was in primary school I loved American pops and in junior high school I used to imitate them.
So you could say that my singing teachers were Sinatra, Bennett, Pat Boone, Elvis Presley, Nat King Cole and Ray Charles.
Q7.Has any news caught your attention recently?
A.Because I have been singing anime songs for so long, news that affects the happiness of children catches my attention.
I sincerely wish that children can live in hope free from the fear of starvation, sickness and death.
Q8.Please give yourself some praise!
A.Consistency is power. I have been healthy enough to keep singing for 41 years – that gives me confidence.
Being able to take on the 24 HOUR 1000 SONG LIVE CONCERT shows I have the confidence to carry on.
Q9.Where do you get your energy?
A.Anime songs are my source of energy. They are packed full of hope and inspiration.
Just singing them gives me courage.
Also, seeing the twinkle in the eyes of those listening to my songs. I absorb the energy from those who come and se my performance. I will be Aniki forever.
Q10.What do anime songs mean to you?
A.They are a part of me. Is it saying too much to say that Aniki = anime songs?
If there were no anime songs there would be no me, and if I didn't sing them the anime song world would be different.
Anime songs have given me much. There was a time when anime songs were not accepted by the music world, even so I had faith and love of the music – that kept me going.
In hindsight it seems that the world has passed judgment on anime songs. Both before and now I can hold my head with pride.
I am an anime song singer.
※Unauthorised copying or transfer prohibited.

Information
News for those who want to meet Mizuki Aniki.

MIZUKI ICHIRO SUPER LIVE 2010 MINNA ANIKI GA SUKI DATTA event will be held in January.