Exhibits @ KPF Main Venue & Kokura Castle(1/21)

A range of engaging exhibits helped catch the attention of visitors!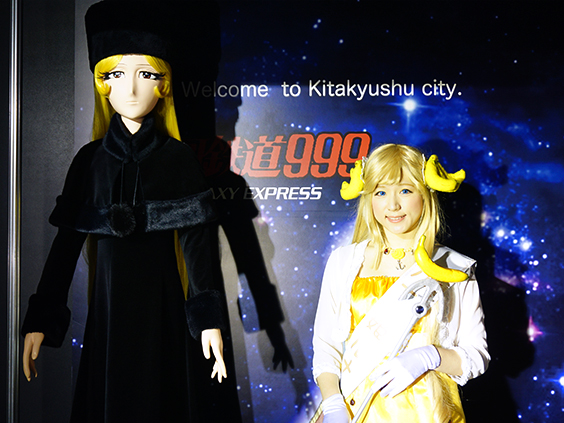 A member of staff from the Kitakyushu City Tourism Division was dressed as Banana Hime Luna! Here she is ready to greet visitors beside a model of one of the characters from "Ginga Tetsudo (Galaxy Express 999)!"
There was approximately 40 exhibits set-up at the "KPF2017" for visitors to enjoy! The range was incredibly impressive, with anime and manga-themed booths, alongside a section where visitors could try out new computer games! There was also an area providing information about Kitakyushu City and the local area! A set of displays in Kokura Castle featuring characters from the anime movie "Touken Ranbu -Hanamaru- Makuai Kaisouroku" helped recreate scenes from the new title! Widely recognized as a symbol of Kitakyushu, the castle provided the perfect setting for the series of panels, which went on display to celebrate the December 1st release of the film! Read-on to find-out more about some of the attractions at main venue and in Kokura Castle! We've got lots of great snaps for you to enjoy!