Japan-China-South Korea New MANGA Artist Competition in Kitakyushu - Award Ceremony

Young manga artists - the future of the industry!
The "日中韓新人MANGA選手権 in 北九州 (Japan-China-South Korea New MANGA Artist Competition in Kitakyushu)" was held from 8th to 11th November. An award ceremony took place on Sunday 11th November during the KPF2018 to celebrate some of the stand-out works! The contest was open to aspiring manga artists from Japan, China, and South Korea.

A total of 21 applicants were selected from each country. The competition was split into different categories, with the top entries receiving gold, silver, and bronze awards. This year's highest honor went to SN Sini from Korea! With tears of joy in her eyes, she expressed her feelings of gratitude to the crowd. She said, "Just being able to represent South Korea was such a privilege..." The crowd responded by giving her a big round of applause. Even the applicants who did not take home any of the big prizes showed their support and appreciation for the winners. A real sense of warmth was palpable throughout the venue. There was a fantastic atmosphere! The participating artists really got to know each other during the event. Any feelings of rivalry gave way to strong friendships by the end of the event! Congratulations to everyone who participated. Please continue to do your best! We are looking forward to seeing more of your work in the future!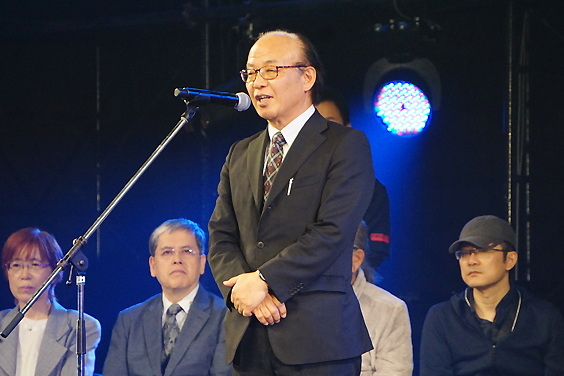 ▲ Speech from Kitakyushu Manga Museum's Tokihiko Tanaka as representative from organizer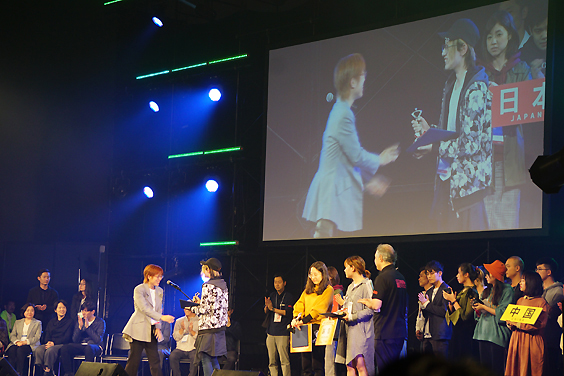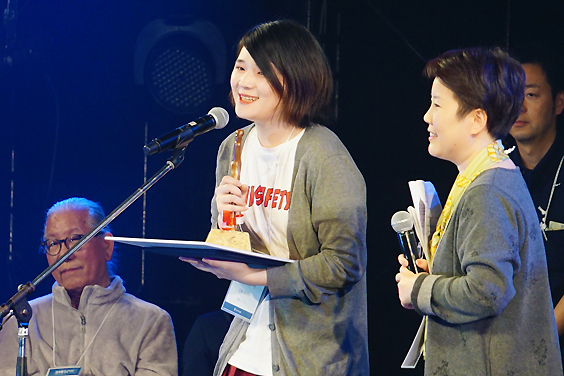 ▲ Winner of Gold Award, SN Sini, Congratulations!!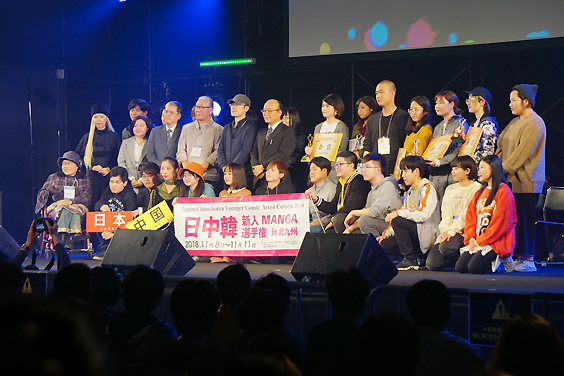 日中韓新人MANGA選手権 in 北九州 (Japan-China-South Korea New MANGA Artist Competition in Kitakyushu)
■Date:
 Thursday 8th - Sunday 11th November 2018

■Entry Requirements:
 Aspiring manga artists under the age of 29 years old (as of November 8th 2018). Produced less than two tankobon publications and/or involved in no more than one web series per year.
 (Anyone looking to become a manga artist)

■Organizer:
 Japan: Kitakyushu City (responsible for 2018 edition)
 China: 夏天島工作室
 South Korea: 韓国漫画映像振興院

■Winner:
 Gold Award: SN Sini/South Korea
 Silver Award: Teruhiko Misaki/Japan, 阿伦 (Run)/China
 Bronze Award: YOON-JEONG HEO/South Korea, Sparkle/South Korea, Mizuki/Japan
Related Articles