Fukuoka City | Fukuoka Tourism Kimono Experience, "Fukuoka Castle MY-YOU no Yakata"

Taking a stroll in kimono! A kimono experience popular amongst tourists!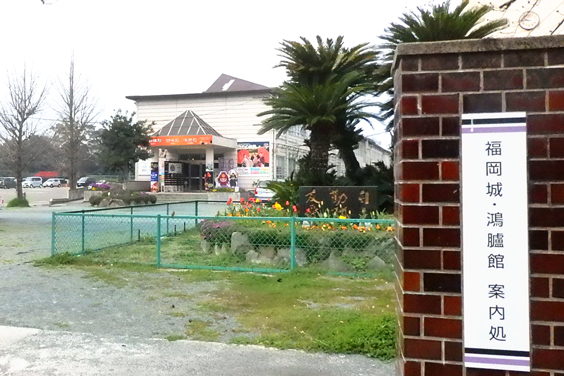 Using the old campus of Fukuoka Municipal Maizuru Junior High School, which used to be inside the castle grounds.
For visitors to enjoy roaming around Fukuoka Castle and Maizuru Park in kimono, in March 2018, the Fukuoka Tourism Kimono Experience, Fukuoka Castle "MY-YOU no Yakata" was born. Japanese costumes not just for women, but also for men and children, were assembled there. This time, the four Chinese and Vietnamese Kawaii Ambassadors dressed in charming kimono, and roamed around the ruins of Fukuoka Castle and the environs of Maizuru Park.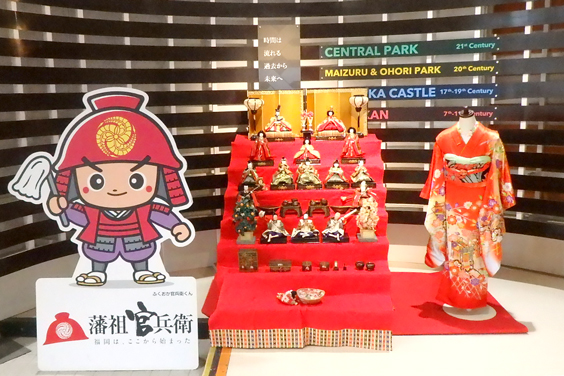 At the entrance to the building, you can feast your eyes on seasonally changing exhibition items.
From around 100 items, you can choose to be dressed in your favorite pattern kimono. For foreign tourists, it seems to be popular to pair kimono with hakama!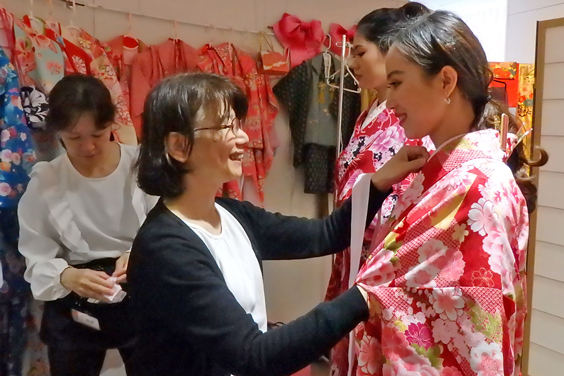 Professionals can help you get dressed, so there's no need to worry that you'll wear in the wrong way or lose shape!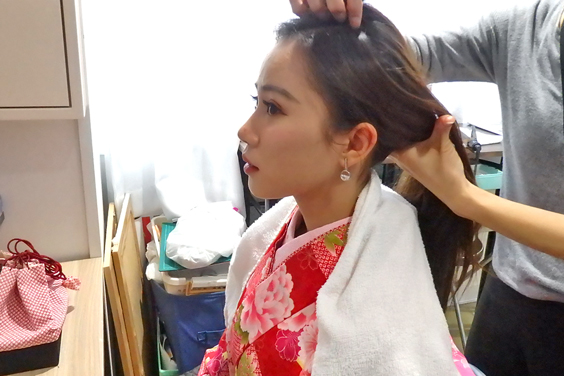 Choose hair ornaments that you like and they will help you to wear them prettily.

Giang: There were a number of garments, so dressing took a surprising thirty minutes! Tying the sash was especially complicated, and when it was done, it was like an art piece! When I put on the wooden "geta" and took the drawstring pouch in hand, my movements naturally became graceful. We had so much fun roaming around, until we forgot the time!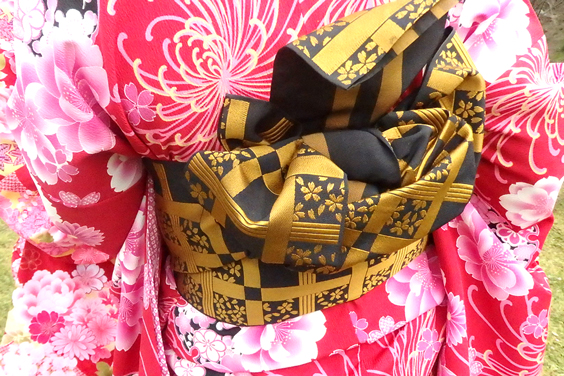 Linh: Not just the sakura, but the kimono is also a Japanese cultural symbol. Dressing in kimono is really elegant, such that you can really feel Japanese women's meticulousness and concern for their attire! Being able to stroll around Fukuoka Castle in kimono, this is an unforgettable memory. If the opportunity comes again, I want to take my time viewing cherry blossoms in Ohori Park and surrounding myself in cherry blossom petals!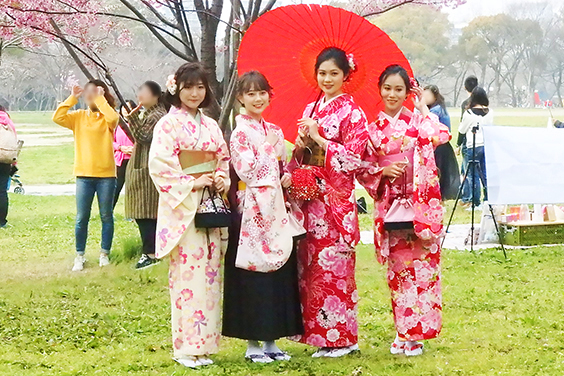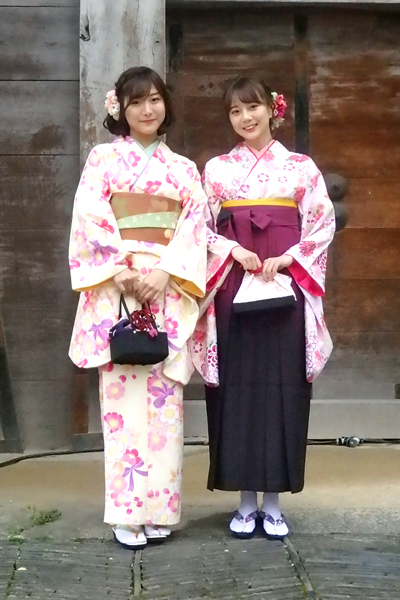 Yang Yang: My first time trying on Japanese kimono! Wearing kimono for the first time, I understood why people who wear kimono take such small steps! Underneath the kimono, there are a number of undergarments. And then there is a towel that corrects your figure! My posture naturally became straight and beautiful!
After dressing in kimono, we strolled around Maizuru Park and Fukuoka Castle. The Kawaii Ambassadors, dressed in brightly coloured kimono, charmed the foreign tourists! Cameras turned towards us, and it was like the place had become a photography event! We confirmed once again the charm of Japanese costume, which crosses national boundaries and fascinates people!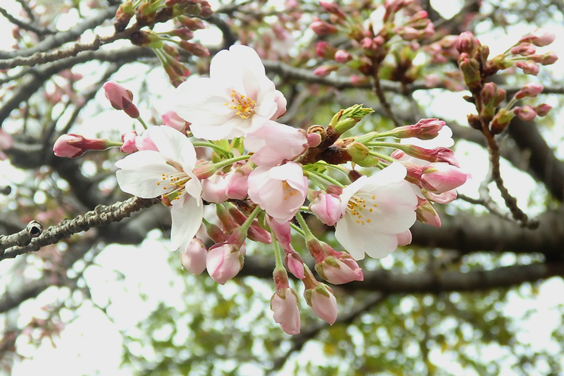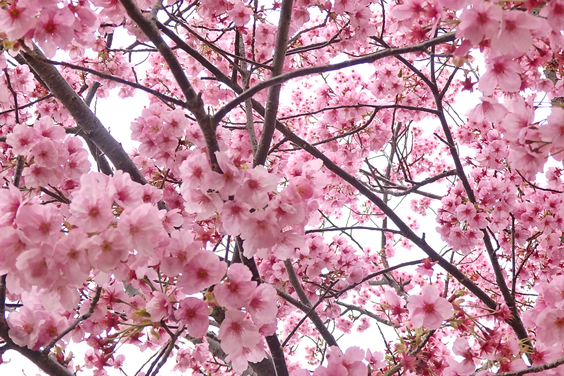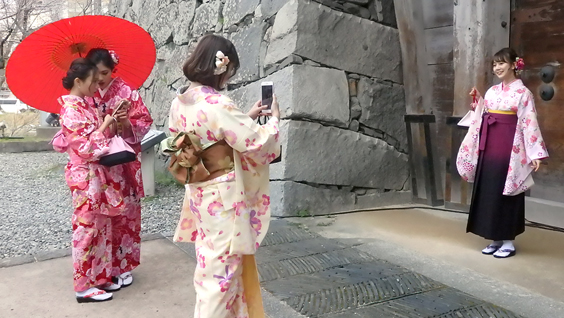 The Kawaii Ambassadors, who had talked about their interest in Japan's castles, were moved by the size of 下之橋御門 (Shimonohashi Gomon)!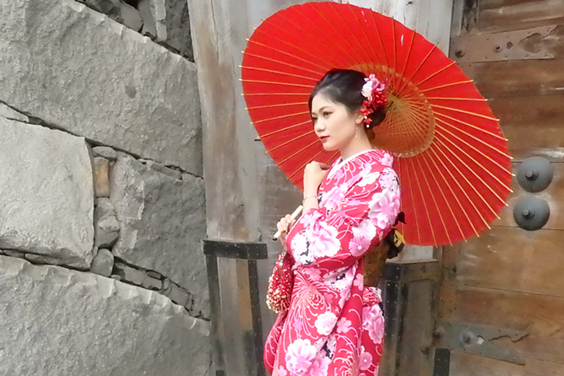 Yijun: I have worn kimono in Japan several times, but this is the first time that I've worn hakama! At graduation ceremonies in Japan, women wear hakama, you know! It's really convenient that Ohori Park and Maizuru Park are located near "MY-YOU no Yakata", because visitors here on holiday can change into kimono and cheerfully engage in cherry blossom viewing!
In Fukuoka Castle MY-YOU no Yakata, there is a cafe run by a confectionery shop of long standing in Fukuoka, "Josuian". A discount ticket for food and beverages at the cafe will be presented to everyone who participates in the kimono experience!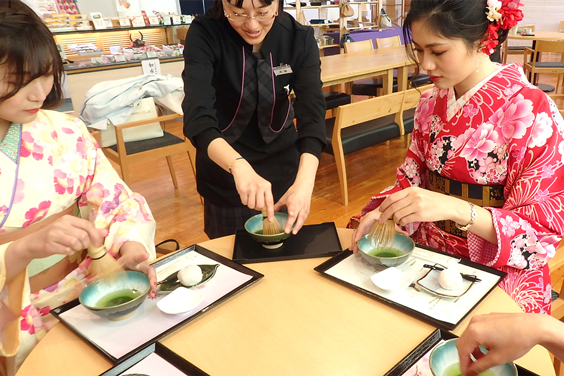 For those making matcha tea, the staff will teach even beginners how to do so properly.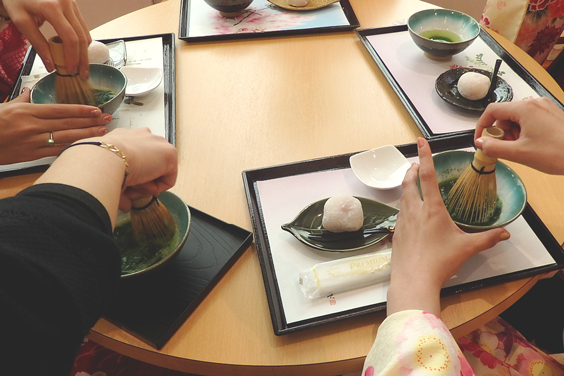 We had a "matcha and strawberry daifuku" set.
After the kimono experience, we were given small items, handmade by the staff, as omiyage!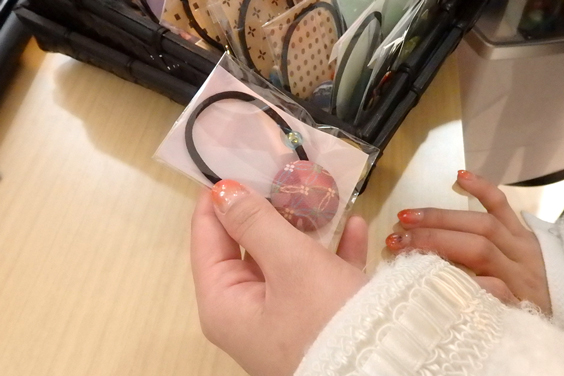 Handmade gifts that change with the seasons. Today, they were cute hair ties that matches with Japanese costume.
福岡観光きもの体験 "福岡城 舞遊の館"
Fukuoka Tourism Kimono Experience "Fukuoka Castle MY-YOU no Yakata"
2019 asianbeat・FACo Kawaii Ambassador|Chinese and Vietnamese Kawaii Ambassadors PROFILE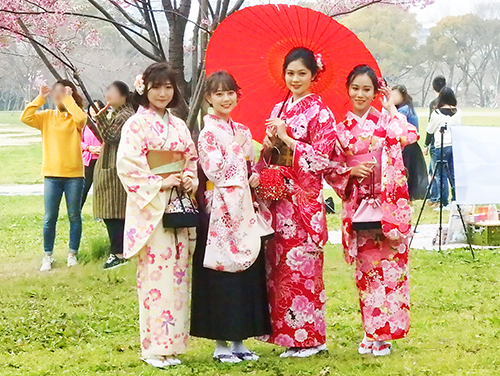 (From left) 王依君 (Wang Yijun), 陽馨蘭 (Yang Xinlan), Vu Huong Giang, and Ha Khanh Linh
The four who were selected as Vietnam's and China's representatives in the 2019 asianbeat・FACo Kawaii Ambassadors Contest toured sightseeing spots in Fukuoka City! Introducing detailed information on the Kawaii Ambassadors in the pages of "[Feature] FACo2019"!>>
here!Chinese Kawaii Ambassadors
■ Name: 王依君 (Wang Yijun)
■ Nickname: Yijun
■ Link:
Weibo
/
Twitter
■ Name: 陽馨蘭 (Yang Xinlan)
■ Nickname: Kei
■ Link:
Weibo
---
Vietnamese Kawaii Ambassadors
■ Name:Ha Khanh Linh
■ Nickname: Linh
■ Link:
Facebook
■ Name: Vu Huong Giang
■ Nickname: Giang
■ Link:
Facebook
External Links