Through a cinema and TV drama media mix, "Akai Ito" tells the story you can relate to. The cool band behind the soundtrack gains following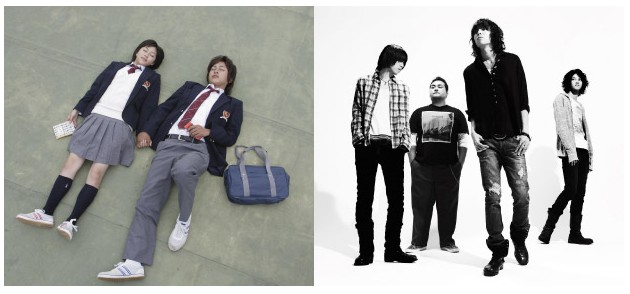 Through a cinema and TV drama media mix, "Akai Ito" tells the story you can relate to.
The cool band behind the soundtrack gains following
Akai Ito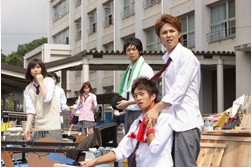 "Akai Ito" is a keitai (mobile phone) novel which has gained huge popularity among teenagers- the site boasting 46 million hits – have been made into a film. Previously there have been many novels that have been turned into movies and dramas, but in Akai Ito the movie and TV drama have the same cast, linked stories and have been released simultaneously. This is a truly unprecedented project.
The story is about Mei and Atsushi, who share the same birthday and met when they were infants, and somehow find themselves in the same class in junior high school. Fate draws them together and their parents and friends get drawn into a number of ordeals.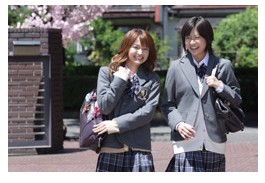 The "red thread of fate" is a story of pure love that anyone would long for, however it includes modern day social issues like drugs and domestic violence. It has appealed to youth portraying the emotional roller coaster of their teens, and the main character who believes in love.
The TV drama started two weeks before the movie is released. Scenes not in the movie such as Mei's first love appeared on TV, but they blend into each other making a complete story. It is structured in a way that by watching both TV and movie will depict a broader picture of youth drama.
In addition, after the release of the movie, Nao Minamisawa and Junpei Mizobata,who play the roles of Mei and Atsushi as well as other members of the cast went on a theater tour of Japan to promote the series. Akai Ito fans are caught up in the world the series has to offer.
Title: Akai Ito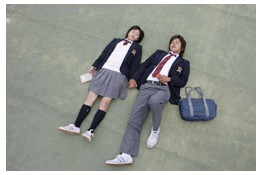 Original work: Akai Ito (Goma Books)
Producer: Chihiro Kameyama
Screenwriter: Chiho Watanabe, Noriko Hanzawa
Director: Shoshuke Murakami
Cast: Nao Minamisawa, Junpei Mizobata, Ryo Kimura, Rei Okamoto, Anna Ishibashi, Mirai Yamamoto etc.
"Ray" sung by lego big morl a hit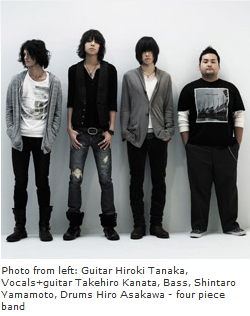 The song "Ray" on the soundtrack of the movie and TV drama Akai Ito is sung by the up and coming rock band "lego big morl". The great melody, unexpected change, mathematical sound, and most of all the power of the song is behind its appeal. Guitar Tanaka handling the lyrics and echoing sound of Kanata on vocals makes for maximum impact.
The song "Ray" from the movie and TV drama Akai Ito is a hit, how do you feel about your song finding its way to peoples homes?
Tanaka There is a completely different sound when comparing listening to the CD you buy at the shop and hearing it on TV in the living room. When you hear it at the end of the TV drama it hits your heart.
Kanata Yeah, it really hits you.
Did you write the song after you got involved in the project?
Tanaka No. Ray is a song we made about two years ago. It just fit in with the story.
It adds impact to the story,
Kanata It sort of has stages – the song has a story. It's dramatic.
Tanaka Originally it was not a ballad. The melody hasn't really changed, but we realized that it was better to arrange it as a ballad. The lyrics didn't take long.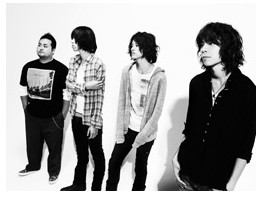 You formed in 2006. What do you think of your popularity now?
TanakaI wouldn't say that I don't feel it, but sometimes I wonder if they are really talking about us.
KanataYeah, yeah.
TanakaBut we have some great people around us. We are really lucky that we could hold a concert in Tokyo.
Your first full album "Quartette Parade" has been released. It has a variety of songs, not just like Ray.
Tanaka There is lots of interesting stuff in the album. The 13 songs don't all have deep lyrics, there is some stupid stuff there too. We also hit the skids when making it.
KanataWe did not want to categorize the album's style.
TanakaIf you think it is cool then anything is cool. You never know, our next album might be hip hop
Kanata You never know do you?
You really have plenty of potential.
KanataThanks a lot for the compliment.
TanakaI still think I'm not so talented, what would happen if I got better at playing the guitar? Same goes for writing songs. The only way is up! Excuse my over-enthusiasm.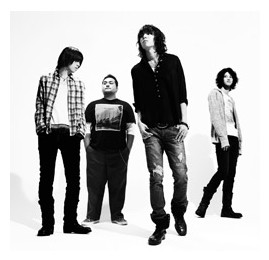 It went from a keitai novel to a book, comic, movie and TV drama. TV commercials and Nintendo DS software are also in the pipeline for Akai Ito. It has also created a new wave for lego big morl, and it is gaining momentum. Akai Ito is the sort of project that has harnessed the power of youth.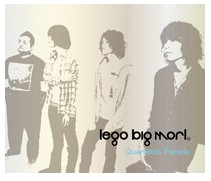 lego big morl
1st ALBUM「Quartette Parade」
AVCO-36002 / ¥2,800
2009.1.28 on sale
[13 track album]その時のこと / FROM 12 TO 4 / 三月のマーチ / ユリとカナリア / ワープ / 所詮、僕は言葉を覚えたばかりの猿 / Ray(Album Ver.) / Noticed? / マイアシモト / nice to / cinderella syndrome / A / OPENING THEME
LIVE.
One Man Live Tour
live tour 2009"Quartette Parade"
2009.5.15(Fri)Fukuoka DRUM Be-1
Tickets on sale / 2009.4.4(Sat)
Details:Kyodo Nishi-Nippon +81-92-714-0159
www.legobigmorl.jp
www.myspace.com/legobigmorl