Messages from asianbeat colleagues!(6/14)

Hajime Tawada (Asian Youth Cultural Ambassador, Beijing)

10 years ago I was in Beijing. I worked at the International broadcasting station in China, I used to produce FM radio programs for China, as well as AM and short wave radio shows for Japan, introducing each other's music and culture. It was a great honor to have been the only Japanese person of the seven Asian Youth Cultural Ambassadors and from my time carrying out this important role I would like to share with you two memories have really stayed with me.
The first is booking the Fukuoka band DOC HOLIDAY AND APACHE TRAIN (DHAT) for a music festival held in Beijing. These days there are many Japanese musicians performing live concerts throughout different parts of China, but back then it was still a difficult period. At that time it was extremely rare to follow the correct procedures and be granted permission, by the culture and public safety offices, for a public performance.
During that period, just before the event in our first year, because of the increasingly unstable political situation between Japan and China, the sponsors decided that the safety of Japanese bands could not be guaranteed, resulting in the last minute cancellation of the performance. The following year I got my revenge. The live event was a great success! DHAT did a great job at the festival, and "from Fukuoka Japan" became better known in Beijing.
The second is my encounter with Alan from Taiwan. Friendships that cross national boundaries are born out of these kinds of projects, more so than from work. Alan, whom I met during the time we spent as members of the same Asian Youth Cultural Ambassador Program, and I are close in age and we soon hit it off. He has a keen interest in Japanese culture and together we discussed a broad range of topics, such as issues relating to Japan and Taiwan's politics, cultures and even wars. One way or another we have managed to meet up once every two years, and our families have become friends. It seems that this has become a lifelong friendship.
10 years have since passed, and I am now back at LOVE FM, Fukuoka's multi-lingual radio station. It goes without saying that the valuable experiences and encounters that I've had because of asianbeat have helped me with my current job. In these last few years, the internet world has changed rapidly and in a similar vein the organization of asianbeat has also made big changes, but I am praying that from here onwards and long into the future asianbeat will carry on reporting on Asian youth culture and continue to exist as a base for exchange. I would like these words to be my congratulations message for asianbeat's 10 year anniversary.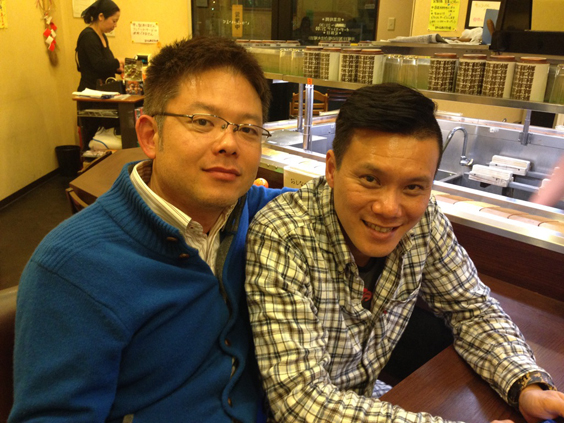 Mr. Tawada (Left) and Mr.Alan Leung (Right)
PROFILE
Hajime Tawada
LOVE FM International Broadcasting Co.,Ltd. Business Strategy Team.

A native of Fukuoka, was captivated by the Chinese rock band "黒豹(Black Panther)" during their visit to Japan as a part of the 1998 Fukuoka Asian Month. Immersed in the Chinese rock scene from 1999 to 2007. Has worked on music related programs on TV and radio in Fukuoka, Beijing and Tokyo. Having been involved with coordinating music events, returned to Fukuoka in 2011 and now serves in the position mentioned above.
External Links