Messages from asianbeat colleagues!(8/14)

Bumbin (Blogger/International Student, Thailand)

I studied abroad in Fukuoka for 9 years. And it was in the fourth year of my life in Fukuoka that I began to share my experiences of living in Japan through a blog that I was writing for asianbeat. At that time, the blogs that I was posting, in both Japanese and Thai, were about my first experiences in Japan.
For example, the contents of the articles that I was writing, included my experiences of viewing the "sakura (cherry blossoms)" in full bloom at Maizuru Park, going for a picnic in Nokonoshima, walking around Tenjin in the Dontaku Parade as a festival participant, seeing the start of Gion Yamakasa at 4:59 (in the morning!), going to the fireworks display in Ohori Park, cheering on the Hawks at FUKUOKA YAHUOKU! DOME, going to a bear garden with colleagues from my laboratory, visiting Hakozaki Shrine's Houjoe (a big festival at Hakozaki Shrine), viewing Kyushu's autumn leaves, seeing the Christmas illuminations, making mochi in the New Year, etc. I posted information about the main events that I participated in and experienced across each of Fukuoka's four seasons.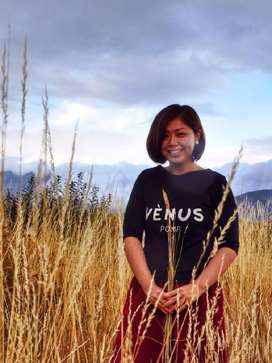 Thanks to thinking about what to write for my asianbeat blog and through thoroughly checking information about the events I participated in, I was able to gain a deeper understanding of Fukuoka and came to really love the nature of the area, as well as the streets and people that make up the city. I'm so happy that I was able to convey the beauty and character of Fukuoka to Thai people who regularly viewed my blog. I'm now approaching my second year back in Thailand, but already thanks to business trips and my own personal travel, I find myself writing this to you on the seat of a plane on my way back to Fukuoka for the 4th time!
PROFILE
Wannaporn Klangpetch
Nickname: Bumbin
Born in Thailand. During a year of study abroad in 2007 she wrote a blog that featured on "asian blog" (on the
old asianbeat website
), in which she introduced her own take on traditional Fukuoka events, tourist information and the various experiences of living and studying in the city. Contributes to the promotion of cultural exchange between Fukuoka and her home country. Currently, serves as a lecturer at Naresuan University in Thailand.