PARK SHOP(1/9)
"Park Shop," which is a café that you can casually pop into during a stroll around Ohori Park, is not just a bakery that sells drinks and light meals. The store shares its premises with the American frozen yogurt brand "pinkberry." This is "pinkberry's" first branch in Kyushu and only their second in the whole of Japan.
Since they use non-fat milk and fat-free yogurt, even those health-conscious of you out there who visit the park for a jog or a spot of exercise, can enjoy these healthy sweets without feeling too guilty!

Choosing from over 30 different toppings and fresh fruits to sprinkle over your yogurt allows you to enjoy your favorite flavor; you will definitely want to visit again and again. It is a charming store with delicious foods.
PARK SHOP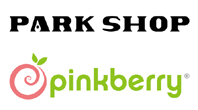 Take it easy and enjoy a drink along with some bread from the bakery. Light meals and goods are also on sale in the store. Furthermore, inside PARK SHOP, the American frozen yogurt specialists "pinkberry" have opened a kiosk, their first in Kyushu. With frozen yogurt made from non-fat milk and fat-free yogurt, and starting with a selection of freshly cut fruit (sliced and diced in-store), pinkberry serve around 30 different toppings, delivering popular desserts to their customers!
Address: BOATHOUSE 1-3 Ohori Park,Chuo-ku,Fukuoka
Tel.:092-406-4368
Opening Hours:8:00 - 18:00
(Opening times change depending on the season)
Floor space:135.33㎡ (total floor space)
Capacity: Inner Seating 18 / Terrace Seating 22
Website [PARK SHOP](Japanese):
http://www.oohoriboathouse.jp/park-shop/
Homepage [pinkberry](Japanese):
http://pinkberryjapan.com/