RENTAL BOAT(1/3)
On a sunny day not go for a ride on one of the lovely swan boats!
For some time now Ohori Park has been popular as a place where you can go for a boat ride. There are a few types of boats that you can take out on the lake; there are standard rowing boats, and in addition to the pedal-powered swan boats, visitors can now rent out the new water strider boats (bicycle boats) and enjoy the experience of cycling on top of the water. And for those of you who are always walking around the footpath, why not take some time and leisurely take in the scenery around you on one of the rental boats. From the boats you can also get up close to the carp and turtles that live in the water.
(Please note that depending on the season and weather Rental Boat's opening hours are susceptible to change, so please be sure to check on their homepage beforehand.)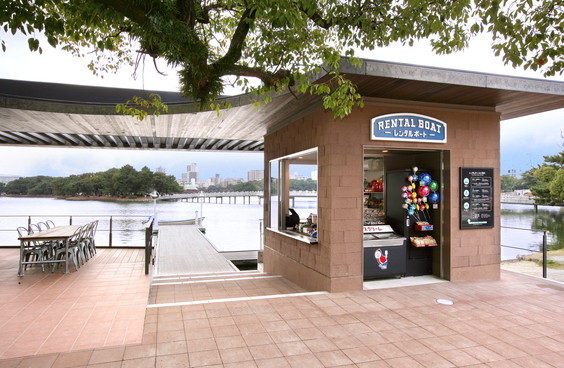 ▲The RENTAL BOAT reception
>> NEXT PHOTO
>> Hot Spots! "BOATHOUSE OHORI PARK" - RETURN TO TOP
RENTAL BOAT
For family, friends, couples, and people from all walks of life, the newly renovated Rental Boat means that you can get even more out of your trip to Ohori Park. In addition to the standard rowing boats (which seat 3 people) and the swan boats (which seat 2 people), RENTAL BOAT have also introduced a new type of boat called a "Amenbo boat (water strider/bicycle boats)" [boats for individuals and pairs are available].

Opening Period: March 1st to November 15th (Will close when the weather is bad)
Opening Hours: Weekdays 11:00-18:00 Weekends and Holidays 10:00-18:00
Website (Japanese): http://www.oohoriboathouse.jp/