Fukuoka Otaku Map #15 MOJI PARA FUKUOKA(1/7)

Text/Interview:トク(1093)
For all your idol supporter goods! A sticker specialty store (but not as you would expect…)
For this 15th installment of Otaku Map, I want to change things up and do a report that's a little bit different than usual. Most of the shops that fall under the category of "otaku shop" are those that sell goods of some sort, but there are also shops of the supporting variety (wig shops that cosplayers use, for example). The genres of these shops can all be finely subdivided into their individual categories, like cosplay, dollhouse, visual-k band, etc. One key category is the "idol" variety, and that's the type of shop I visited on this occasion.
The shop on this stop is "MOJI PARA Fukuoka – the store supporting people who support idols."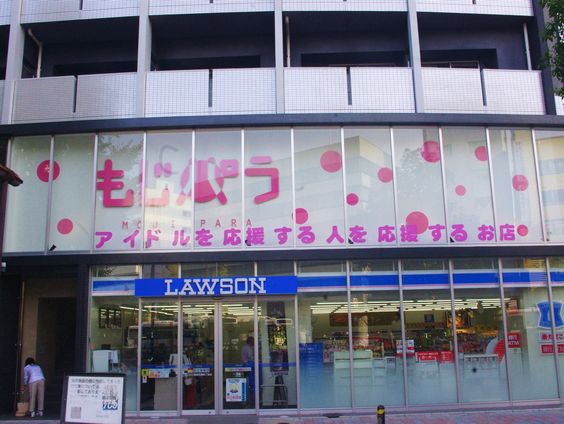 The giant sign is simple yet bold, and it really invigorates the imagination.
MOJI PARA opened its Fukuoka-branch store on March 14th 2014. Based on the concept, "providing a helping hand for the moment that an idol's gaze meets with yours," the store creates and sells easy-to-use word/character-based stickers. It's the specialty store for unique, one-of-a-kind "supporter uchiwa"! Aside from their Tokyo, Osaka and Fukuoka branch stores, they also operate stores online via Rakuten Ichiba and Yahoo! Shop.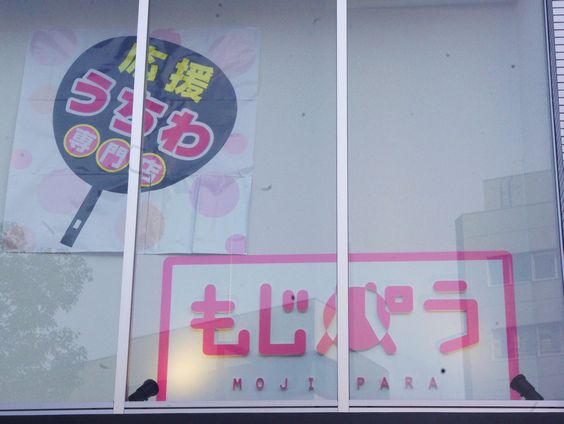 An
uchiwa
speciality store? I have no idea what to expect.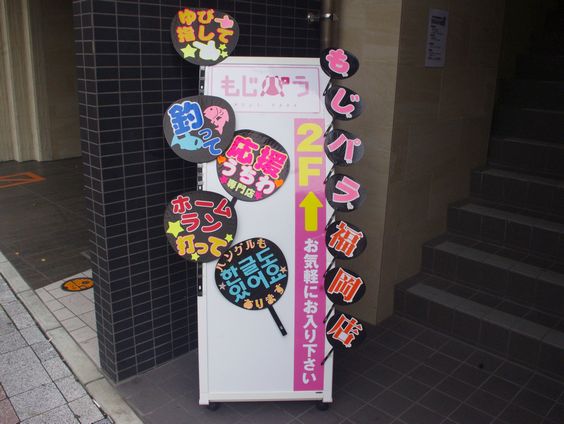 After seeing the sign at the entrance, it's all starting to make sense.
The first thing that draws the eye's attention after walking into the store is all the names. They've certainly got all the Johnny's, K-Pop, and AKB categories covered, but they also cover a wide range of other genres, like actors and sporting figures. I thought supporter
uchiwa
(handheld fans) were things that only Johnny's fans used – just goes to show how much I know…(not much, apparently). According to the manager, 90% of the customers are female (but with the local idol boom of the last few years, male customers are on the rise). Ages range from teens to 50 year olds, with some parents and their children even visiting the shop together. It seems girls are willing to stake their emotions for their idols no matter what age they are. With more and more exposer online, through blogs and Twitter, etc., more Chinese and Korean customers are visiting the store, too, apparently. As I'm told, the Korean Johnny's fans in particular tend to be those on an extended period of stay, and while they're here they really put a lot of effort into making their supporter goods and go out to the concerts in full spirits.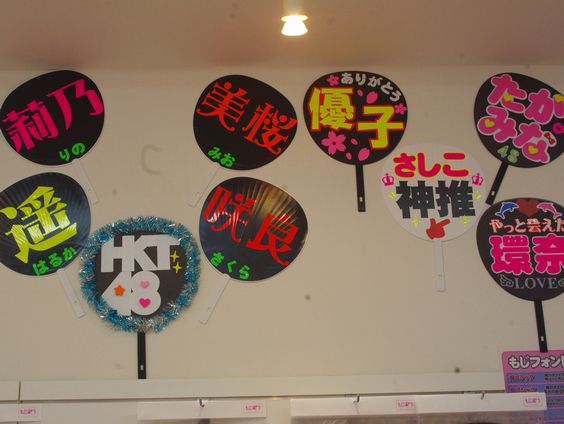 Look this way! A flair for decoration is an important skill to have.
There are over 200 different name variations.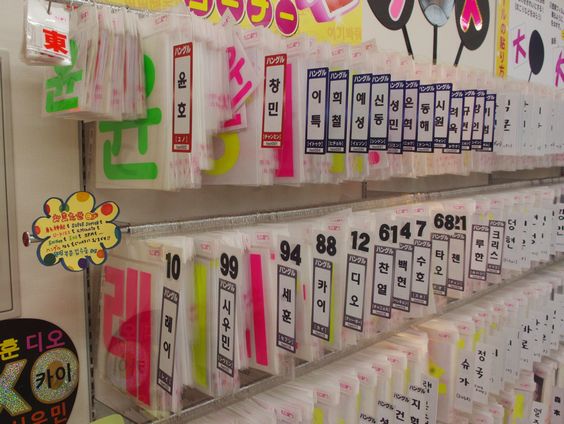 They've got Korean supporter goods covered, too.
There are also various trends in the world of supporter uchiwa, like how most local idol and K-Pop fans prefer to make their uchiwa themselves (using items bought at 100 Yen shops, etc.), whereas Johnny's fans tend to prefer a "full-custom" job with careful attention to decoration and coloring. If I had to guess, I'd say it's because you have so many rivals at a concert all vying for the attention of their favorite idol, so you need to put in that extra effort.
Also, Johnny's idols have their own member colors, so it's the basic rule to create your goods around the color of your favorite member. The standard template for the supporter uchiwa is to have the idol's name on the front and your message to them on the back, and the current trend is to use black uchiwa to make the letters/characters stand out more.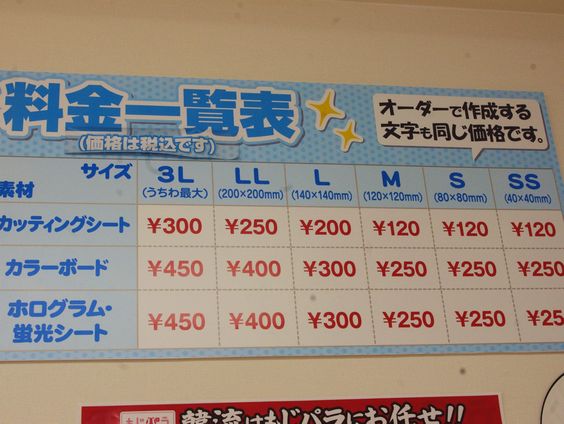 There are 6 sizes of uchiwa available. There are also 3 different base materials to choose from!
On a side note, supporter uchiwa are also starting to take off overseas as well, apparently. Japanese would take uchiwa to concerts overseas and people have started to notice that it's not only a simple way of expressing yourself, but uchiwa are easy to carry around with you as well, and slowly, more and more foreigners have begun using uchiwa, too. The uchiwa is a very Japanese way for fans to show support and try to get noticed. Overseas fans use a "PR board," a message written in a sketchbook or on a piece of cardboard, and they hold it up with both hands. But this method takes the use of both hands and you lose the ability to wave a penlight or move around freely. The supporter uchiwa has evolved as a way for people to make the most of music events, penlight in one hand, message of support for their favorite artist in the other, and to people overseas, I'm sure they see the supporter uchiwa as a cool and refreshing idea. In the not too distant future, "Uchiwa" supporter goods might even take the world by storm!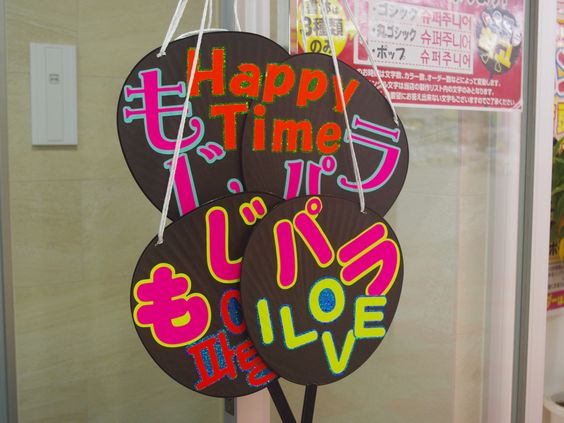 It's a whole new aspect of Cool Japan!
MOJI PARA FUKUOKA is HERE
MOJI PARA FUKUOKA
- Products: "ouen uchiwa" (fans used for cheering on/supporting singers in concert), letter stickers, stickers, cutting sheet, accessories, etc.
- Address:
South bldg B1F LA BOON, Canal City Hakata, 1-2 Sumiyoshi, Hakata-ku, Fukuoka-shi, Fukuoka-ken
2F Hit Tenjin BLD, 4-4-18 Tenjin, Chūō-ku, Fukuoka-shi, Fukuoka Prefecture [*Relocated in September, 2015]
[*Closed: 15th January 2018]
- Official Website (Japanese):
http://mojipara.com/shop/
*All information correct as of December 2014.