Fukuoka Otaku Map #16 Popondetta AMU PLAZA HAKATA(1/9)

Text/Interview:トク(1093)
A Store that sells & buys railway models as well as railroad related books and publications to the entire country.
Both in this article, as well as our next edition, we are going to be discussing a staple of mainstream otaku culture, "model railroads," which capture the imagination of both children and adults alike.
In the first of our segments on railroad related topics, we will be exploring "Popondetta," which you can find on the 8th floor of JR Hakata City. Based on the notion of "bringing the joy of model railroads to even more people and increasing communication amongst model railroad enthusiasts," an online store selling model railroads was first established in 1999. The first shop later opened in Shibuya-ku, Tokyo, followed by more stores nationwide. Popondetta is a store that primarily sells and buys model railroads, as well as railroad related books and publications.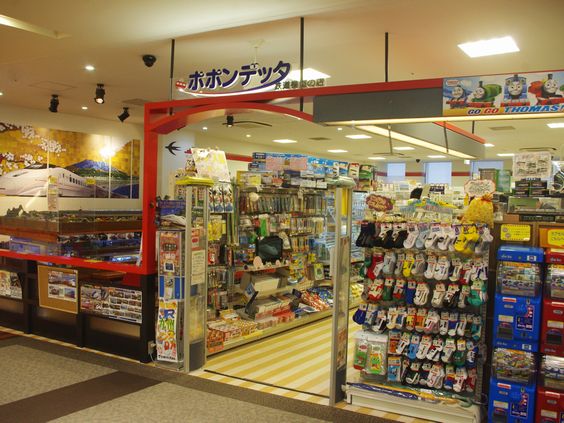 The entrance sign is really eye-catching!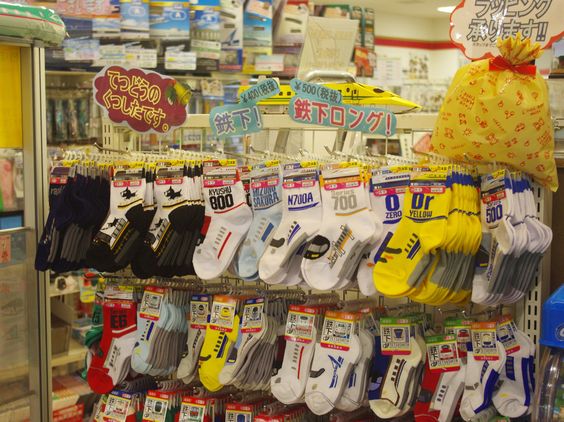 Just on the right hand side of the entrance a range of children's socks are on sale
It seems like model railroads are greatly appreciated by adults. As one of the standard model railroads, "N gauge (N scale)" is somewhat expensive. The increase in price has been accompanied by technological developments and refinements in the field, and has also meant that the items being produced are now easy to run and can be operated by anybody.
This store was set-up for all lovers of railway models, for example elementary and junior high students who are trying hard to save their allowance, or adults who saving up their drinking money to buy their beloved N gauge.
With second hand goods you're likely to be able to get your hands on something good at a reasonable price, and as the store sells all kinds of products from right across the price range, they will surely be able to meet your demands.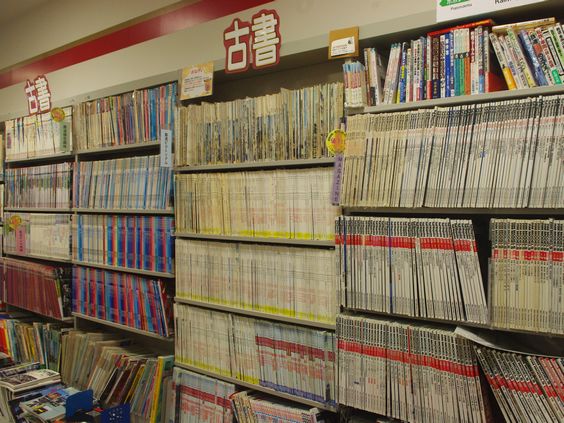 An impressive collection of back issues of train related publications are on sale in store
(Located at the JR Hakata Station,)In the store, families make up around 70% of shoppers, whilst the percentage of male shoppers is 90%. However, it seems that recently the number of female model railroad fans has at last begun to slowly increase.
When it comes to model railroads, there is no need to have jump in and start straight away with the fine, intricately designed N gauge. Children often get started with "plarail," and in particular, the popularity of "Doctor Yellow" has exploded (Doctor Yellow is the nickname of the vehicle that runs on the Shinkansen "Bullet Train" track, appraising the condition of overhead wiring, checking the state of the train tracks for any distortions, as well as inspecting the electrical equipment and signalling devices on the rail tracks. The vehicle is distinguishable thanks to its bright yellow color. It has no fixed timetable and is rarely seen. In fact, people get extremely excited when they spot it in operation to such an extent that it has become something of an urban legend.)
Those who played a lot with Doctor Yellow plarail during early elementary school gradually became interested in N gauge; this is the common path that model railroad fans go through.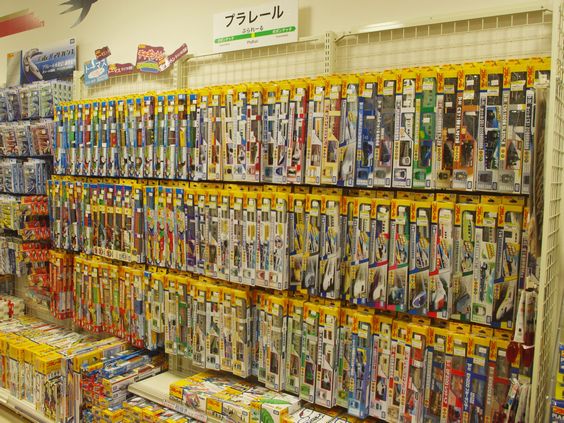 From "Thomas and Friends" to replicas of real-life vehicles, theres an abudance of trains to choose from!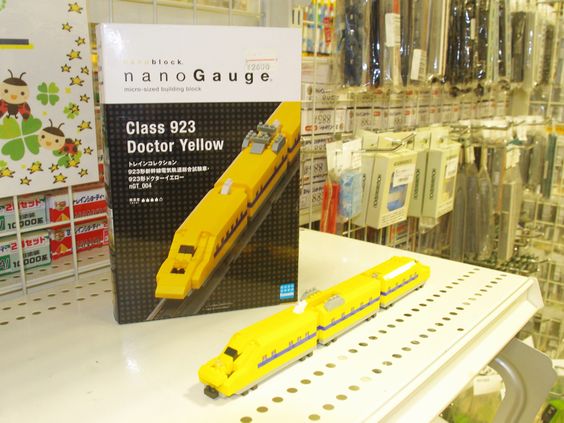 Doctor Yellow really looks great!
In Popondetta, there is a permanent N gauge diorama on display. You can have fun and take charge of a 3 carriage train for 30 minutes, at a cost of just 200 yen.
Here's a little bit of information for you, model railroads are made to a standard throughout the world, and in America, Germany and England their popularity has been particularly thriving. But the trend in Germany is rather distinctive. In Japan, when it comes to model railroading, the focus tends to be on the vehicles, which have turned into collectable items, whereas in Germany the creation of dioramas has really been flourishing. Human figurines, as well as buildings, which are produced in fine detail, are now on sale to the public. It's fascinating just to browse through the catalogs which feature them inside. It's really something to see these kind of "exotic" items that are popular overseas.
With model railroads the vehicles run on electricity. Of course, there's lots of toy trains that are battery powered, but when it comes to model railroads, a power supply called a "Power Unit" that is connected to an in-house power supply is used. This runs an electric current down two metal rails. The positive and negative currents run through the system and power the motor, which generate the movement of the vehicles, resulting in the trains running around the tracks. This may seem somewhat complicated, but even people with no experience in model railroads will be fine. There's lots of staff on hand to help and answer your questions.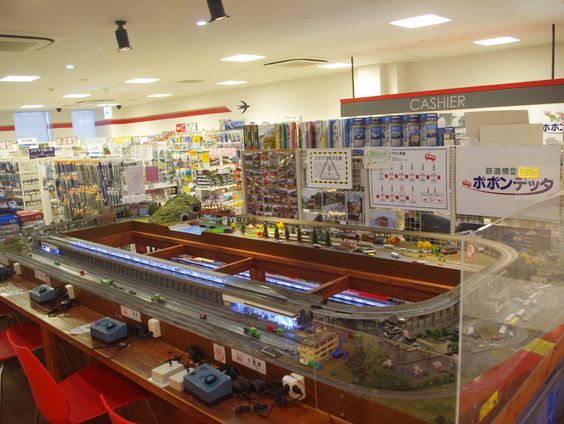 Get a feel for the world of model trains! Parents and children can play together!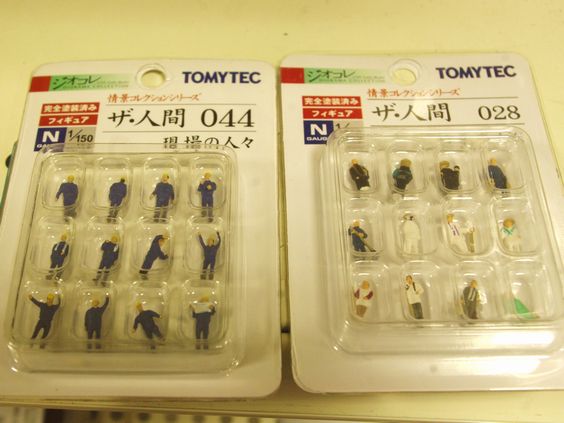 Finely crafted "Za・Ningen" (The Human) series of collectable figurines.
It seems as though, within the world of model railways, JR Kyushu trains have garnered a certain degree of popularity. And this is down to the high level design of JR Kyushu trains. It has been said that it was the designs of multi-award winning industrial designer and design consultant Eiji Mitooka (whose awards include the Good Design Award and Blue Ribbon Award), which saved JR Kyushu at a time when the company was struggling. Fans have been full of praise for his designs, noting a certain degree of similarity between his creations and English, as well as German high speed trains.
Even aside from the popularity of local trains Yufuin Mori, Sonic, white Kamome, and Seven Stars, vehicles based on Mitooka's designs still make up the lion share of in-store sales.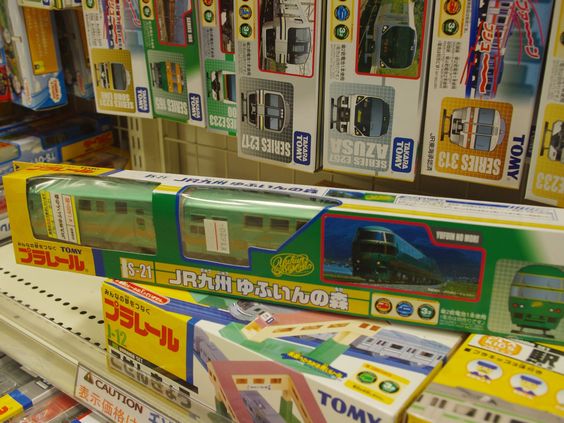 A great souvenir for parents to pick up on their way home from a business trip!
One of the joys of model railroads is that you can create a world to your own taste, one that suits your sensibilities (For example, you may love Steam Locomotives, collect Shinkansen "Bullet Trains," or when it comes to trams you can't be beaten, etc).
Additionally, in Kyushu there is a wide variety of JR vehicles, there are trams that you will find in Nagasaki, as well as Kumamoto, the Hisatsu Orange Railway and the Matsuura Railway (which operate between Saga and Nagasaki), to name but a few. The area is really blessed. In other words, there are lots of great vehicles in the local vicinity that can be seen with ease. To make the most of this, it would be great if everyone could experience the world of railroads first hand!
Fukuoka Otaku Map #16 Popondetta AMU PLAZA HAKATA is HERE
Fukuoka Otaku Map #16 Popondetta AMU PLAZA HAKATA
- Products: Model railroads, railroad related second hand books and publications (particularly back issues), as well as second hand model railroads
- Address: 8th Floore, JR Hakata City AMU Plaza Hakata, 1-1 Hakataekichuogai, Hakata-ku, Fukuoka
- Official Website:
http://www.popondetta.com/hakata/
*All information correct as of February 2015.