[Otaku's @ Home] #16 A Room Devoted to Himoo Yuina(1/3)

Our 16th guest is a "Tokimeki Memorial" fan whose collection of Himoo Yuina goods alone stands at around 300 pieces! If it's for Himo Yuina, it seems this otaku will pay just about anything!
The Room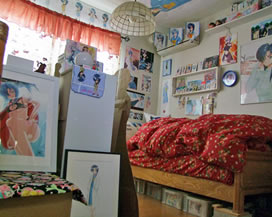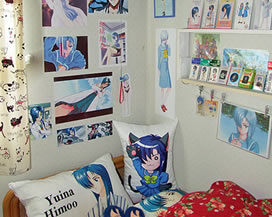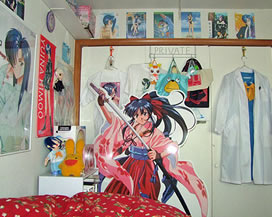 I just want to be surrounded by "Tokimeki Memorial" all the time! That's the feeling that lead to the beginning of this otaku room. He also says he tries to hang his posters neatly so as not to taint the characters in any way. Compared with other characters in the "Toki-Memo" (Tokimeki Memorial) series, official goods for Himoo Yuina are relatively few, so he often takes matters into his own hands, crafting his own posters and goods out of old 'uchiwa' (handheld, paper fans) and things he has purchased at 100 Yen shops.