[Otaku's @ Home] #17 Otaku Rooms Down-Under!(1/3)

Otaku number 17 lives in Australia. He is interested in otaku culture and is eager to learn more about it. He has spent 6 years studying Japanese and currently enjoys collecting anime goods, novels, light novels, manga and video games.

He goes to Japan about once a year so he can experience otaku culture in person. Some of the activities he takes part in when in Japan include attending Anime Music Concerts, otaku related festivals, Comic Market, taking pilgrimage to locations featured in anime and more.

Since it is difficult to obtain otaku goods in Australia, he primarily uses online shopping to purchase his goods. Despite the high price of shipping, he has a large collection of figures and books (manga and light novels) from Japan.

The Room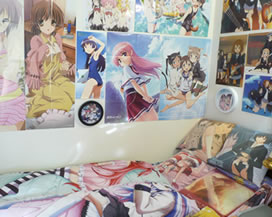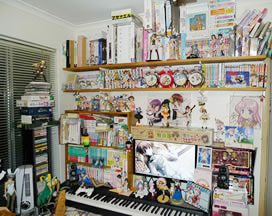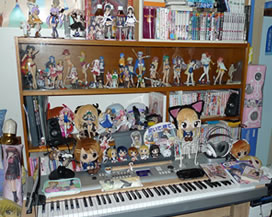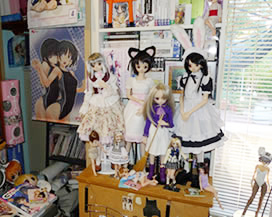 I like anime figures, so I often purchase them online and display them all around my room. I have over 100 figures and have recently found it more and more difficult to find space to display my new figures that I have to resort to displaying them on my digital pianos and balancing them on my monitor. I also have a tower of unopened figures too. I want to open them but there's just nowhere to display them.

It is also difficult to obtain Japanese books in Australia, so usually each time I go to Japan, I buy a large box full of manga and light novels to send home via sea mail. Typically, it's about 20kg per box. Currently I have about 60-80kg of books that I have shipped home.

On my walls I have put up posters I received from my Megami Magazine subscription. Since I had a lot of them as magazine extras, I decided to decorate my walls with them rather than not use them at all.