Vol.12 "福岡のお祭り" (Fukuoka Festivals)

Fukuoka locals absolutely love festivals!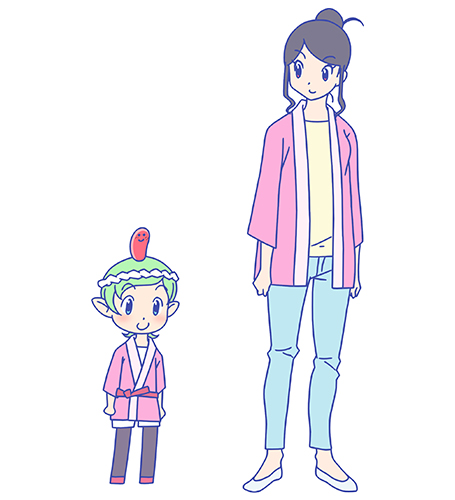 (From left) Pirikarakochan and Maya.
The 12th episode of short anime "Hakata Mentai! Pirikarakochan" sees Pirikarakochan's group of friends participate in a street "matsuri" (festival) that takes place along a shopping arcade! The story sees Pirikarakochan's gang come to the rescue Pirikarakochan when troubles arise. It's a classic trope... Friends are always there for each other when it matters most!

A few famous events spring to mind when you think of festivals in Fukuoka and Hakata. Some of the best known include "Hakata Dontaku," "Hakata Gion Yamakasa," and "Houjoya." Dontaku is a Spring time festival, while Yamakasa is synonymous with the Summer. Hakozaki-gu's annual staging of Houjoya is a sign that the Summer is starting to give way to Autumn. These matsuri almost act as markers for changes in the seasons. Each "Hakata Mentai! Pirikarakochan" episode has provided a glimpse into the bustling atmosphere that exists inside a busy shopping arcade, but now things finally settle down a bit. There are so many tasty Fukuoka dishes to sample and enjoy! That means that some of Pirikarakochan's friends have not yet appeared in the series! Be sure to keep an eye on Pirikarakochan and follow how the plot unfolds in the future!
●Memo
● "Matsuri" (festivals) in Fukuoka
Distinctive, local matsuri (festivals) are held in various locations all across Fukuoka Prefecture. "Hakata Dontaku Minato Matsuri," "Hakata Gion Yamakasa," and "Hakozaki-gu Houjoya" are known as the "big three Fukuoka festivals!" But there are so many great events to check-out, such as Tobata Gion Ooyamakasa (Kitakyushu City), Kokura Gion Daiko (Kitakyushu City), "Oniyo" (Kurume City), and "Kawawatari Jinkosai" (Tagawa City)! Visit the area and experience one of these awesome festivals for yourself!


博多明太!ぴりからこちゃん (Hakata Mentai! Pirikarakochan)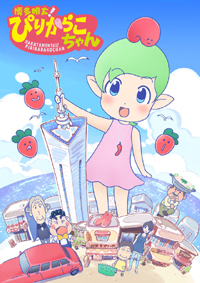 <STORY>
On a commercial street that might or might not be in Hakata, a variety of 'delicious' events occur!? A slapstick slice-of-life drama with food spirits!
<CAST>
Pirikarakochan: Hiyori Kono/Sousuke Ojisan: Kenichi Ogata/Motsunabe Oyaji: Chafurin/Baran-kun: Shun Horie/Amaou Trio: Hitomi Owada/Maya: Maaya Uchida/Caviar-kun: Natsumi Fujiwara/Shitsuji: Hironori Miyata/Koharu Obaachan: Marie Oi
■Broadcast starts from July 2019 (KBC Kyushu Asahi Broadcasting Co., Ltd.)
■Official Website:
https://en.pirikarakochan.com/
■Twitter:
@Pirikarakochan
■Instagram:
pirikarakochan_official
Related Articles