POWER OF GIRLS from TOKYO Vol.1 Tokyo Dolores(1/2)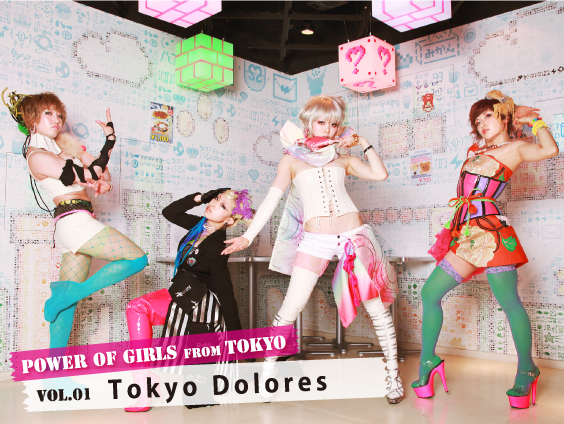 photo+interview : Taguchi Maki (MIG) / text : Natsume☆Chie (MIG)
In 2010, "Tokyo Dolores," the performing art project founded by Izumi CAY in 2008, made their foray onto the world stage, giving performances in Italy, Canada and the US, and holding a number of workshops on Japanese pop culture. The current members in the group are CAY, Aloe, Nancy and JILL. Their looks speak for themselves but their devotion is second to none, getting together on a near daily basis to practice. That they've managed to achieve such a great deal in such a short period of time is the result of extraordinary effort, and in two years of going international they're already receiving offers from overseas artists to collaborate with them. Now in their fourth year as a group, founder CAY says, "If you're too serious, the things you create will just be stiff and boring," and this philosophy remains true of the entire group. The creation process for them takes place in their everyday lives; they exchange opinions and try to come up with new ideas and new projects as they're having playing around and having fun. This is how the girls spend their days together, making the most of "Tokyo Dolores" as best they can.
Meeting with the four girls, the atmosphere in the room was one of innocence mixed with an intense physical presence, and this is where the interview began.
Tokyo Dolores: Interview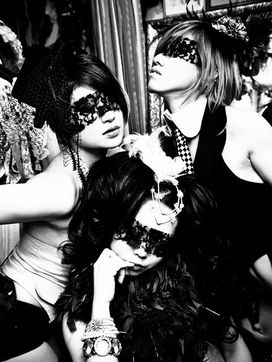 ● Their early days as a group.
Taguchi Maki: Today I would like to ask you about "Tokyo Dolores" – how it began and the journey up until now. First of all, CAY, you are the founder of the project but what were you doing before the group was formed?

CAY: Before Tokyo Dolores I was in the acting scene and also working in an underground club. It was really exciting and fun at first, but after half a year or so I grew tired of it.

Taguchi Maki: Why was that?

CAY: I would watch on and think to myself, "It would be a lot more fun if they just added a bit more flair." And that's when I decided, to destroy what I had and start again, giving form to my own ideas.
Taguchi Maki: And with that resolve you established Tokyo Dolores, right? What were your thoughts when you first started out?


CAY: I launched Tokyo Dolores and in the beginning I struggled with how I was going to give form to the message I wanted to convey and get that across to people, and what kind of activities we would engage in as a group and which direction to head in. But once we had that figured out everything just seemed to happen so fast and the things we wanted to do and achieve just came one after the other.

Taguchi Maki: It always seems like you're challenging yourself with new things.

CAY: There are so many things that we want to do. Lately, we've been researching Japanese pop culture and fashion, we've done some work in visual media – even drawing some of the images to be used in the visual recording ourselves. It's something completely new to us. There are still so many issues and challenges to work through, though.

Taguchi Maki: Why is it all the members of the group are kawaii?

CAY: That's because they were all hand-picked by me.

Taguchi Maki: You're rather good at sourcing out kawaii girls then!

CAY: Thank you. When you really pursue the things you want to do or the things that interest you, your world begins to broaden and interesting developments begin to present themselves. Plus I think that girls who aim for something, who pursue their goals, no matter what field they're in, they're all kawaii for that very reason. So it's only natural that the Tokyo Dolores members are all kawaii too (lol). That's one of the values I hope we're able to communicate to people through our work together as well.