Chuka Soba Fujiou (中華そば 藤王)

Well-known chuka soba restaurant loved by Kokura locals for 34 years!
The Fujiou's chuka soba (Chinese style noodles served in soy-sauce flavored soup) is one the most famous dishes in the Kokura Uomachi Shotengai area. Made with a chicken broth that uses beef bone fat, beef tendon, pig trotters and a variety of vegetables, this soup is not boiled, but cooked thoroughly and has a smooth, rich taste. Served with curly noodles that have a medium thickness and a slightly chewy texture. The perfect combination! They close as soon as the soup runs out, so make sure you arrive early!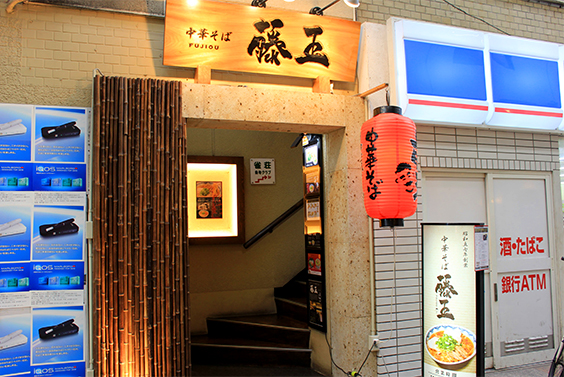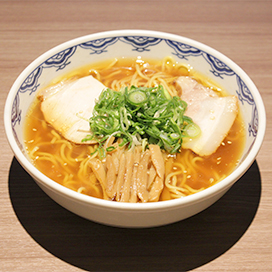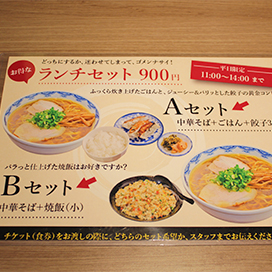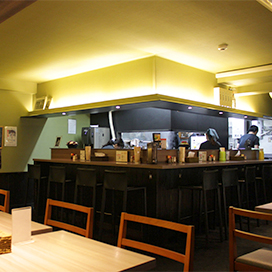 Much loved for 34 years, this well-known chuka soba restaurant is based in Kokura and offers delicious ramen that's more than equal to what you find in the Hakata area. Their unmistakable taste was featured in the 2014 Michelin Guide - Fukuoka / Saga -.

In addition to their "Chuka Soba" (top left), they also serve "Shio (salt) Ramen" (bottom left), and slightly flattened, curly "Tsukemen (noodles for dipping)." All the dishes are an absolute treat!

The interior was renovated four years ago and has a calm, chilled atmosphere. It is a good choice for female diners looking for somewhere to eat alone. From 15:00 to 18:00 on weekdays they serve a mini-ramen and mini-yakimeshi (fried rice) set for just 530 yen, so make sure to pop along and give it a go if you're feeling hungry!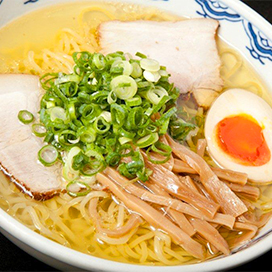 Menu
-Chuka Soba (Chinese noodles served in soy-sauce flavored soup)… 650 yen
-Shio (salt) Ramen... 750 yen
-Miso Ramen... 730 yen
-Tsukemen (noodles for dipping) served hot or cold, Tantan Tsukemen served hot or cold… 880 yen (each)
Yaki-Gyoza (fried dumplings)… 380 yen (6 pieces), 190 yen (3 pieces)
Yaki-meshi (fried rice)… 770 yen (standard), 330 yen (small)
Other lunch and dinner sets are also available
Chuka Soba Fujiou (中華そば 藤王)
2nd Floor New Fukusuke Building, 2-4-18 Uomachi, Kokurakita-ku, Kitakyushu-shi, Fukuoka-ken
Telephone number: 093-511-2800
Number of seats (capacity): 27
Opening hours: 11:00-20:00 (last order: 19:30) * Restaurant closes as soon as the soup runs out
Closed: Irregular
* All information correct as of March 2016. Strong> span>
Related Articles