"Welcome back, Master!" – maid café, Tenjin Style
Okay, so Fukuoka is not the maid-metropolis like Akiba, where maids line every street corner trying to lure hapless otakus to their café with promises of food, pampering and the finest cat-eared French maids that Tokyo has to offer (girls wearing cat ears – it's a Japanese thing), but if it's maid cafes or otaku goods you're after you can find it all in Fukuoka – you just have to know where to look!|ω ≦)~☆

This is Otaku-oka! Part 1 - Maid Cafe
【Rumour:when a customer enters a maid café he/she is greeted with, "Welcome back Master!" (or "Mistress")】

This is in fact true as I discovered upon my first visit to the phenomena that is the Japanese maid café. Tenjin Style is only a short 10 min walk north of Tenjin Station in Fukuoka and while I had no idea what to expect upon arriving at the café, after overcoming the shock of the initial greeting (but still feeling sheepishly proud of my newfound king-like status), I found that the café itself was surprisingly…normal?

So what's so great about maid cafes?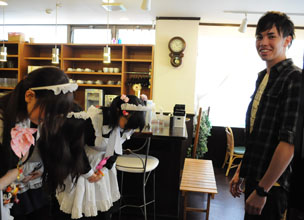 First of all, an abundance of cute maids! In store you'll even find a "menu" of sorts, listing all the maids in service at the cafe along with their photos, profile, likes/dislikes, etc. Secondly, as an added service your maid will "cutify" your food and drinks for you! The maids at Tenjin Style recommended me the caramel latte (700 Yen/approx. $8) and omu-rice (1200 Yen/approx. $16) and I readily complied. Food and drinks are brought out to your table very much unadorned, rather like blank canvases, and that's when the cutification begins! The maids will request what you want drawn on your order and they will gladly oblige!
Caramel Latte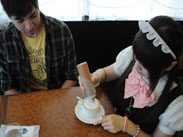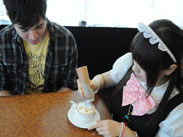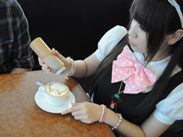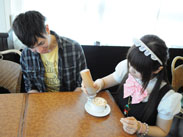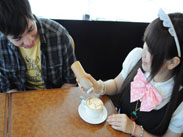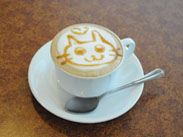 ● The finished product!
Omu-Rice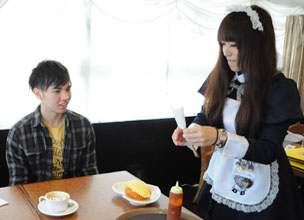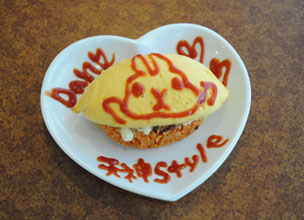 ● It doesn't just look pretty; it tastes good too!
And you don't have to be an otaku to enjoy maid cafes! In fact, according to the staff at Tenjin Style, the majority of their customers are just regular office workers. There's a very homely atmosphere to maid cafes and the maids go out of there way to make you feel like more than just another customer, so it's not surprising that the popularity of these establishments in Japan has spread beyond otaku culture and are now enjoyed by the general public also.
For an extra 500 Yen you can take a polaroid photo of your maid at the photo booth they have set up in the corner. If you want a photo with your maid though (i.e. you and your maid together) you have to earn it! It's no mean feat but in order to get a photo together you have to become a regular patron and collect enough stamps on your stamp card. I wasn't about to let this opportunity go to waste though and so asked maid, Kotori, to strike her best pose for a polaroid shot (^ω^)ノ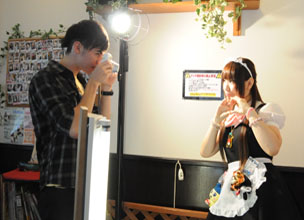 Your maid will even add her own personal touch to the polaroid once it's done (which makes for a great memento!). (You can check out Kotori's polaroid superimposed on the photo below.)

Admittedly, I began the day feeling a little tired and not very enthusiastic at all, but after a visit to Tenjin Style I felt instantly genki! (and possibly a little high on my own ego :P)

If only every day could begin with a trip to a maid café!

Dan.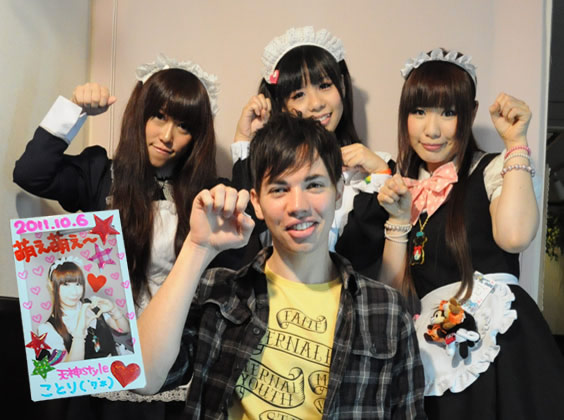 The maids~☆ from left: Koromo, Yukiya and Kotori. Thank you all for a great day!!
Related Articles

Tenjin Style - INFORMATION 
◆Enquiries:092-714-1415
◆Opening Hours:12:00~22:00
◆Open Every Day of the Year!
◆Homepage:http://tenjin-style.com/
◆Access
 ●By Car
  ・Fukuoka Highway - 3mins from Tenjin-kita IC
 ●Public Transport
  ・Subway - 5min walk from Tenjin Station
  ・Nishitetsu Omuta Line - 5min walk from Fukuoka (Tenjin) Station
大きな地図で見る
Dan - PROFILE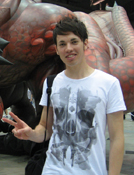 ● Asianbeat translator and editor
● Post-grad university student
● Somewhat of an otaku...
● Resident of Fukuoka for nearly 2 years
Every couple of weeks the "international crew" (myself included) at asianbeat will report an aspect of Fukuoka that we as non-Japanese residents find interesting or unique. If you live in Fukuoka and you happen to see us out and about don't be afraid to come say hi!
● twitter
http://twitter.com/nabe_dan/
More "This is Fukuoka" coming SOON!
This is "Otaku"oka!Part2.
Mandarake: all your otaku goods in the one spot! Coming soon!