Shin-chan Orchard (信ちゃん果樹園)(1/6)

Kaki (persimmon) picking at Shin-chan Orchard!
Asakura is a city that is known for many reasons. Not only does the "Chikugo-gawa," which is the longest river (143 km) in Kyushu, pass through the center, the area also produces top quality fruit and vegetables. The local farms thrive thanks to Asakura's clean air and the volume of water that can be easily accessed in the region. The local area is famous for its delicious strawberries, nashi (Japanese pears), grapes, kaki (persimmons), and mandarin oranges, which are cultivated all year round. Asakura is one of the biggest sweet persimmon producing areas in Fukuoka Prefecture. And the kaki cultivated is regarded amongst the best in Japan. Fuyu-gaki (富有柿) is a local specialty. Among the various types of sweet persimmon out there, fuyu-gaki is seen as particularly tasty and juicy. For this report, we found-out more about the industry and tried kaki picking at "Shin-chan Orchard!"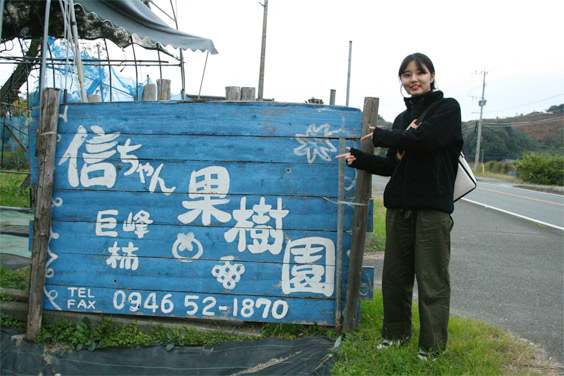 The orchard make use of chlorella in their cultivation process, which helps increase the plants immunity and reduces the need for pesticides. This kind of care and consideration definitely helps put the customer's mind at ease.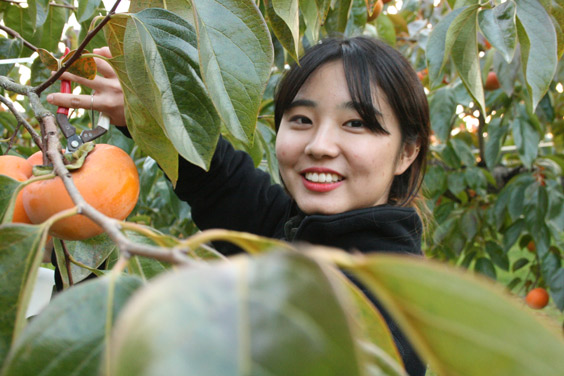 Shin-chan Orchard (信ちゃん果樹園)