Tenjin Chikagai(1/12)

Ulan's Report: sanrio vivitix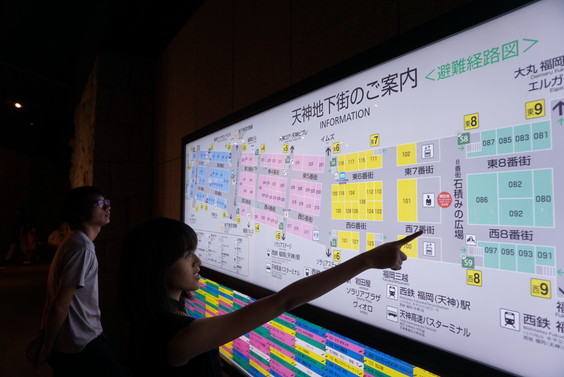 We visited the Tenjin Chikagai (Tenjin underground shopping center) in Tenjin, Chuo-ku, Fukuoka. As it connects the Tenjin Subway Station with the Nishitetsu Fukuoka station, its really convenient. On a rainy day you can pass through, avoid getting wet and go to lots of different places. With around 150 shops, there's so much to see and do!
Out of all the shops to choose from, the store that I want to tell you about today is called "sanrio vivitix," which sells all kinds of kawaii goods and characters from brands like HELLO KITTY and MY MELODY!
Aril's Report: Tabio HOMME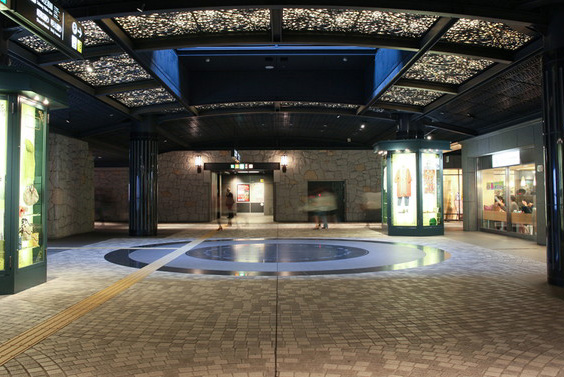 When you say Fukuoka, one of the first things that comes to mind is the "Tenjin Chikagai," one of most famous underground shopping malls out there. There's lots of fantastic stores to choose from, but what's really caught my eye is the cool designer stores!
With the ceiling of the passageway made to resemble boulevard trees, as well as a stone-paved foot path and beautiful stained glass on display, even if you are not shopping, simply taking a stroll through the Tenjin Chikagai is an enjoyable experience.
I'm going to introduce you to "Tabio HOMME," a unique shop that I'm a big fan of! This place specializes in men's socks, which is pretty rare, right! They stock all kinds colorful socks in various different designs and patterns. And there's even a free service on offer where they'll stitch your initials into the socks that you've purchased. I really recommend it!
Tenjin Chikagai INFORMATION 
Tenjin is located in the center of Fukuoka, which is the biggest city in Kyushu. Right in the middle you'll find Tenjin Chikagai. With all the shoppers and commuters (travelling back and forth between work and school) passing through, as many as 200,000 - 300,000 people make their way along this shopping mall on any given day. Linking the Tenjin Subway Station, to the Tenjin-Mimami Station, as well as to the Nishitetsu Fukuoka Station and the Nishitetsu Tenjin Bus Terminal, the underground network also connects together various commercial facilities and office buildings, whilst also offering people of all ages a huge selection of places to shop and eat everyday of the week. There are services for customers who are visiting from overseas, and even some stores that offer duty-free shopping!
- Opening Hours: Shops 10:00 - 20:00, Food and Drink (Restaurants, etc.) 10:00 - 21:00
* Please note, opening times may vary depending on the store
- Official Website:
http://www.tenchika.com/
- Address: Chika 1-3, 2 Tenjin, Chuo-ku, Fukuoka-shi
sanrio vivitix(サンリオ ビビティックス) INFORMATION 
Sanrio shop is a place that specializes in teen-adult merchandise.
This fun, bright store, could not be any more kawaii. It has 3 main pillars, "Season," "Characters" and "Gifts," that is to say, it stocks seasonal goods, character-based merchandise, as well as general gifts. In terms of the sanrio character-related items in store, there is a rich selection to choose from, with HELLO KITTY, MY MELODY and LITTLE TWIN STARS goods all in stock. You'll also find some other classic, nostalgic sanrio characters inside, such as Pom Pom Purin and Cinnamoroll in the near future.
- Opening Hours: 10:00 - 20:00
- Website:
http://www.sanrio.co.jp
- Telephone number: 092-726-3091
Tabio HOMME INFORMATION 
The well-known women's sock shop, "Kutsushita-ya" has opened its first men's sock store in Kyushu. This "Sock Store" is Kyushu's first shop to specialize exclusively in men's socks. A full, extensive stock, that usually has over 200 items to choose from, Tabio HOMME has an authentic wide range of options on offer, including everything from a smart collection, and casual collection, to sport socks, or socks made from organic cotton.
- Opening Hours: 10:00-20:00
- Website:
http://www.tabio.com/
- Telephone: 092-737-2929