O-Butsudan no Hasegawa Fukuoka Honten(1/14)

Making for the perfect souvenir… Candles and scented sachets that look good enough to eat! And don't forget your free O-mikuji!
"O-Butsudan no Hasegawa Fukuoka Honten" is located right at the northern entrance of the Kawabata Shotengai! Thinking it was just a butsudan (Buddhist altar) shop, I had anticipated that it would only sell butsudans and Buddhist-related items, but it turns out that they actually have a unique and varied selection of products, which make for great souvenirs.
The candles that they stock, which are created to look just like the food and drink that you might use to make as an offering to your deceased ancestors, seem to be really popular with customers as souvenirs. And that's not all… There's all kinds of items in store, including scented sachets in the shape of wagashi (traditional Japanese sweets), bracelets made out of juzu (Buddhist prayer beads), as well lots of different fans. If you want to find a souvenir, there are so many goods that are sure to put a smile on someone's face. I was really taken by the candles that are designed to resemble jugs of beer. And the asianbeat staff kindly bought me one as a present! If I use it at home, my friends who stop by will constantly be asking me "where did you buy that?" and "I can get one, too?" (lol). If you're looking to buy a special souvenir during your time in Japan, this is a shop that you should really visit.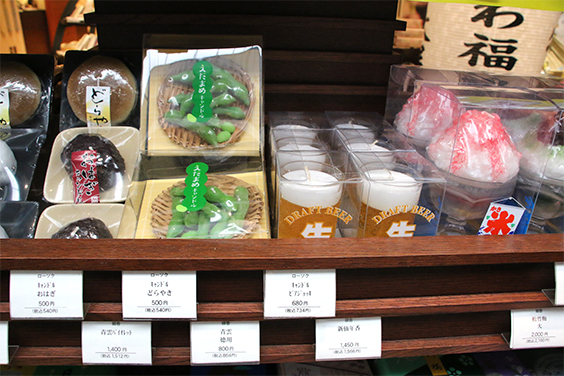 In front of the shop there is a statue of "Shiawase Kannon" (the "Buddhist Deity of Happiness"), as well as "Enmusubi Douji" (the "Child of Love"). "Enmusubi Douji" can read the future and you can find out what lies ahead by taking an o-mikuji (fortune slip) for free! I didn't get the best of luck with my fortune (lol), but this was a lot fun and will remain a great memory! On the 3rd floor there is a gallery, which you can look around free of charge. Being inside a mystical, spiritual-kind of space filled with Buddhist statues, made me feel like I was no longer in the real world!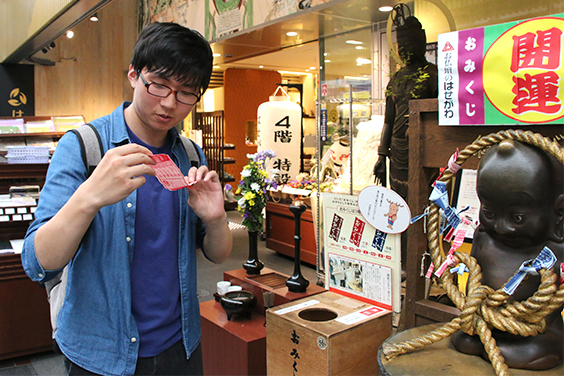 Stocking unique souvenirs, this is a store where you can not only see rare bits and pieces, but also pick-up a fun o-mikuji. "O-Butsudan no Hasegawa Fukuoka Honten" really is a shop that has all kinds for customers to experience!
INFORMATION: O-Butsudan no Hasegawa Fukuoka Honten