Beautiful nature, historic sites, and lots of cats... All in Ainoshima!

Meet the cats on Ainoshima and explore the attractions!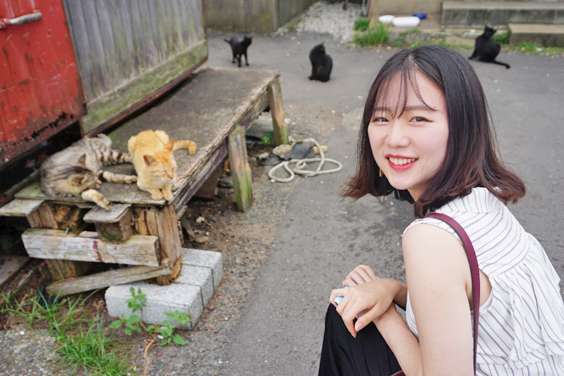 Ainoshima is known as "Cat Island." But there is much more to it than its feline inhabitants... The heart-shaped island is rich in nature and is home to a number of historic sites. This wonderful island designation is just a 20 minute boat ride from Shingu. Just jump on the "Shingu" Municipal Ferry and you will be there in no time!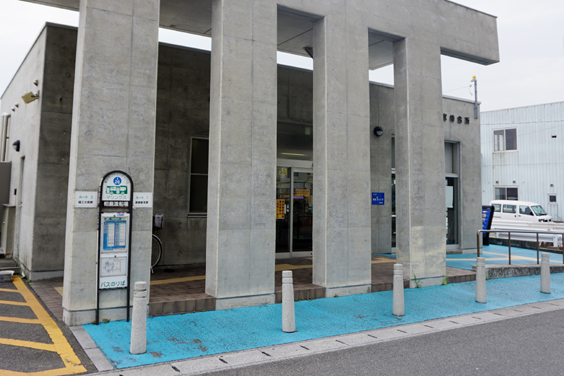 Shingu Ferry Port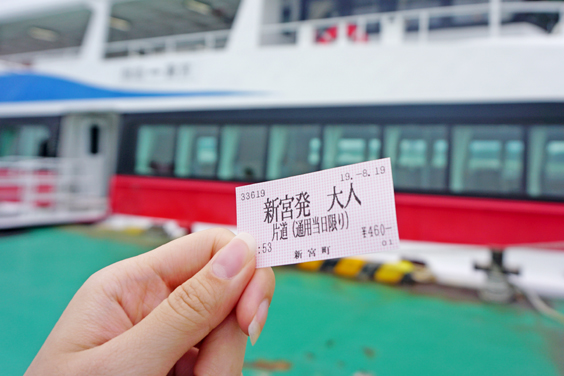 Pick-up a ticket and prepare to set sail!
Have fun with all the cats!
I saw cats wherever I looked! It really is a cat island. The island is so peaceful... You can easily find cats asleep in the middle of a road! And the cats had have no inhibitions. Some walked right up to me while I was taking pictures of them. It's an awesome experience for any cat lover! Make sure to take lots of photos of all the cute cats during your visit!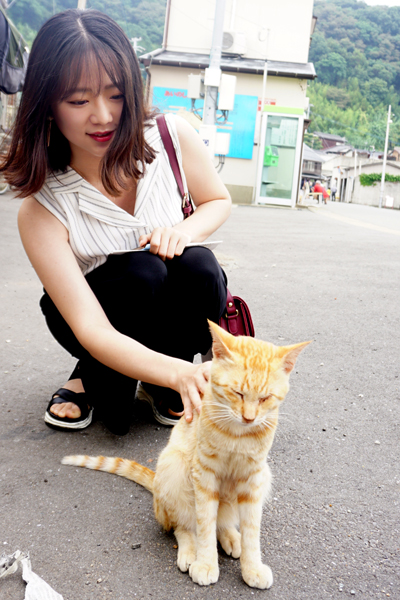 As soon as I got to the island, I was greeted by a few cats at the docks!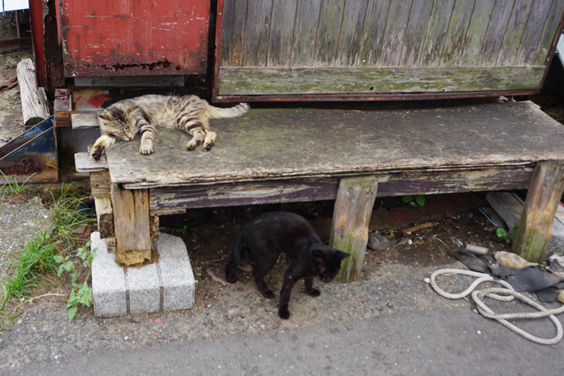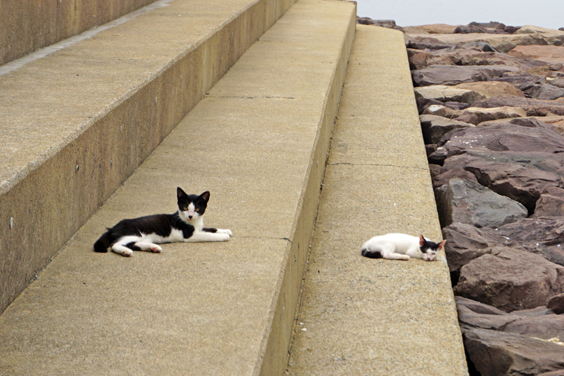 The kittens are so cute!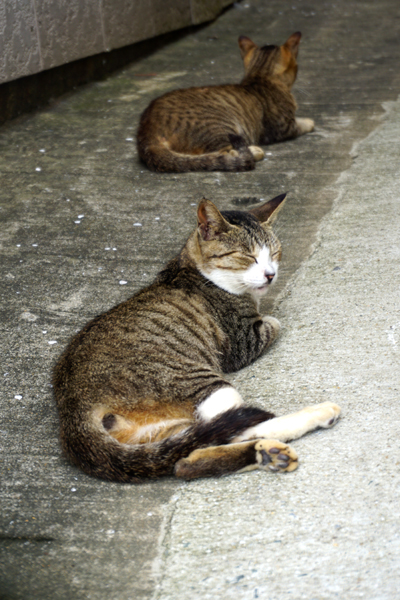 I found these cats while strolling through the back allies! They look so relaxed and comfortable!
Rent a bike, explore the island's natural beauty, and check-out the historic sites!
You can rent an electric bicycle at the
Shima no Eki Ainoshima
and go on a tour of the island. If you cycle past Ainoshima Elementary School and go up the hill, you will arrive at a hidden rocky tumulus. It is a great place to take a photograph! Sitting on top of the rocks and looking out at the coast is so relaxing! This spot also provides you with a great view of the Megane-Iwa (lit. Glasses Rock)!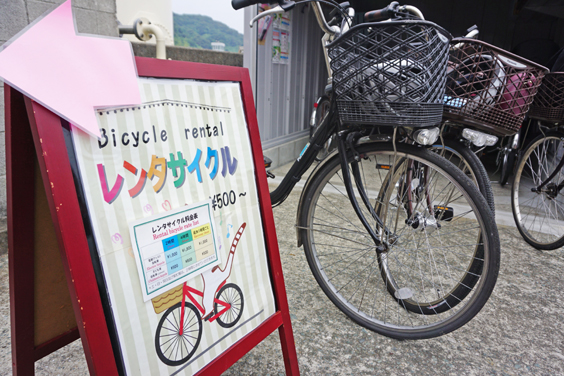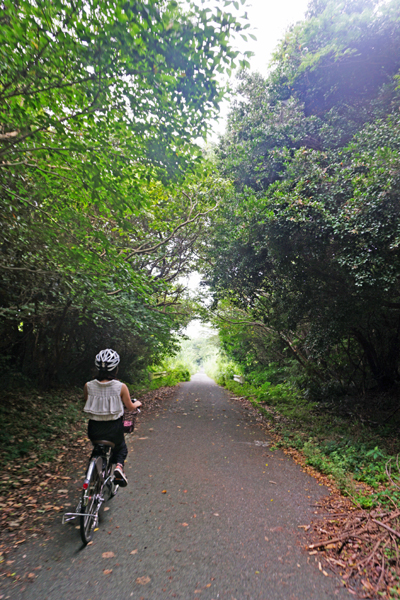 Be sure to wear a helmet if you take a ride on one of the electric bicycles!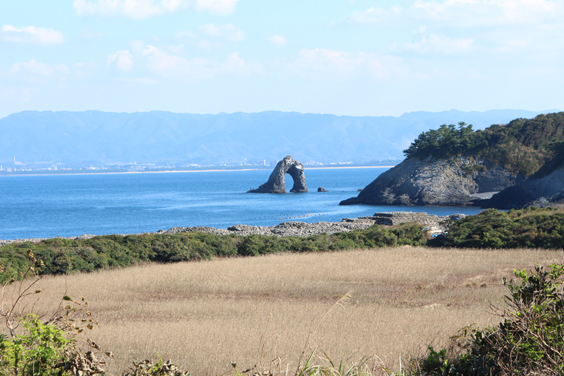 Even though it was cloudy when we went, the Megane-Iwa and rocky tumulus provide great photo opportunities when its sunny!
相島 (Ainoshima)
Address: Ainoshima, Ooaza, Shingu-machi, Kasuya-gun, Fukuoka-ken JAPAN
新宮 navi (Shingu navi) [Ainoshima introduction page]:
http://shingu-navi.jp/kankou/183/
★Please note:
- Do not attempt to pick-up or move the cats.
- It is forbidden to enter any private property without permission.
- Take your trash with you when you leave. Do not leave it on the island.
*Please keep in mind that Ainoshima is a residential area. Please act respectfully and follow the rules during your visit to the island.
*All information correct as of August 2019.
REPORTER PROFILE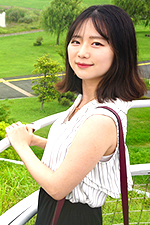 Hi, I am Seoyeon! I am from Korea. I work in the Fukuoka Prefectural Offices as a Coordinator for International Relations (CIR). I want to visit lots of places all over Fukuoka!
---
■ Favorite Fukuoka food: Udon, Motsunabe, "Hakata ShinShin Ramen," and Hiyoko Sweets.
■ Hobbies, special skills: scuba diving, cooking, travel, playing piano, looking for places to eat
■ Favorite Musicians: 米津玄師 (Yonezu Kenshi), 上北健 (Kamikita Ken), and back number
■ Favorite "ゆるキャラ" (Yuru-chara / Local Mascot): くまモン (Kumamon) - Kumamoto -, いとゴン (Itogon) - Itoshima-shi, Fukuoka-ken -, なんじぃ(Nanji) - Nanjo-shi, Okinawa-ken -